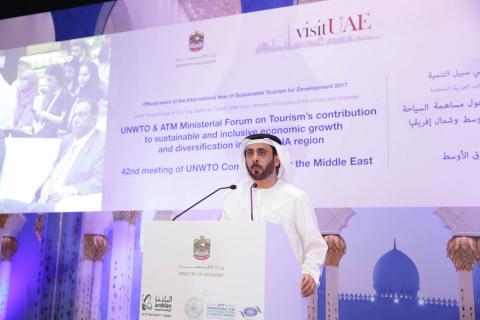 Session hosted by Ministry of Economy on sidelines of Arabian Travel Market
 H.E. Al Mheiri: 'The UAE has diversified tourism attractions and has achieved unprecedented growth over the previous years'
UAE received 25 million visitors in 2016 with total spends of AED 110 billion, driving tourism's GDP contribution to 12 per cent
 The UAE hosted yesterday (Monday, April 24, 2017) the United Nations World Tourism Organization (UNWTO) and Arabian Travel Market Ministerial Forum organized by the Ministry of Economy (MOE) in cooperation with the UNWTO. Held under the patronage of H.E. Engr. Sultan Bin Saeed Al Mansoori, UAE Minister of Economy, the forum discussed ways to enhance the contributions of tourism to the MENA region's growth and comprehensive and sustainable economic diversification.
Several tourism Ministers and delegates from of the region's WTO member countries, most notably Egypt, Jordan, Lebanon and Tunisia, participated in the forum. The meeting was attended by H.E. Mohammed Khamis Al Mheiri, the MOE's Undersecretary and Advisor to the Minister for Tourism Affairs, H.E. Dr. Taleb Rifai, Secretary General of the UNWTO, various agents and officials from the tourism sectors of Arab countries, as well as representatives of organizations from the private tourism sector.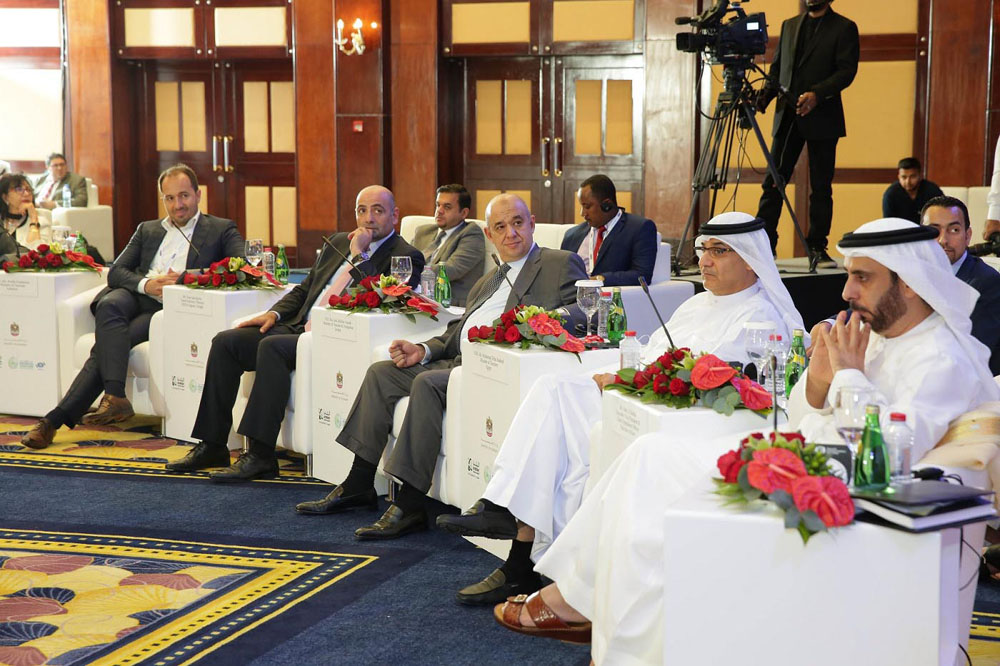 H.E. Al Mheiri said during his speech on behalf of H.E Al Mansoori at the opening of the forum that tourism has proven to be a main pillar of economic and social development in various countries. He further emphasized that the MENA region is qualified to be among the world's leading tourist destinations due to its attractions and tourism potentials.
H.E. Al Mheiri said: "I believe that today we are facing a new phase of tourism growth that requires greater cooperation to ensure that we benefit from the opportunities offered by this sector, work harder, consolidate our partnerships, and exchange experiences and knowledge among our countries at the government and private levels. These will help us to overcome any challenges that we face in developing our tourism sectors, enhance the industry's competitiveness, and maximize its ability to contribute to the overall sustainable development of our countries. This forum is an important platform for exploring the best ways and means to take advantage of tourism growth to serve our development goals."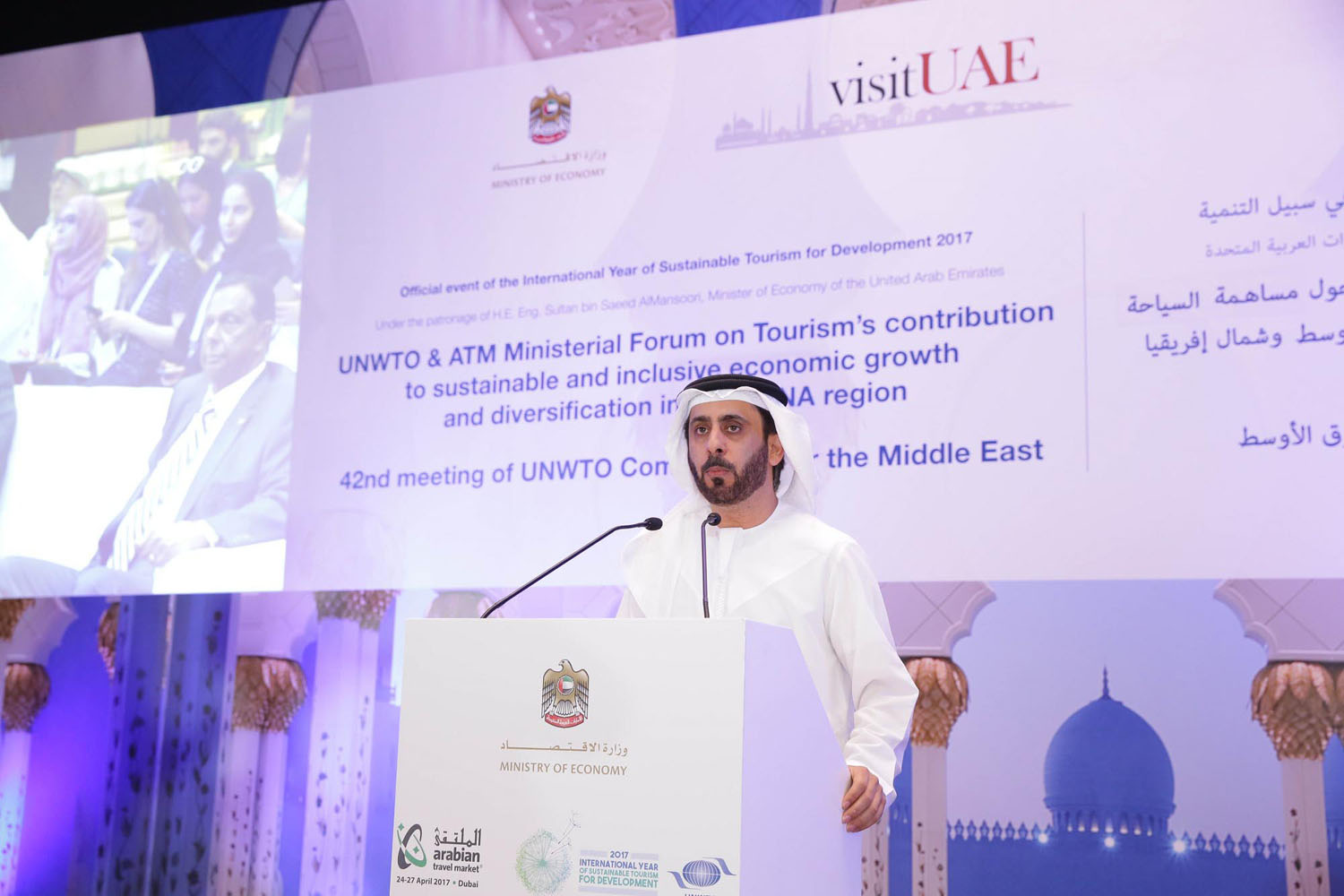 H.E. Al Mheiri pointed out that the UAE's tourism sector is a major area of interest in the country's development visions, noting that the industry is a pillar of economic diversification and sustainability and a major driver towards the post-oil phase. He referred to the UAE's outstanding tourism attractions, most notably its natural diversity and rich cultural heritage; advanced and supportive tourism infrastructure such as air, sea and land transport networks and facilities; a strong aviation sector; globally competitive national carriers; widespread use of information and communications technology (ICT); as well as the presence of several leading hotels and high-end tourist facilities. He noted that  a heightened state of security and stability, a culture of openness and peaceful living significantly add to the UAE's tourism appeal.
H.E. Al Mheiri shared the World Travel and Tourism Council's report that tourism accounted for more than 12.1 per cent of the UAE's GDP in 2016 and is expected to increase its share to 4.9 per cent over the next 10 years. The sector provides about 617,000 jobs in several Emirates and represents 10.4 per cent of the total national workforce, with the latter expected to increase by 1.8 per cent within the current year.
Al Mheiri added that total tourism investments in the UAE amounted to AED 26.2 billion last year, equivalent to 7 per cent of total investments into the country. He said that the figure is expected to reach AED 74.5 billion by 2027, stating that the number of visitors to the UAE grew 5.5 per cent in 2016 over the previous year to 24.8 million, with spending estimated at AED 110 billion and expected to rise to AED 113.4 billion this year. He added that the number of visitors will hit 31.45 million in 2027, with a spending volume of AED 184 billion.
H.E. Al Mheiri said: "The UAE's hosting of the Ministerial Forum as part of worldwide celebrations of the United Nations' Declaration of 2017 as the 'International Year of Sustainable Tourism for Development' reflects our keenness to actively participate in global efforts to consolidate the principles of green and sustainable tourism. We intend to establish successful partnerships at the government and private levels in this regard, and to dedicate tourism as a vital force for achieving the UN's 2030 Sustainable Development Goals."
For his part, H.E. Dr. Rifai said during his opening speech that international tourism grew by 3.9 per cent last year despite all the global challenges, proving the industry's flexibility as a catalyst for development, job creation and sustainability. He pointed out that overcoming obstacles to tourism's growth in the MENA region requires further dialogue and cooperation to ensure the safety and productivity of the travel sector, better crisis management to protect tourist destinations, and the integration of tourism into sustainable development agendas.
The forum included a panel discussion attended by Ministers, Officials and other senior speakers who touched on a number of topics related to tourism development. These included enabling decision-makers to make decisions based on proof and accurate measurements of tourism's influence on economic growth; enhancing the contributions of local and global tourism – mainly joint tourism ventures – in sustainable development and the shift to a green economy; and challenges and opportunities in ensuring tourism investments, among others.
Categories