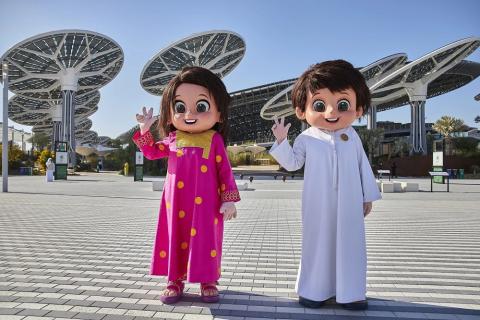 At Expo 2020 families can connect with each other – and with the rest of the world.
From films, music and sport to mascot and puppet shows, and food and beverage outlets from across the globe, Expo 2020 promises to entertain children of all ages with activities and experiences that will leave an extraordinary mark on their lives.
Interest piqued? All aboard the Expo Explorer for a scenic – and sustainable – train ride through the Expo 2020 site. The Explorer may look like a classic locomotive, but it runs on compressed air, making it pollution-free. Hop off to meet mascot siblings Rashid and Latifa, and join in singalongs, dance-offs and theatrical productions that share a special message of uniting to overcome adversity, and the role that each of us can play in making that possible.
Head to the ocean-themed Rashid's Playground in Jubilee Park where highlights include sharks on springs, whale slides, ocean liners and an interactive 3D maze modelled on one of the region's most surprising inhabitants: the humpback whale. For more green space, families can make their way to Al Forsan Park's huge lawn where they'll also discover Latifa's Adventures in Space City, an interactive space where kids can bounce over nets in the 'zero-gravity' chamber, leap into orbit around swings and explore a replica of the UAE's Hope Probe.
Not only will kids of all ages will love Terra – The Sustainability Pavilion, a playful experience that brings to life the UAE and Expo 2020's commitment to sustainability, many of the 191 Country Pavilions also have a family-friendly focus. At the Luxembourg Pavilion visitors can whisk through woodlands courtesy of a 21-metre-tall slide, at the Ethiopia Pavilion traditional board and playground games will keep families entertained, while folktales are brought to life at the Guinea Pavilion, kinetic energy is brought to light at the Bulgaria Pavilion, and whale chaperones whisk visitors through an enchanted forest at the Tonga Pavilion.
A Family Package, priced at AED 950 (USD 258), is valid for unlimited entries for the entire six months of Expo 2020, from 1 October 2021 to 31 March 2022. It includes unlimited access for two parents plus a nanny, (under-18s are free) with additional benefits on food and beverage, a 25 per cent discount on five additional tickets, and an advance purchase photography voucher worth AED 125.
 
Source: www.expo2020dubai.com