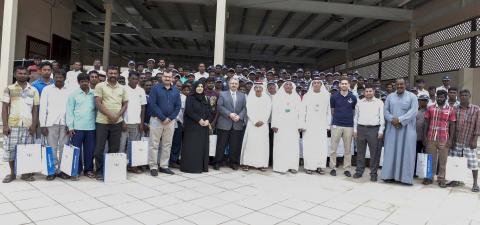 Participants to learn critical safety & emergency protocols, proper use of lifesaving equipment, key seamanship & navigation techniques
 The Dubai Maritime City Authority (DMCA), the government authority charged with regulating, coordinating and supervising all aspects of Dubai's maritime sector, in collaboration with the fishermen harbours of Dubai Customs, has announced the launch of a series of Fishermen Safety training sessions being conducted as part of the Dubai Maritime Training Centre (DMTC)'s ongoing awareness campaign. The initiative is being undertaken as part of the Centre's social responsibility agenda and in fulfilment of its objective of further enhancing maritime safety by expanding knowledge and raising awareness across Dubai's diverse maritime segments.
 Around 150 attendees joined the first session conducted in Dubai's Umm Suqeim Fishing Harbour #1. Other sessions to be conducted within the year. The DMTC-supervised trainings will provide safety instructions and demonstrate the proper operation of lifesaving appliances. Participants will also be taught how to respond and react to emergencies and how to send distress signals and calls using several techniques. They will learn key seamanship skills and navigational precautions as well.  The training sessions are intended for individuals who either have no previous formal training or who require further instruction on safety at sea.
 Sameera Asad, Manager of Human Resources Department at Dubai Maritime City Authority, and In-charge of Dubai Maritime Training Centre, said: "The Fishermen Safety series launched by DMTC complements ongoing efforts to turn Dubai into a safe maritime hub through the holding of comprehensive world-class workshops and training programs that focus on preparing the best maritime talents. Fostering a culture of safety is essential to achieving maritime excellence and ensuring Dubai's sustained maritime leadership. DMTC thus aims to reinforce safety awareness and knowledge from the basic up to the advanced levels and will collaborate closely with fishermen on addressing industry gaps, improving knowledge and skills, and ensuring continuous human resource development."
 The Dubai Maritime Training Centre is a quality-focused initiative introduced by DMCA's Dubai Maritime Creativity Lab in 2015 to establish new standards in maritime vocational training. The Centre's ongoing awareness campaign aims to enlighten maritime practitioners on the importance of adopting the best practices and safety measures to accelerate Dubai's maritime growth.
Categories