Last updated
6 months ago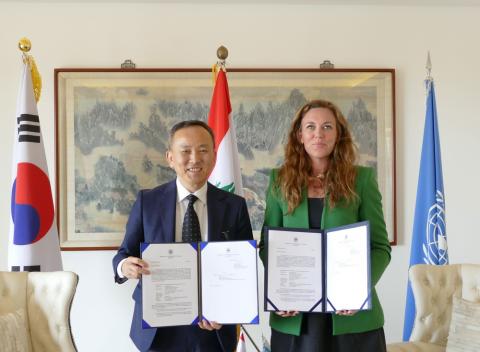 The Republic of Korea in Lebanon and the United Nations Human Settlements Programme (UN-Habitat) signed today an agreement for US$ 500,000 to implement renewable energy solutions for facilities providing public services in Zahle.
The signing ceremony was held at the Korean Embassy in Beirut and co-signed by the Korean Ambassador to Lebanon, H.E. Mr. Il Park, and Head of UN-Habitat Lebanon Country Programme, Taina Christiansen.
The project entitled: "Improved access to municipal and social services through renewable energy alternatives" will enhance access to social and basic services for the residents of Zahle through the supply and installation of renewable energy solutions.
Photovoltaic panels will be installed on the roofs of two public facilities in Zahle: the Tel Chiha Hospital and the Water Pumping Station run by the Beqaa Water Establishment (BWE) to generate constant and reliable power supply during the day for operation and water supply. The project will also enable the installation of renewable energy lighting fixtures on streets in Zahle to ensure public safety. 
Ambassador Park, emphasized on the commitment of the Korean Government in collaboration with UN-Habitat to support Lebanese authorities in offsetting some of the many hardships endured by vulnerable people in Lebanon, and in this case specifically with renewable energy alternatives. He said: "Korea is always standing by the Lebanese people in their efforts for peace, stability, and prosperity and will contribute to the recovery, rehabilitation, and capacity building of Lebanon."
''Energy is considered as a major factor for the development of cities. The current economic crisis in Lebanon has affected the supply of energy across communities, which is having a great impact on the provision of basic public services such as healthcare and water supply.'' said Taina Christiansen, Head of UN-Habitat Lebanon Country Programme. ''We, as UN-Habitat are working closely with our partners in Lebanon on integrated approaches to provide sustainable urban solutions for cities for a better future.''
This project is in line with the Lebanon Emergency Response Plan, a multi-sectoral Emergency Response Plan (ERP) to address the needs of the most vulnerable affected by the crisis.