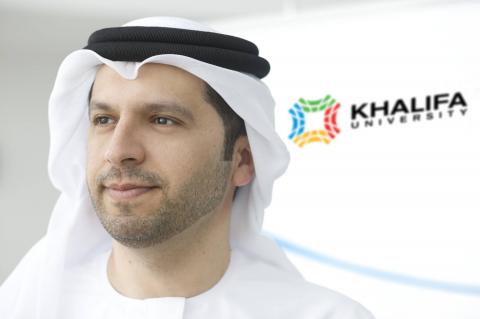 The Mohamed Bin Zayed International Robotics Challenge competitors are converging on Yas Island Marina Circuit to test run innovative technologies
Preparations are in full swing for the grand debut of the Mohamed Bin Zayed International Robotics Challenge (MBZIRC), the UAE's biggest robotics competition, taking place from March 16 to 18, 2017 at the Yas Island Marina Circuit in Abu Dhabi, UAE. Teams from the 15 countries participating in the event have arrived in Abu Dhabi and are conducting test runs for the triathlon-style contest.
The final touches to the three arenas where the challenges will take place are currently underway. Arena 1 will host Challenge 2, where each team will have a total of 30 minutes to have their unmanned ground vehicles find and reach a panel and operate an attached valve stem. Arena 2 will be the venue for Challenge 1 which will require each team to deploy their unmanned aerial vehicles (UAVs) to find, track and land on a moving vehicle within 20 minutes. Arena 3 will see teams take on Challenge 3 which will involve a group of UAVs working together to locate, track, pick and place stationary and moving objects within 30 minutes.
Challenges 1 through 3 will be held from March 16 to 17 over two trails, while the Grand Challenge will take place simultaneously in Arenas 1 and 2 on the 18th. University students from across the UAE will flock to the event to catch a glimpse of advanced robotics technologies at work and meet with leaders in the field.
Aside from being treated to demonstrations of the best robotics technologies in the world, audiences and visitors can also enjoy various entertainment programs and food stalls offering a perfect day out with family and friends. The festive atmosphere will celebrate the emergence of Abu Dhabi and the UAE as new centers of robotics and advanced technological research.
Dr. Arif Sultan Al Hammadi, Khalifa University's Executive Vice President and MBZIRC's Steering Committee's Vice Chair, said: "The excitement has already begun as we wind up preparations for the inaugural Mohamed Bin Zayed International Robotics Challenge. Just seeing the world's best minds in robotics setting up and testing their technologies makes you reflect on the potential of their work to solve some of the world's most pressing issues as well as how vital robotics is in the UAE's quest for technological excellence. We are honored to receive the patronage of HH Sheikh Mohamed Bin Zayed for this event and we would like to take the opportunity to invite the public to witness it, cheer on the teams, and enjoy what MBZIRC has to offer."
Organized by Khalifa University under the patronage of H.H. Mohamed bin Zayed Al Nahyan, Crown Prince of Abu Dhabi and Deputy Supreme Commander of the UAE Armed Forces, the first-ever edition of the Mohamed Bin Zayed International Robotics Challenge is the culmination of two years of intense screening which saw a broad field of 143 international candidates whittled down to 26 elite participants. At stake is USD 5 million in total prizes plus team sponsorship – one of the biggest takeaways for robotics contests ever. This year's Challenge is supported by the Information and Communication Technology Fund (ICTF), Abu Dhabi National Oil Company (ADNOC), and Norinco. For more details, log on to www.mbzirc.com.
Categories