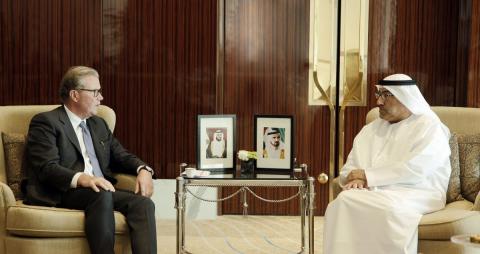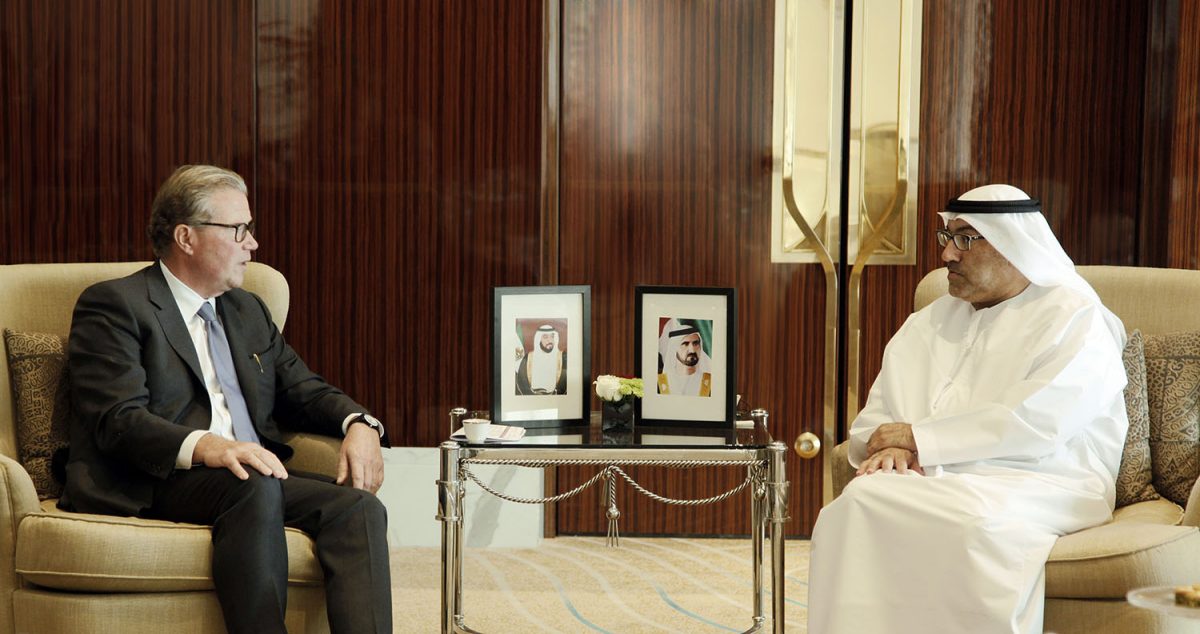 H.E. Abdul Rahman bin Mohammed Al Owais, UAE Minister of Health and Prevention, signed a partnership agreement with Leif Johansson, Chairman of leading global pharmaceutical company AstraZeneca, as part of its strategy to enhance the outcomes of national indicators in the field of respiratory diseases and cancer, to achieve the objectives of the National Agenda 2021. The agreement was signed in the presence of H.E. Dr. Muhammad Salim Al Olama, Undersecretary of the Ministry, assistant undersecretaries, and Samer Al Hallaq, Area Vice President at AstraZeneca.
The MoU aims to develop innovative and integrated solutions to treat asthma in children, as well as cooperation in the field of respiratory diseases according to the latest international clinical practices and the use of modern technologies to ensure effective management of the disease. It also includes cooperation in the field of cancer to establish medical practices of international standards, to enable better management of the disease during diagnosis, treatment and to create community awareness. The MoU also covers the development of diabetes care.
His Excellency Abdul Rahman Al Owais reaffirmed the strong strategic partnership between both parties and the Ministry's keenness to develop regulations and legislations in accordance with the wise leadership's directives, which allow global medical companies to benefit from the competitive investment environment of the State. It also strengthens the efforts to achieve the UAE's global leadership in the adoption of innovative technologies such as artificial intelligence. H.E added that the Ministry remains keen to strengthen collaboration with AstraZeneca as a strategic partner across a range of national initiatives and projects that aim to achieve the Ministry's top strategic objectives in promoting community health.
H.E. Dr. Muhammad Salim Al Olama pointed out that the partnership with AstraZeneca contributes to improving the quality of healthcare in the country, in addition to establishing an effective and sustainable health system for a happy society. Such local and global partnerships help enhance the field of clinical research.
Leif Johansson, Head of AstraZeneca, said: "We are committed to providing innovative solutions for patients and supporting the implementation of the National agenda and the UAE Vision 2021 through innovative projects, highlighting the global standards of the UAE health system." He added that the meeting with the UAE Minister of Health and Prevention and his distinguished team reflects a strong relationship between the Ministry and AstraZeneca.
Samer Al Hallaq, Vice President of the Middle East region and Head of the Gulf region for AstraZeneca, said that the projects and initiatives focus on patients and their treatment as part of the national agenda. These initiatives are aimed at building local capacity, providing a comprehensive approach of treatment to improve patient experiences, expand access to corporate medicines and to increase awareness in oncology, diabetes, cardiovascular, as well as respiratory departments.
Categories