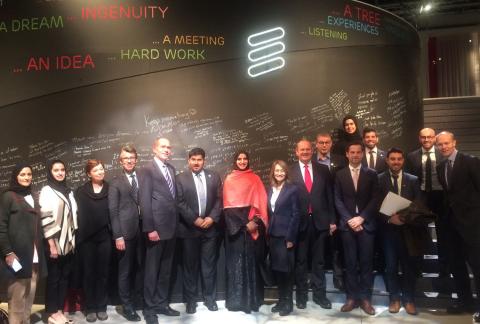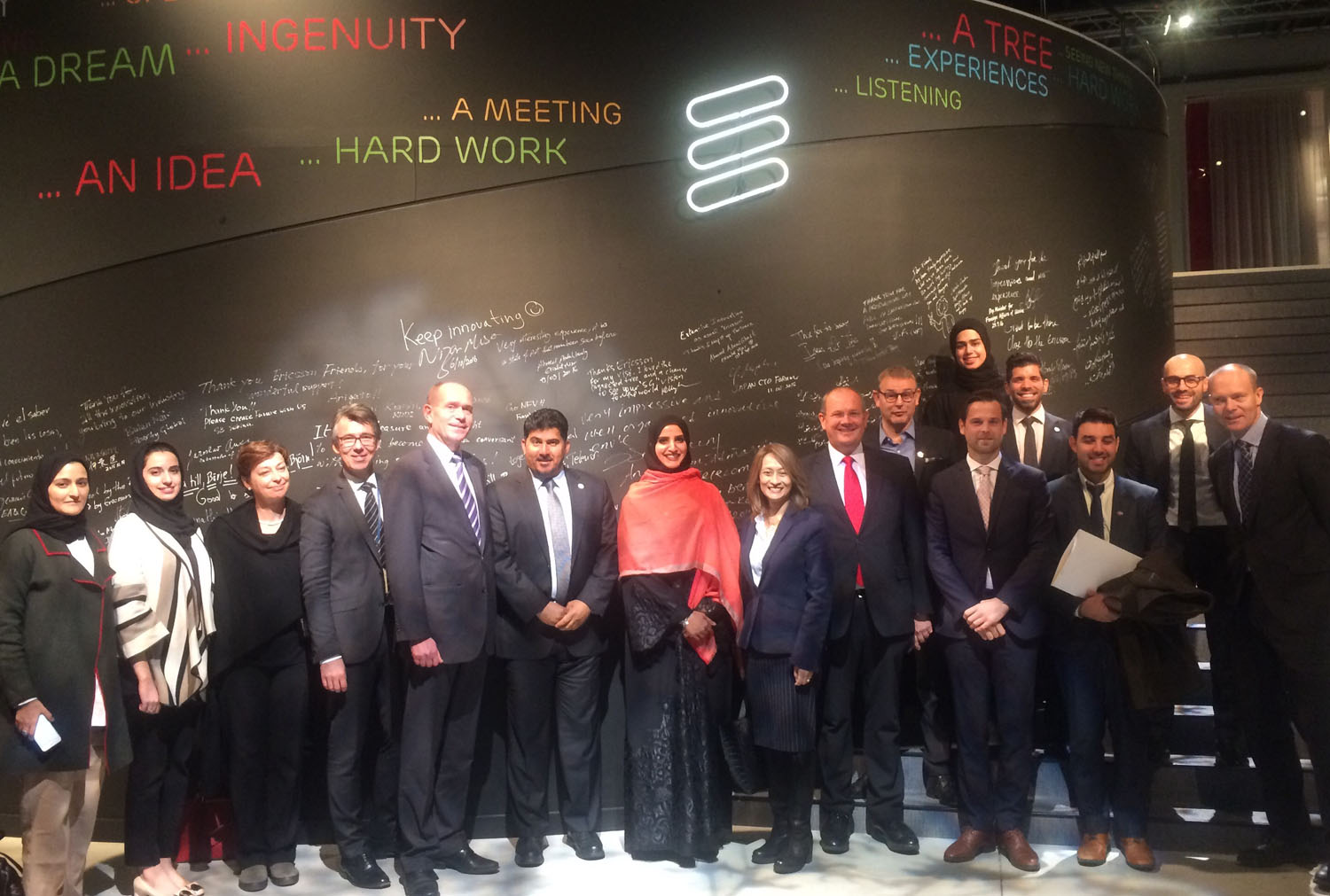 A delegation of UAE Dignitaries travelled to Ericsson Headquarters in Sweden, where they were given a first-hand experience of Capturing the Networked Society, 5G, Smart Cities and Industry and Society at the Ericsson Studio. Experience centers are important parts of customer and VIP visits for all major ICT companies. Ericsson Studio goes beyond expectations by providing an all-in-one educational, collaborative, engaging and innovative space to open minds and promote dialog.
UAE dignitaries included His Excellency Sultan Al Shamsi Assistant Minister of State for International Development; Her Excellency Dr. Aisha Bin Bishr, Director General Smart Dubai Office; Jamal Bin Thaniah, Executive Vice Chairman, DP World; Sara Falaknaz, Vice President of Innovation at DP World; Mohammad Al Hashimy, Deputy CEO of Europe Region, DP World; Hassan Al Hashemi Vice President of International Relations, Dubai Chamber of Commerce & Industry; Nadia Verjee, Expo Senior Vice President International Participants, Strategy and Director of Strategy in the Minister of State's Office; Omar Shehadeh, Expo Senior Vice President International Participants, Operations; Mahaba Al Saleh, Expo Country Manager for Sweden and International Affairs Officer in the Minister of State's Office, Federica Busa, Expo Director, Theme Department; Mona Al Ali, Expo Senior Analyst, Theme Department; Mazen El Shami, Expo Senior Associate, Legacy Department; Fredrik Bodin, Trade Commissioner UAE & Qatar, Business Sweden, Ian Malcom, DP World; Khalifa Al Shamsi, Etisalat and Mohamed bin Jasim Khalfan, Deputy Head of Mission, UAE Embassy along with key Ericsson senior representatives including Rafiah Ibrahim, Head of Ericsson in Region Middle East and East Africa.
"ICT services have profoundly changed the lives of billions of people. In the Networked Society, innovation and collaboration will continue to create new ways to meet the needs of people, business and society. Today's visit is a clear example to show our commitment towards UAE where we continuously work on making such possibilities a relaity. Our commitment to UAE goes back to over 40 years since the early 80's after being awarded large contracts to upgrade the land-based network from analog to digital. Throughout the years, our commitment to the country has remained unwavering, and we look forward to continuing working and collaborating with our key partners, for the prosperity of UAE," said Rafiah Ibrahim, Head of Region Middle East and East Africa.
Categories