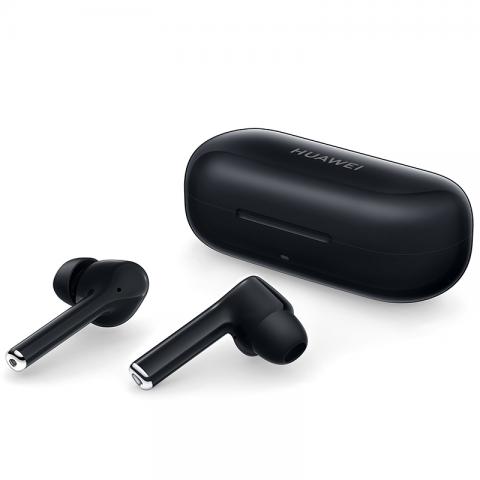 You get an important phone call and as you pick it up you tend to put a finger in the other ear to hear everything better: that is probably not the best solution because you are not really blocking out all the other noise. Or how about when you want to unwind with some tunes, but the construction outside or you're your next door neighbors can't keep it down for you enjoy your music the way you wanted. Increasing the volume would help, but that has got to get a little uncomfortable after a while.
Well, Huawei has a solution and it comes to you in the form of the HUAWEI FreeBuds 3i, the latest earphones that packs the ultimate active noise cancellation features and Triple-mic call noise reduction, all at a more accessible price point. Curious how these earphones can help you? Don't worry, it's all just a few taps away.
A unique audio experience thanks to the ultimate noise cancellation
Be it to relax after a long day at work, focus on an important work call or even drown out everybody else at the gym, you would want to ensure that that there is no disturbances around you. Noises from surroundings can be annoying when you want to listen to your favorite tunes and the HUAWEI FreeBuds 3i's Ultimate Noise Cancellation features are exactly what you need. But what makes the HUAWEI FreeBuds 3i's noise cancellation stand out?
This is where Huawei's innovative streak shines. Thanks to its dual microphone system, the HUAWEI FreeBuds 3i is able to cancel out all ambient noise and external interference. Simply give a single long tap to turn on Active Noise Cancellation to cancel out ambient noise from around you and within you to let you focus completely on your music. You can also double tap to control your music, so you don't have to keep whipping out your smartphone.
Clear Phone calls
When you talk on the phone, you need to ensure that both you and the other party can hear everything clearly and accurately. However, this might not be easy if you don't have the right earphones. Surrounding sounds can be a hindrance for you to both hear and be heard clearly. This is where the HUAWEI FreeBuds 3i and its Triple Mic Call Noise Reduction can help.
Simply put, the three mics on the HUAWEI FreeBuds 3i pick up your voice directionally while also filtering out the surrounding noise and detect your voice through your inner ear respectively. It then takes all these signals and puts it together to transmit in your phone call, resulting in every word being accurately picked up and surrounding sound being taken care of. Thanks to its Ultimate Noise Cancellation features, what you hear will be perfectly filtered from all the noise around you as well, allowing you to focus entirely on your phone call. Simply double tap the earphones when you get a call and tune out the rest of the world.
In addition to these noise canceling features, the HUAWEI FreeBuds 3i are easy to pair and lasts for almost 14.5 hours on a single charge, making the HUAWEI FreeBuds 3i the earphones you needed.