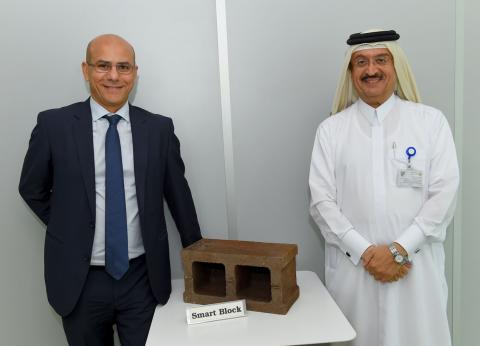 'VegeBlock' offers similar properties of low-strength concrete and highly-suitable for use as non-load bearing blocks
 TRL, the global centre for innovation in transport and mobility and Qatar's Ministry of Municipalities and Environment (MME) has announced the launch of 'VegeBlock', a new innovative building block designed to help increase sustainability across the country's construction segment, in a special seminar held at the Ministry of Municipality & Environment Tower. Present during the launch were Dr Mohammad bin Saif Al-Kuwari, Head of the Environmental and Municipal Studies Institute - MME and Dr Khaled Hassan Country Director and Head of Middle-East Infrastructure, TRL, along with key stakeholders in the construction industry. The launch of VegeBlock, also described as 'Smart Block', represents the latest stage in an ongoing program of collaborative work between MME and TRL to improve the sustainability and adoption of green construction in Qatar and the rest of the region. Previous projects have focused on the use of locally available recycled and secondary aggregates in place of imported primary aggregate.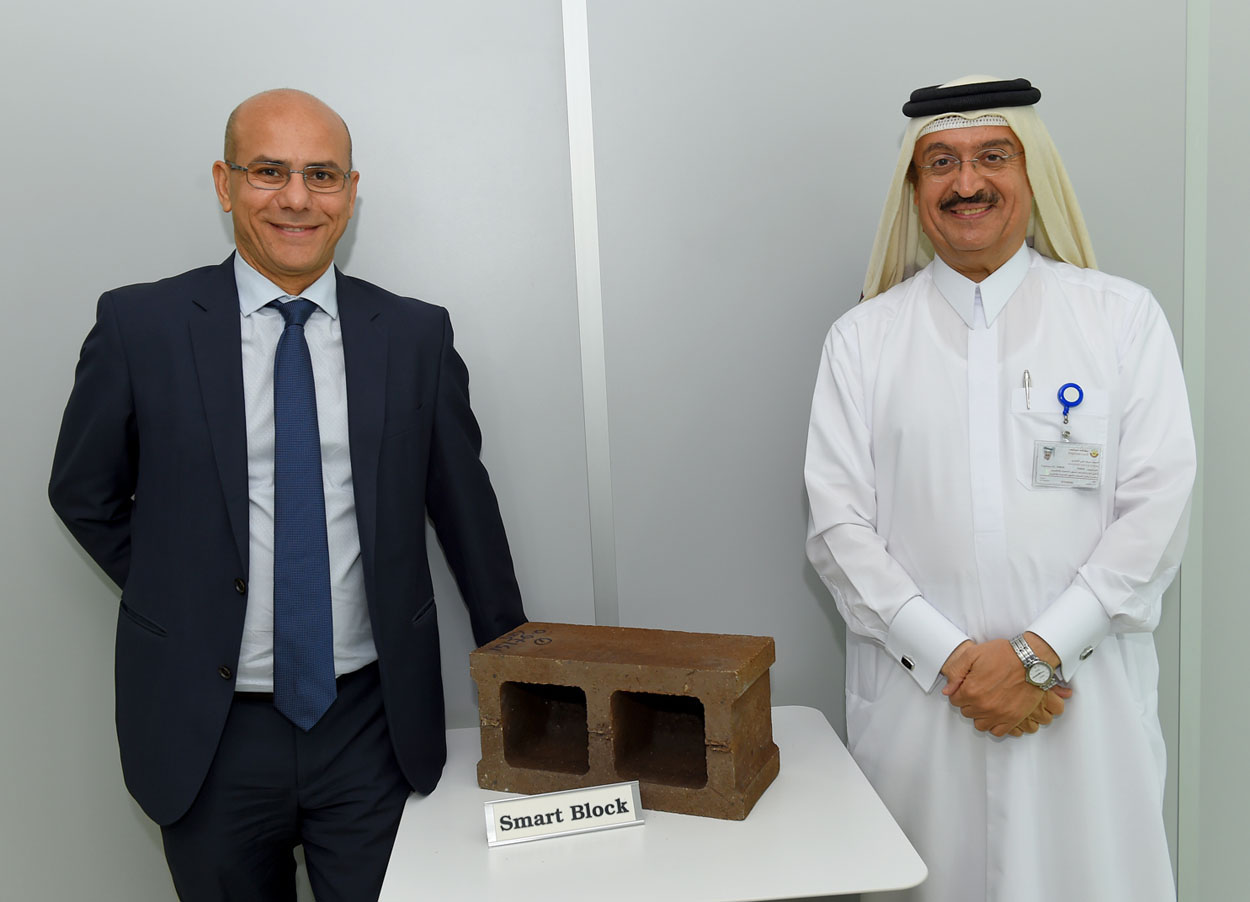 (from left to right) Dr Khaled Hassan, Country Director – Qatar and Head of Middle-East Infrastructure, TRL and Dr Mohammad bin Saif Al-Kuwari, Head of the Environmental and Municipal Studies Institute, MME at the launch of VegeBlock.
The project was funded by the Qatar National Research Fund (QNRF) at the Qatar Foundation, National Priorities Research Programme (NPRP 6-1472-2-600). During the event, attendees were briefed on how VegeBlock has been developed from small scale samples produced in laboratories to full-size building blocks using materials and techniques specifically suited to Qatari conditions and the Gulf region. The properties of VegeBlock were described, including the announced plans to take their production forward to full scale and the release of a Best Practice Guide for its reproduction.
VegeBlock is composed entirely of recycled aggregates and used vegetable oil, and is manufactured in a similar way to conventional concrete blocks, except that they are cured at higher temperatures for longer periods. The product has similar properties to low strength concrete and is suitable for use as non-load bearing blocks in buildings. By using recycled materials and avoiding the use of cement, the cost of production and the carbon footprint of VegeBlock are significantly lower than that of conventional concrete blocks being used today.
The aim of the project was focused on the development of innovative pre-cast blocks for the construction industry without the use of cement or primary aggregates. VegeBlock is expected to make a significant contribution to the sustainability of construction in Qatar. The project enabled the VegeBlock concept to be adapted to the specific conditions and materials available in Qatar--particularly to maximize the use of recycled and waste materials. The initiative falls in line with the Qatar National Vision 2030 objective of balancing economic development with the protection of the environment. VegeBlock contributes to sustainable development and the implementation of the green construction concept through the re-use of materials that might otherwise be disposed of as waste and avoiding the import of the aggregates and cement that are used in conventional concrete building blocks. VegeBlock has been developed into a practical technique adapted for the specific circumstances and recycled materials locally available in Qatar.
VegeBlock is produced from excavation waste material (limestone) and used vegetable oil. The components are mixed and compacted in a mould and cured in an oven at 170°C for up to two days. The heat treatment results in oxidation and polymerisation of the oil to act as a binder for the aggregate resulting in cured blocks with adequate strength and durability for use as construction blocks. These innovative blocks have strength and durability properties similar to non-load bearing concrete blocks (M4 & M6 in the Qatar Construction Specifications QCS 2014) but do not require the use of cement, water or imported aggregates.
A series of laboratory testing programs were carried out to optimize the process and determine which materials to take forward for the full-size production of VegeBlock. The optimisation process included different types of recycled aggregates and oils, oil content, compaction level, temperature and duration of curing. The laboratory trials demonstrated the diversity of using various types of waste material, including unwashed sand, Incinerated Bottom Ash (IBA) and excavation waste (limestone). Various types of used vegetable oils were also utilised including, Palm oil, Soybean oil and Canola oil. For each combination of aggregate and vegetable oil, the optimum oil content was established and the optimum compaction level, curing temperature and curing duration determined. It was found that the optimised mixtures produced VegeBlock—meeting and complying with Qatar Construction Specification (QCS 2014) requirements for compressive strength and water absorption for non-load bearing concrete blocks. Durability tests indicated that VegeBlock was resistant to damage from water, salts and fuel.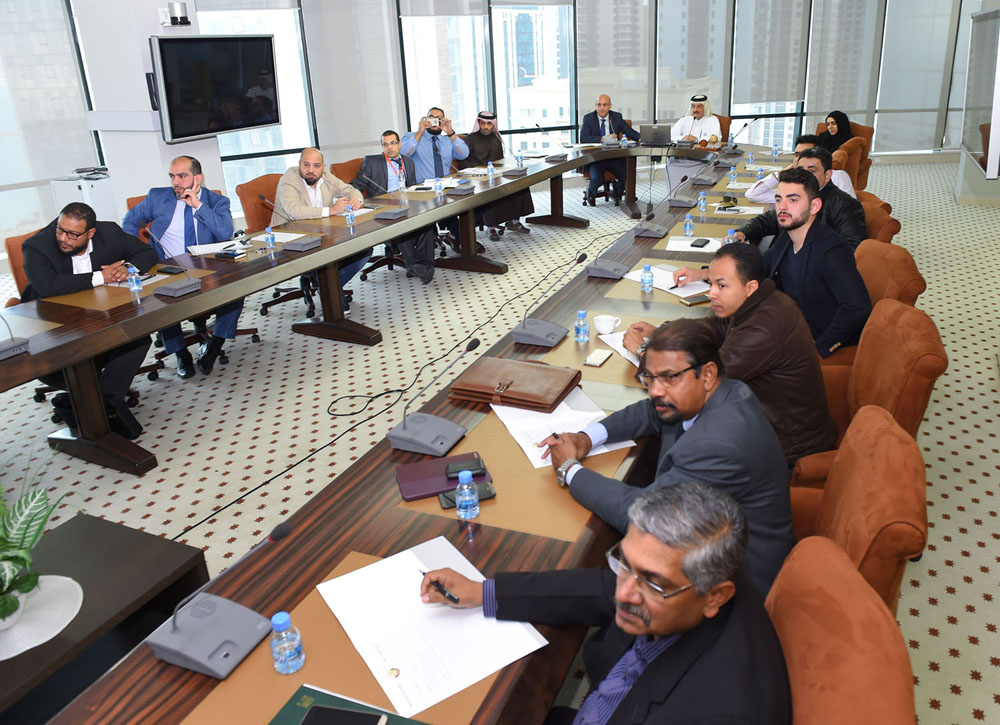 Launching 'VegeBlock' to key stakeholders of Qatar construction industry at the Ministry of Municipality & Environment Tower
Full scale production trials were then carried out at the Khalid Cement Industries factory in the Industrial Area in Doha. The aggregate used was limestone derived from excavation waste, screened to be finer than 8 mm. Used vegetable oil was selected as the binder, thus using only recycled materials as well as avoiding the use of cement and imported aggregate. The production was carried out using the same facilities available for producing conventional concrete blocks in Doha. The process resulted in the production of large sized blocks (400*200*200mm) that met the Qatar Construction Specification requirements for non-load bearing blocks.
A trial wall of full size VegeBlocks was constructed outdoors at the Qatar Standards offices in April 2016 with a wall of conventional concrete blocks for comparison. The condition of the wall has been monitored through the heat of summer and heavy rains in winter. To date, it is still intact after 10 months in service. Monitoring and testing of the trial wall will continue to provide more confidence in use.
VegeBlock offers various advantages as compared to conventional blocks including the use of locally-available waste and recycled materials and avoiding imports. VegeBlock also provides environmental benefits in terms of reduced emissions of CO2 compared to conventional concrete blocks. Carbon footprints results indicated that VegeBlock has a distinct advantage by saving 88 per cent in carbon emission over conventional concrete blocks. The great advantages of VegeBlock can be seen in the elimination of the use of cement and imported aggregates. The new and innovative product does not require the addition of water to the mix--a significant advantage as compared to concrete blocks in a desert climate like Qatar.
A preliminary economic analysis indicated that the production costs (materials plus operational costs) for VegeBlock could be significantly lower than concrete blocks. The material and operational cost for manufacturing is estimated to be two thirds the cost of conventional concrete blocks. However, there is a need to develop a bespoke system for full-scale production of VegeBlock, which may impact on the capital cost. A more detailed economic analysis should be carried out when a specific plant is under consideration.
About TRL
TRL is the global centre for innovation in transport and mobility. It provides world-leading research, technology and software solutions for surface transport modes and related markets of automotive, motorsport, insurance and energy.
Independent from government, industry and academia, TRL helps organisations create global transport systems that are safe, clean, affordable, liveable and efficient. Core areas of expertise include transport safety; vehicle engineering & simulation; investigations & major incident forensics; human factors & behavioural science; intelligent transport systems; infrastructure asset management; and sustainability & climate change.
Established in 1933 within the British Government as the UK's Transport Research Laboratory, TRL was subsequently privatised in 1996. Today, TRL has more than 1,000 clients across 145 countries, driving positive societal and economic benefit worldwide.
More information can be found at www.trl.co.uk.  You can also follow our story on: Twitter | LinkedIn | YouTube.
Categories