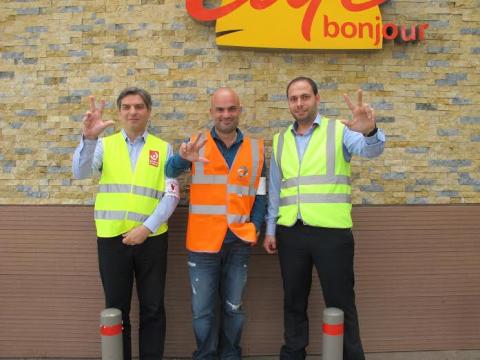 On the occasion of World Safety Day, celebrated on 28 April, Total Liban launched, like every year, an initiative to promote a culture of safety among its employees, the media and its customers.
This day was an opportunity to initiate a dialogue with all employees and highlight the risks they may face in everyday life thus, encouraging them to adopt responsible behavior while respecting the necessary preventive measures. To celebrate this day with the media, Total Liban invited, on 27 April, several Lebanese journalists to experience the job of a service station attendant at TOTAL Medawar service station. First, they attended a training session focused on safety and quality of service, and learned how safety measures are implemented on the ground. Then, at the end of this training day, the journalists were encouraged to fill up customers' fuel tanks wearing the necessary personal protective clothing. This day was described as exemplary by the journalist, Mr. Gilbert Rahmeh, who saluted Total Liban's efforts in the field of safety.
In addition, Total Liban considers that the public's involvement in the culture of safety is essential for the success of such an initiative. In this context, the service station attendants wore an armband that carried a safety message for customers. The staff were also responsible for explaining the importance of following the safety instructions posted at all TOTAL service stations: do not smoke, do not use mobile phones because they emit micro-sparks, do not introduce a source of heat, sparks, or fire and turn off the vehicle while filling up the tank.
The safety of employees and customers is of utmost importance to Total in its continuous strive to prevent incidents at all its service stations.
Categories