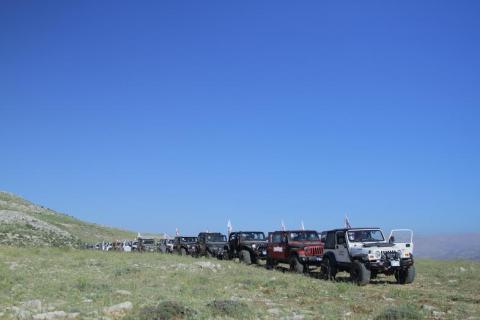 The third Lebanese Jeep Jamboree, organized by Gargour Automotive Company, saw 80 Jeepers from all across the country gather at the Jeep Dora showroom for the start of an exhilarating two-day road trip and camping experience that was packed with fun activities and thrilling surprises.
On the first day of their expedition, our bold Jeepers set off in their Wranglers on a journey that saw them travel from Dora to Mayrouba and then venture off-road to their first campsite at Chahtoul.
Once settled in, it was time for everyone to enjoy a number of surprise activities that clearly reflected Jeep's adventurous values, as our Jeepers were given the chance to enjoy archery and zip-lining, which helped them build up an appetite for a barbecue dinner followed by a party around the campfire
After a good night's sleep, our Jeepers set off on the next part of their journey which took them from Chahtoul to Faraya and then onto their final destination, Zaarour. Refreshed after a beverage break, the convoy reached Kasr Al Bouhaira in the mid-afternoon where a mouthwatering lunch awaited.
Special thanks to the team leader and six road captains who made sure that everything ran smoothly, thus assuring that everyone enjoyed themselves and safely reached their destination.
Built on more than 70 years of legendary heritage, Jeep is the authentic SUV with top of the line capability, craftsmanship and versatility for people who seek extraordinary travels.
The Jeep brand delivers an open invitation to live life to the fullest through a range of vehicles that gives their owners the confidence to embark on the most daring of journeys.
Categories