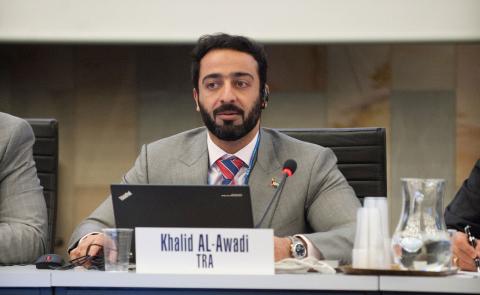 TRA leads International Telecommunications Union seminar in Geneva
The Telecommunications Regulatory Authority (TRA) is discussing plans to allocate new bandwidth frequencies compatible with 5th generation mobile networks, enable airlines to provide high-speed broadband Internet connection during flights at lower costs, and develop a global maritime distress system. These initiatives were revealed during its participation at a recently-held seminar organized by the International Telecommunications Union (ITU) in Geneva.
The TRA, which is heading the Preparatory Meeting for World Radiocommunication Conference (WRC), raised several important clauses about the event which will take place in 2019. It reviewed the suggested clauses on using space telecommunications in terms of current capabilities, considering that space telecoms is a major aspect of the space sector along with satellites and other related space communication technologies.
Eng. Khaled Al Awadhi, Manager for International Organizations, Corporate Development Department and TRA spokesperson said: "The UAE's participation in the seminar as official speaker is a significant step for the country as a trusted nation capable of leading such events and confirms our established partnership with the ITU in various initiatives for the sector. This is not the first time the UAE been invited to lead as an official speaker in global seminars –reflecting our ability to discern the weak and strong points and present ideas transparently. The UAE's leadership in telecommunications is central to the TRA's strategic goals and we are working to achieve this through technical and infrastructure developments as well as strategic partnerships. Leading the Preparatory Meeting for WRC-19 is another testament of the country's position globally as a trusted partner in telecommunications,"
Eng. Khaled Al Awadhi added "The TRA has proposed various technical aspects which require close collaboration between the telecoms and space sectors, especially in terms of enhancing the quality of telecommunications services and providing customers with easy access and reach as our way of helping our customers achieve happiness. "The TRA has discussed the importance of using space services and providing new frequencies that can accommodate 5th generation mobile devices, which will require expanding broadband services or improving the efficiency of current capabilities. The TRA has discussed broadband application using satellites to serve the aviation sector which will allow airlines to easily provide high-speed internet connection in-flight. At present, there are some technical challenges to fully offer Internet connection while onboard flights because of lack of capabilities and high cost.
Al Awadhi further stated that the federal agency was invited to become part of an initiative to develop the Global Maritime Distress and Safety System, an electronic identification technology which will track ships navigating across oceans to ensure their safety from pirates and immediately get a response during emergencies. The project can be done by allocating new spectrum bands.
"Emirati engineers are very much capable of contributing significant innovation in the space sector as we have seen them launch many projects under the sponsorship of technology firms and service providers. The TRA is continuously working to meet the requirements of those projects which may need to be tested and applied internationally. This is where we come in - to facilitate their implementation through coordination with ITU," Al Awadhi emphasized.
The Telecommunications and Regulatory Authority won the chairmanship of the WRC 2019 Preparatory Meeting during its participation at the Radio Communication Assemblies meetings held in October 2015.
Categories