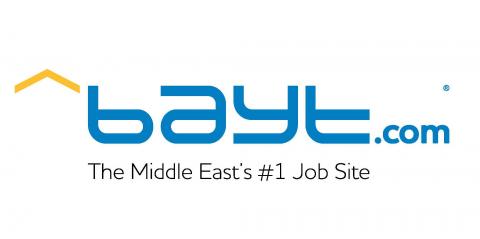 Six in 10 respondents say their team leader is the central decision maker

Teamwork is an extraordinarily important part of the MENA workplace. A new poll by Bayt.com, the Middle East's leading job site, entitled 'Teams in the MENA Workplace', found that teams form a very important part of job satisfaction for nine in every 10 employees across the Middle East and North Africa (MENA) region.
The majority of respondents (88.2%) believe that, overall, their teams work effectively together, with 47.9% stating that teamwork is 'very' effective. 62.8% of MENA respondents are happy with their teams, with 37.4% being 'extremely' happy. Four in 10 respondents (40.5%) strongly agree that there is a lot of trust between members on their teams. Just 4.8% stated the opposite.
Teams in the MENA: Accountability and Decision Making
Around four in 10 respondents claim that their immediate team consists of 2-5 members (41.8%), while a quarter said it consists of more than 16 members (25.5%). One in five respondents claim that their immediate team consists of 6-10 members, and 11-16 members make up the teams for 11.9% of those polled.
Both team manager and team members take credit for team successes (66.5%). However, for 16.6% of respondents the opposite is true; they believe that top management takes credit for success, while 9% say only the team manager does. A minor 7.9% say that team members only take credit. Having said that, 52.3% of respondents believe that in the MENA region both the manager and members are responsible for the failure in their team. 21.3% think that the responsibility fall on the team manager only, while 15.6% believe that top management is responsible. Only 10.7% think that only team members are responsible for failures in their team.
When it comes to decision making in the team, 60.7% of MENA respondents are of the opinion that the team leader is also the central decision maker, while 39.3% think the opposite is true. There is no doubt that MENA respondent view their team leaders as hard working (86.3%), with almost four in 10 (37.3%) believing their team leader is 'very' hard working.
Meetings, Communication and Conflict Resolution
Almost seven in 10 respondents (66.3%) say that communication between team members is always open and participative. A quarter believe that it is open and participative most of the time (24.8%), while 9% state it almost never is. When it comes to conflict resolution, 88.6% of respondents say that their team resolves conflicts honestly, effectively and quickly; only 11.4% believe the opposite is true.
Half of the MENA respondents (51.8%) say that their team has about the right number of meetings, 26.4% say it has too few meetings, while one in five (21.9%) affirm it has too many meetings. In terms of productivity, more than half of respondents (53.2%) say that team meetings in their company are always productive and always result in clear outcomes. 35.5% believe this happens most of the time, while 11.3% think it almost never happens.
How MENA Teams Share the Workload
80.2% of MENA respondents agree that work among their team is spread equally and fairly, while 10.4% disagree with this sentiment. 56.7% of respondents believe that the members of their team are skilled at their job; 54.3% of the respondents say that their team always meets its deadlines, and 83.3% say that the members of their team behave in a professional manner.
"Our poll indicates a positive relationship between teams and employee satisfaction. Results from the poll suggest that companies need to realize the importance of providing a good working environment for their teams if they want to maximize the levels of employee morale and satisfaction. In teams, communication is critical in providing and assessing input from each team member, and encouraging learning," said Suhail Masri, Vice President, Employer Solutions, Bayt.com.
 He continued: "At Bayt.com, we provide an online learning platform, Bayt.com Learning, where you can find an array of tests and courses which are there to educate managers on how to manage their human resources and build successful teams. Ongoing learning cannot be emphasized enough, for leaders and professionals alike, and we encourage everyone to access Bayt.com Learning today to test their skills, and learn new ones."
Data for the 2016 Bayt.com 'Teams in the MENA Workplace' poll was collected online from August 2 2016 to September 19 2016. Results are based on a sample of 9,708 respondents. Countries that participated are the UAE, Bahrain, Algeria, Egypt, Iraq, Jordan, Kuwait, Lebanon, Morocco, Oman, Tunisia, Qatar, KSA, Yemen, and others.