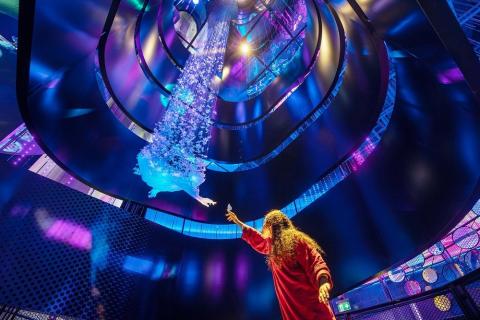 Inspiring experience highlights the Arab world's role in advancing global mobility.
Giant photo-realistic sculptures, the world's largest elevating platform and highlights of the UAE's space programme are among the attractions set to amaze visitors to Alif – The Mobility Pavilion at Expo 2020 Dubai.
Travel through time and space from 4,500-year-old trading settlement Saruq Al Hadid – the location where the ancient ring that inspired Expo 2020's logo was discovered – to a virtual city of future, where visitors can gain insight into the potential evolution of mobility.
The pavilion showcases the pivotal role the UAE and the entire Arab world has played and continues to play in advancing human progress. Visitors are transported on the world's largest elevating platform to the House of Wisdom in ninth-century Baghdad, before encountering the Giants of Mobility – nine-metre-tall figures from the Golden Age of Arab Civilisation, including navigator Ibn Majid and celebrated explorer Ibn Battuta, who helped drive forward global mobility throughout the centuries.
Central to the story of mobility is the role that Dubai and the UAE have long played in connecting people on a global scale. Visitors are shown the incredible progress the UAE has enjoyed in the past 50 years, especially in mobility-related fields such as airlines, logistics and smart cities, extending into the solar system through the UAE's space programme and the Hope Mission to Mars.
Visitors can also witness displays of state-of-the-art transportation devices, before enjoying mobility-related performances, events, symposiums and demonstrations at the pavilion's plaza.
The pavilion was designed by award-winning British architectural design and engineering firm Foster + Partners, with a ribbed, curved shape that evokes movement, while its highly polished stainless-steel cladding, inspired by chrome fenders and aircraft wings, reflects movement from surrounding areas.
 
Source: www.expo2020dubai.com