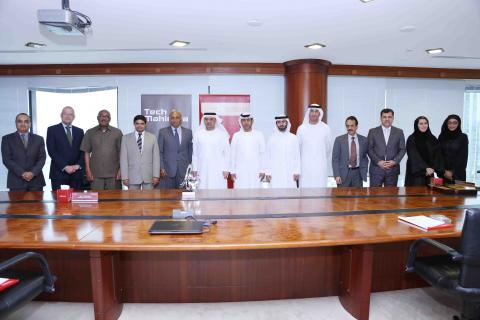 July 5, 2014 - The Dubai Economic Council (DEC) signed an MOU with Tech Mahindra, a world leader in providing innovative and customer-centric information technology services. The MOU was signed by H.E. Hani Rashid Al Hamli Secretary General of DEC and Mr.  C.P. Gurnani, CEO, Tech Mahindra. The meeting was attended by executive teams of both entities.
"We strongly believe in strategic partnerships and alliances to achieve a nation's strategic initiatives …Tech Mahindra makes an excellent partner to collaborate with in catering to the smart city initiative launched by H.H Sheikh Mohammed Bin Rashid Al Maktoum, Vice President Prime Minister of the UAE and ruler of Dubai", said Hani Al Hamli, DEC Secretary General.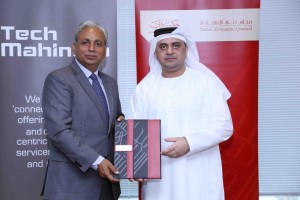 Al Hamli also stated "Our collaboration with Tech Mahindra would find ways and solutions to support Dubai's complete conversion to a smart city". The DEC seeks to benefit from the private sectors' spectacular experience in smart technologies to help connect not only Dubai's community but also the UAE and the world. "This is just a beginning, the MOU will pave the way of enhanced collaboration between the two parties including exchange of knowledge, expertise and advice in innovation and smart solutions which would be converts to real engines such as the city's connectivity through different utilities connection via smart solutions. These solutions will boost the service sectors as a whole ultimately stimulating and serving our economy. "We will be announcing further details on the areas of collaboration in a press conference later this year" Al Hamli concluded. 
"We are proud of this new partnership with the Dubai Economic Council, which strongly demonstrates Tech Mahindra's eagerness to play a key role in the vision set forth by H.H Sheikh Mohammed Bin Rashid Al Maktoum, Vice President Prime Minister of the UAE and Ruler of Dubai, to transform the emirate into one of the world's premier Smart Cities. Dubai is committed to create the vision of a 'Connected World, Connected Solutions, Connected City' and more importantly a secure city into a reality and I am happy that DEC has chosen us as a partner-- and I am deeply grateful," said C.P. Gurnani, CEO, Tech Mahindra. "The establishment of a joint Centre of Excellence will surely drive in an influx of new Proof of Concepts and solutions that can be utilized by various government departments in the efforts to shift to Smart City status. Tech Mahindra's expertise across various technology based verticals is expected to reinforce the shift—like helping streamline services in healthcare, education, security, energy, logistics, financial services, hospitality and real estate. Additionally, Citizen Benefit Value Analysis will be a key value driver in ensuring the success of this Centre of Excellence; acting as a performance benchmark measured by the Steering Committee of the centre itself."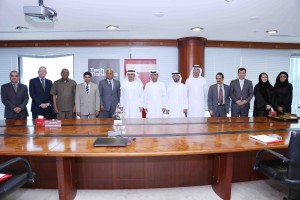 Gurnani further added, "Dubai remains a world leader in urban planning and the way it shows us how diversity can co-exist in a city and also as a country is truly amazing. Dubai is truly an ideal example to the slogan 'Connected World'--proving itself as a model 'Smart City' not just for the Middle East but for the rest of the whole world as well. We are widely known for our expertise in building technologies for connected hospitals, connected hotels, and smart stadiums, and we are looking forward to working closely with the DEC as this will be the first time Tech Mahindra is offering a wholesome package of building technologies, creating innovations, proof of concepts and the like to build a complete 'Connected City'" 
Tech Mahindra
Tech Mahindra represents the connected world, offering innovative and customer-centric information technology services and solutions that enable Enterprises, Associates and the Society to Rise™. We are a USD 3.1 billion company with 89,000+ professionals across 51 countries, providing services to 629 global customers including Fortune 500 companies. Our Consulting, Enterprise and Telecom solutions, platforms and reusable assets connect across a number of technologies to deliver tangible business value to all our stakeholders.
We are part of the USD 16.7 billion Mahindra Group that employs more than 180,000 people in over 100 countries. The Group operates in the key industries that drive economic growth, enjoying a leadership position in tractors, utility vehicles, after-market, and information technology and vacation ownership.
Categories