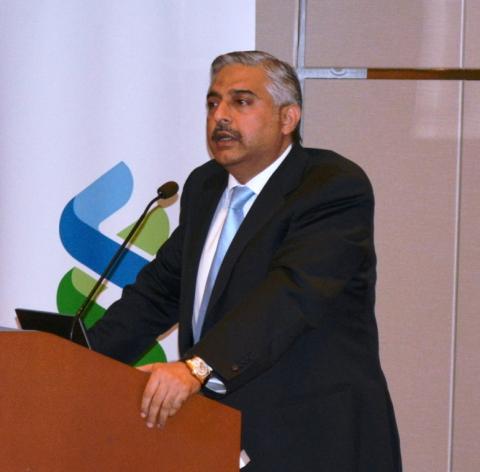 Finance and Treasury professionals gather to discuss trends in Liquidity and Working Capital Management
Dubai, United Arab Emirates, 30 June 2014 – Standard Chartered's Transaction Banking Department recently organised a seminar on Liquidity and Working Capital Management for its Corporate and Institutional Clients in the UAE.
Held under the title:"Looking Beyond: Will Cash Flow Faster?", Mohsin Nathani, CEO, UAE Standard Chartered, delivered the welcome speech followed by presentations from senior representatives of the Bank.
The event provided a strategic platform for a select group of clients to exchange ideas and discuss best practice in Working Capital Optimisation and Treasury Management. The session was attended by a number of finance and treasury professionals.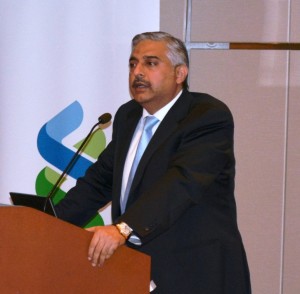 Commenting on the seminar, Haytham El Maayergi, Head of Transaction Banking UAE, Standard Chartered Bank said:
"Efficient management of Liquidity and Working Capital is an increasingly competitive advantage for companies. Standard Chartered is ideally positioned to leverage its network and cross border capabilities to ensure our client's transactional needs are catered to consistently across their network. This seminar is an ideal platform to raise awareness about the strategic importance of efficient liquidity management and comes in line with Standard Chartered's approach of deepening its client relationships and ensuring they receive world-class transaction banking solutions. Standard Chartered continues to introduce innovative solutions that optimise our clients' ability to unlock liquidity from their balance sheet to ensure smooth and efficient trade and investment operations."
Standard chartered is in bringing leading edge capabilities to the Middle East specifically around liquidity management including sophisticated tools such as intraday liquidity management simulations which provides visibility on global/regional or local liquidity pools before pool execution. In addition the bank is launching  advanced receivables management capabilities that could transform the way corporates reconcile their receivables and collections.
Standard Chartered has been operating in the UAE since 1958 and provides conventional and Islamic Transaction Banking services and solutions. The Bank was recently recognised at The Asset Triple A Treasury, Trade & Risk Management Awards as the 'Best in Treasury & Cash Management' and the 'Best in Working Capital & Trade Finance' for MENA region. 
For further information please contact:
Standard Chartered Bank
E-mail: : Wasim-Ben.Khadra@sc.com
Standard Chartered
We are a leading international banking group, with more than 86,000 employees and a 150-year history in some of the world's most dynamic markets. We bank the people and companies driving investment, trade and the creation of wealth across Asia, Africa and the Middle East, where we earn around 90 per cent of our income and profits. Our heritage and values are expressed in our brand promise, Here for good.
Standard Chartered PLC is listed on the London and Hong Kong Stock Exchanges as well as the Bombay and National Stock Exchanges in India.
For further information please visit www.standardchartered.com. Follow Standard Chartered at www.facebook.com/standardchartereduae and on Twitter @StanChartMENAP.
Categories