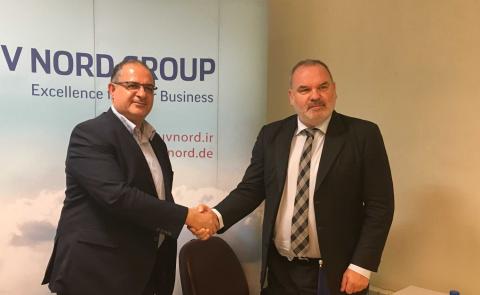 Signs strategic agreements with two firms to foray into Iran's fast-growing IT sector
Software AG, an enterprise software developer, has revealed its strategic plans to venture into Iran to leverage its potential of becoming the fastest-growing IT sector in the Middle East region in the next five years. During its recent visit to the country, the team from Software AG signed a partnership agreement with two local partners, including TÜV NORD. TÜV NORD Iran has been offering a comprehensive range of world-class services, including technical monitoring, certification, and training since 1998.
As the Middle East swiftly moves to modernise and upgrade its IT capabilities, Software AG foresees a sustained growth in the region. Regional companies are keen on investing in Software AG's Digital Enablement Capability that utilises components of its Digital Business Platform to create profit and achieve efficiency.
In line with this, Software AG aims to strengthen its business in USD 420 billion Iranian economy through its latest collaborations and help to build an official supply network. With its opening again to international business in key sector, Iran offers infinite opportunities to IT companies who can gain easy access to its 80 million consumers.
Rex Neate, Lead – Partner and Ecosystems, Software AG – Gulf and Levant, said: "Software AG has had a successful history of supplying software licences to banks, petrochemical companies, and government organizations in Iran prior to the UN restrictions imposed in 2006. Following the lifting of the trade embargo, we aim to work with established and capable partners who can help us start off work from where we left. We are confident that our current partnership deals will immensely benefit Software AG in re-stablishing itself in a much stronger position than before in the Iranian market."
According to the World Bank, Iran's gross domestic product (GDP) is predicted to grow by 6 per cent in 2016 and 7 per cent in 2017. Increased IT spending, an expanding rate of mobile penetration and the easing of economic sanctions will give a major boost to the domestic IT services market, enabling it to reach USD 2.8 billion by 2020.
Software AG offers the first end-to-end Digital Business Platform, based on open standards, with integration, process management, in-memory data, adaptive application development, real-time analytics and enterprise architecture management as core building blocks. The modular platform allows users to develop the next generation of application systems to build their digital future, today.
Categories