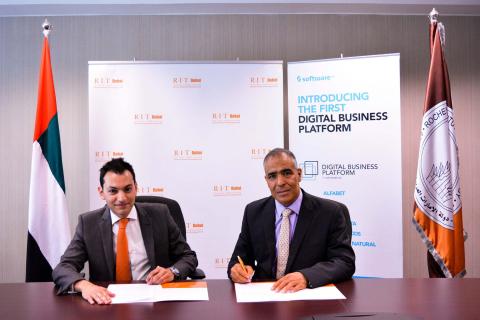 MoU in line with Software AG's University Relations Program designed to build cooperation between private sector & academe
Software AG, a global leader in enterprise architecture, IT planning, business process management, integration and big data, recently joined forces with Rochester Institute of Technology, Dubai (RIT Dubai) to help shape the country's future business leaders and innovators by leveraging advanced digital tools and solutions. The agreement will see the two industry leaders collaborating closely under Software AG's University Relations Program to help turn creative and innovative ideas into reality.
Under the Memorandum of Understanding (MoU) signed by Rami Kichli, Vice President, Software AG - Gulf & Levant region, and University President Dr. Yousef Al Assaf, a range of skills development opportunities will be available for RIT Dubai students and faculty. RIT Dubai is one of the region's leading technological universities offering highly regarded and accredited U.S Bachelor's and Master's degrees in business and leadership, engineering, and computing directly from its New York campus.
One opportunity is student access to knowledge sharing and cooperative education with Software AG, under RIT Dubai's unique cooperative internship education program.  This is a key cornerstone of education at RIT Dubai, which is particularly beneficial for graduates. This access and experience gives them a head start against their contemporaries as they join the highly competitive labor market.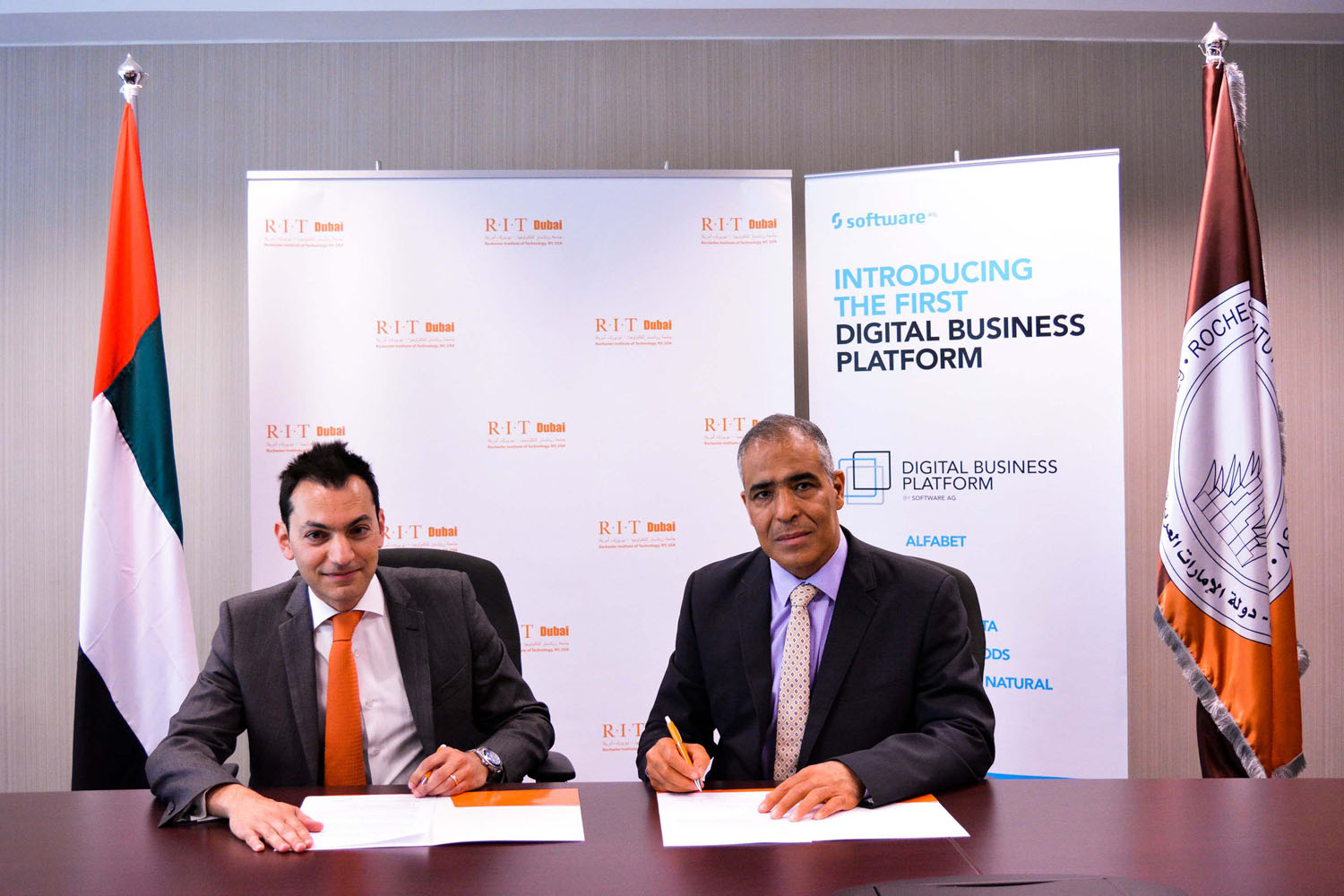 (From Left to Right): Rami Kichli, Vice President - Software AG Gulf & Levant region and Dr. Yousef Al Assaf, University President, RIT Dubai
The MoU will also pave the way for further interactions between RIT Dubai and Software AG's experts during major events such as CeBIT, Innovation Days, and User Groups. Besides gaining a glimpse of game-changing market trends and developments, the exchange will offer an ideal foundation for the students' future academic research projects and give Software AG access to high quality student and faculty research.
Kichli said, "Education is the foundation of business innovation. We have designed our University Relations Program around this belief, while highlighting the importance of cooperation among the private sector, academia, and the entire education industry to help build the country's business leaders and innovators of tomorrow. We are privileged to be partnering with RIT Dubai in our bid to equip students with in-demand skills and expose them to the real world before they even leave the university to help them succeed in this age of digital evolution."
In-depth training programs, free student certifications, alongside strategic partnerships promoting innovative ideas, research, seeding, and startups, among others, are important aspects of the collaboration. Guest speakers from Software AG and RIT Dubai discussing hot business topics such as big data, streaming analytics, Internet of Things, business process transformation, and integration, will provide further added-value learning to students and the wider community.
Aside from diverse events, RIT Dubai students and faculty will also get a chance to have an access to free software in an effort to build an academic user group. Software AG's free software contains e-learning, video tutorials and other training materials to create self-explanatory and easy-to-use packages. Education packages are designed to be used either by individuals, or they can be done in teams with or without faculty assistance.
"Through Software AG's University Program, the company is able to demonstrate its unwavering support for innovative ideas. Students can share innovative ideas and Software AG is always eager to support and fund projects that generate win-win situations. With our new newest cooperation with RIT Dubai, we look forward to hearing creative and unique thoughts that will help propel local society and the entire country forward," added Kichli.
University President Dr. Yousef Al Assaf said: "At RIT Dubai we strive to lead higher education in the region through preparing students for successful careers in a global society. Ensuring opportunities with organizations such as Software AG, helps engage and further motivate our students through stimulating and collaborative experiences.  Software AG will help us provide technology-based educational programs designed to develop student's personal and professional development."
Building on over 45 years of customer-centric innovation, Software AG, a leader in many innovative IT categories, empowers customers to innovate, differentiate, and win in the digital world. Software AG's products helps companies combine existing systems on-premise and in the cloud into a single platform to optimize and digitize their businesses. Software AG provides market-leading software for business processes, integration, intelligent business operations and transactions.
The combination of process management, data integration and real-time analytics in One Digital Business Platform enables customers to drive operational efficiency, modernize their systems and optimize processes for smarter-decision making.
About RIT Dubai
Established in 2008, RIT Dubai is a not-for-profit global campus of Rochester Institute of Technology, NY, one of the world's leading technological universities. RIT Dubai is based in Dubai Silicon Oasis and offers the same highly valued American Bachelor and Master's degrees in business, leadership, engineering, and computing as in the main campus in Rochester, NY,USA. The university offers a unique Master's in City Science, one of the only ones in the region.
About RIT NY
Rochester Institute of Technology (RIT) is one of the world's leading career oriented, technological-focused universities, offering high quality academic programs, outstanding committed faculty, and state-of-the-art facilities. Founded in 1829, RIT is the 11th largest private university in the US, and our cooperative education program is one of the oldest and largest in the world. 
About Software AG
The digital transformation is changing enterprise IT landscapes from inflexible application silos to modern software platform-driven IT architectures which deliver the openness, speed and agility needed to enable the digital real-time enterprise.
Software AG offers the first end-to-end Digital Business Platform, based on open standards, with integration, process management, in-memory data, adaptive application development, real-time analytics and enterprise architecture management as core building blocks. The modular platform allows users to develop the next generation of application systems to build their digital future, today.
With over 45 years of customer-centric innovation, Software AG is ranked as a leader in many innovative and digital technology categories. Software AG has more than 4,300 employees, is active in 70 countries and had revenues of €873 million in 2015.
Learn more at www.softwareag.com.
Categories