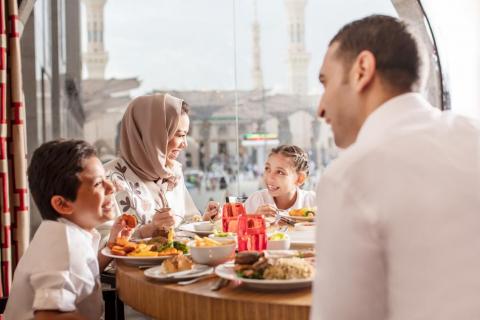 Offers apply to Shaza properties in KSA, UAE, and Oman
Shaza Hotels, the luxury hotel and retreats chain with properties in the Kingdom of Saudi Arabia, UAE and Oman is gearing up to receive internal tourists during Eid Al Fitr season.
In the kingdom, Shaza properties include three amazing hotels in three prime locations that provide the perfect staycation options for families from all over the kingdom, whether they want to stay at Shaza Makkah, one the first in line hotels overlooking Al Masjid Al Haram, at Shaza Madinah, right next to the holy mosque of Al Masjid Al Nabawi, or at Shaza Riyadh, in the buzzing heart of the capital next to Al Rajihi mosque, Shaza hotels have what it needs. In Oman, Shaza Hotels runs Mysk by Shaza Al Mouj Muscat, overlooking the vibrant marina of Al Mouj in Muscat.
As for UAE residents, Sharjah Collection by Mysk runs a spectacular list of lavish properties including Mysk Kingfisher Retreat, Mysk Al Badayer Retreat and Mysk Al Faya Retreat, which represent the hallmarks of Sharjah's identity, each with its own distinctive allure and theme.
Those who plan to spend their Eid enjoying the lavish hospitality of Shaza properties can avail the Cherished Memories offer using the promo code "Memories", which will grant them 25% off on rooms, 50% on kids' rooms, 20% off on dining and spa, and children below 12 years eat free. In addition to that, Discovery loyalty Programme members receive an additional 10% discount. The offer is valid until 30 June 2021 across Shaza Hotels in Makkah, Madinah, Riyadh, Mysk Al Mouj Muscat in Oman, and Mysk Al Badayer retreat in Sharjah, UAE. 
Shaji Abu Salih, Corporate Director - Business Development at Shaza Hotels noted, "Eid is time for family to come together. Especially this year as we emerge from the pandemic. Families can't wait to go out and have fun again writing their new memories together." 
To fight the spread of COVID-19, All Shaza properties follow a strict programme named Shaza ASSURES (Active Safety & Sanitisation measures to Uphold and Reassure Excellence in Service). It is a set of protocols that are integrated with Shaza's current operating standards and is designed to ensure that Shaza Hotels can protect the health of its guests. 
"We take every precautionary measure to ensure the safety of our guests and staff at all of our properties. This is to give our valued guests the peace of mind when enjoying their times and living their new cherished memories at any of our marvellous hotels and retreats in the region," Abu Salih concluded.