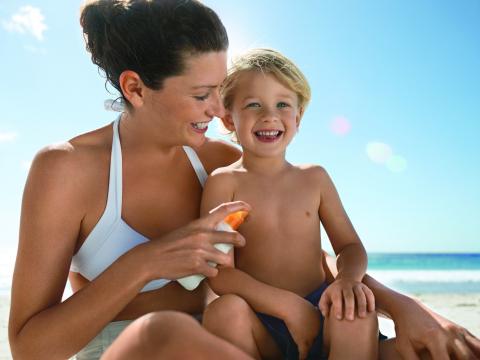 Conventional UV-protection is not enough, Eucerin® launches an advanced UV-filter combined with cell and DNA protection 
Beirut, June 2014: Experts of all different specialist fields seldom agree on one topic. But when it comes to sun protection, there is a common agreement between dermatologists and pediatricians that sun protection products for children have to meet specific standards in order to meet the increased needs of protection and care for sensitive children's skin. Eucerin® conscious of the importance of sun protection especially in younger age groups has developed a unique formula stronger than the conventional protection. Under the range Eucerin® Kids Sun Protection the specialised brand's products use the most advanced UV-filter combined with cell and DNA protection.
Sun protection for children is extremely important, since the self-protection mechanism in children's skin is not fully developed, and at the same time, UV-exposition for children is extremely high. Due to outdoor activities, children in comparison to adults are exposed to a threefold UV-radiation therefore, active and passive sun protection is absolutely necessary. Because UV-induced damages and repeated sunburns during childhood and adolescence do increase the risk of developing epithelial skin cancer and malign melanomas in the later life.
Since children's skin only has a reduced sebaceous gland function and therefore prone to desiccation, there are also certain requirements with  regard to the care properties of sun protection products. Sun protection products for children should have a high SPF; meet specific standards with regards to water-resistance and should not contain any fragrances.
Eucerin® Kids Sun Protection is suitable for sensitive and atopic skin of children at the age of one year and above. The sun protection products include:
-       Highly effective UVA/UVB-filter system with TINOSORB®S, that provides excellent absorption capacity three times more UVA radiation than other broadband filters
-       Active ingredients like Licochalcone A, a strong antioxidant to protect cells from free radicals which are caused by UV rays
-       Glycyrrhetinic Acid which provides DNA protection as well as DNA repair of possible damage caused by UV rays offer additional biological cell protection on top of the regular UV protection.
The Eucerin® Kids Sun Spray SPF 50+, clinically proven on children at the age of one year and older, protects from sunburn and reduces the risk of long-term UV skin damages with cell and DNA protection.
Available in leading pharmacies across the region, Eucerin® Kids Sun Spray SPF 50+ is a non-greasy oil-in-water emulsion spray and is priced at Dhs 115 and Eucerin® Kids Sun Lotion SPF 50+ is priced at Dhs 115. Both products are free of perfume, parabens and colorants. 
Of course, Eucerin® has not forgotten about adult sun protection. Eucerin® adult range for sun are available for face and body and include sun cremes and sun lotions and after sun. 
Eucerin® Face Care: 
Eucerin Sun Mattifying Fluid SPF 50 –50ml
Eucerin Sun Crème SPF 50 –50ml
Eucerin Sun Crème tinted SPF 50 –50ml
Eucerin® Face Care:
Eucerin Sun Lotion Extra Light SPF 50 -150ml
Eucerin Sun Spray SPF 50 –200ml
Eucerin Aftersun –150ml
Tips to make applying sun protection easier:  
Don't wait until you go outdoors to put on sunscreen. Ideally, it should be applied at least 30 minutes before being exposed to the sun  
Apply sunscreen at home before putting on your bathing suits to make sure every inch of skin is covered to avoid little sunburns along the edge of a bathing suit 
Use at least a palmful of sunscreen on your child; a palmful is an easy way to figure out, and if you're in doubt, more is never a bad idea
Remember to reapply - even water-proof and water-resistant sunscreens wear off after prolonged exposure. Whenever you feel skin getting warm, put more sunscreen on.  
Don't rely only on sunscreen; clothes, hats and shades are the best sun protection
Tell your kids why sunscreen is important to keep their skin safe and keep the sun from burning them.
Parents play an important role in protecting their children from the sun 
About Beiersdorf AG
Cosmetics company Beiersdorf AG is based in Hamburg, Germany, and has around 16,500 employees worldwide. Its sales in 2012 amounted to €6 billion and it has been listed on the DAX since December 2008. Beiersdorf's NIVEA is the world's No.1 skin care brand*. Other names in its successful international brand portfolio include Eucerin, La Prairie, Labello, 8x4, and Hansaplast/Elastoplast. Subsidiary tesa SE is one of the world's leading producers of self-adhesive products and system solutions for industry, craft businesses, and consumers. Beiersdorf has more than 130 years of skin care experience and is known for its innovative and high-quality products.
For further information please contact:
Beiersdorf Middle East
Email: Shaima.Tahboub@Beiersdorf.com
Categories