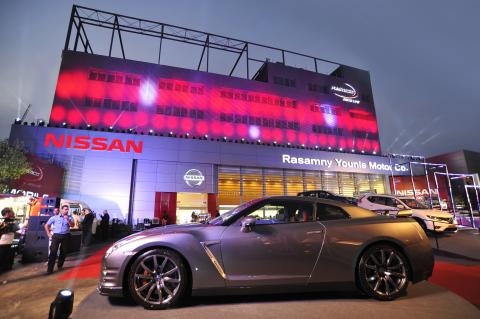 Beirut, October, 2014 – Rasamny-Younis Motor Company S.A.L. (RYMCO), exclusive distributor of Nissan in Lebanon, inaugurated its new Nissan showroom in Dbayeh on Tuesday the 28th of October 2014, in an outstanding event revealing the all new 2015 Nissan models in the presence of Nissan's international executives.
Over 600 invitees from media representatives, and others attended the big opening ceremony and enjoyed the remarkable launch of the All-New Nissan X-Trail, the face lifted Nissan Juke and Sunny, in an astonishing spectacle. Guests had the chance to explore the Dbayeh showroom that hosted the Nissan line-up in a very contemporary space, while being surrounded by a live band that entertained the evening. The all new X-trail was the highlight and the star of the evening being back with a refined vigorous look, maintaining its great performance and robust engine. The X-Trail SUV is available as a 5-seater or a 7-seater satisfying the needs of both families and young drivers.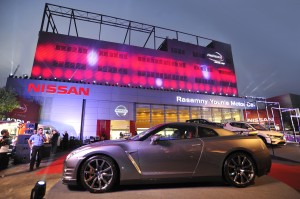 "The opening of the new Nissan showroom in the Metn region, is only part of our expansion plan and efforts to cater to all clients across Lebanon. We have already expanded our network to major cities throughout RYMCO branches as well as our authorized dealers, and we look forward to providing distinguished after sales services to all of our dealers in the country" said Fayez C. Rasamny, Chairman of RYMCO.
Takashi Hata, Nissan's senior Vice President, Chairman of management committee for Africa, Middle East and India, lavished praise on RYMCO and the new showroom.
"With the opening of this state-of-the-art facility RYMCO has reaffirmed its commitment to be the best distributor in customer satisfaction in Lebanon. In just 12 months you have opened showrooms in Verdun, Tyre and now Dbayeh, such expansion is an inspiration, particularly as Nissan is also implementing a major expansion strategy."
Samir Cherfan, Managing Director of Nissan Middle East, spoke of the enduring relationship between Nissan and RYMCO.
"Nissan and RYMCO have had 47 years of successful partnership.  From humble beginnings in 1967, it has become one of the best performing Nissan distributors in our region. Indeed, in terms of volume, Lebanon is our biggest market outside the GCC and Turkey. However, market share is more indicative of performance and RYMCO currently has the best level of market share performance for Nissan in our region."
The Nissan showroom has an exceptional surrounding area with an exposure on both Dbayeh highways, making it very convenient for customers to visit the showroom, book a test drive and discover the best type of vehicles that suit their needs. Moreover, RYMCO is offering today the "Mobile Workshop", a unique service enabling clients to have their vehicles checked and fixed at home by RYMCO's professional technical team. Additionally, and as part of its corporate social responsibility, RYMCO has announced a new donation campaign in partnership with the Children Cancer Centre of Lebanon. RYMCO will be donating $1000 to CCCL on every sale of the new Nissan Patrol 2015 to help contribute to the children's treatment.
RYMCO is delighted to have opened in a strategic area in the heart of El-Metn region. Customers can now visit the showroom Monday through Friday from 08:30AM till 06:00PM and on Saturdays until 02:00PM. For more information please call us on: 1599
Visit our RYMCO Facebook page or follow us on Twitter @Rymco
For more information, please contact:
RYMCO
maira.eid@rymco.com
ABOUT RYMCO:
Rasamny-Younis Motor Company S.A.L. (RYMCO) is a joint stock company, ISO certified 9001:2008, that was established in 1957 in Lebanon and is the only automotive dealer to be listed on the Beirut Stock Exchange since 1998. RYMCO is one of the leading vehicle retail dealerships in Lebanon where it holds majority market share in the new vehicle retail industry, and commands a considerable portion of the used vehicle market. RYMCO operates a chain of independent showrooms and stores, a bonded warehouse as well as state-of-the-art servicing and maintenance facilities. The company has an automotive dealership arrangement with auto manufacturers in the US, Japan, Europe and China that include the likes of automotive giants Nissan Motors (Nissan, Infiniti), GM vehicles (GMC), Renault trucks, UD Trucks within the commercial department,Kawasaki and Peugeot Scooters under the Powersports division which also incorporates many other international brands for motor sports accessories and gear, while expanding to many other sectors related to the automotive industry. RYMCO marine is another unit within the RYMCO operations specialized in the servicing of boats under the brand name of RYMCO Marine.
Categories