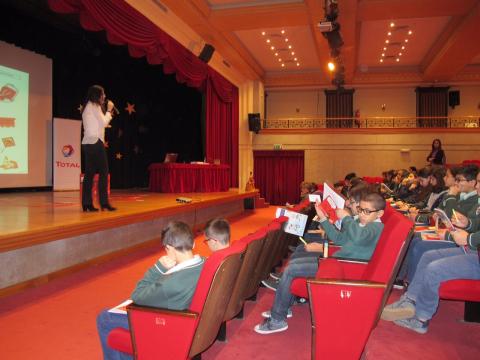 Beirut, March 2015
: Following the success of the "
On the way to your safety
" campaign launched in 2013, which educated 4000 primary school students on the main fundamentals of road safety, Total Liban has re-launched this Total group program for the 2014/2015 academic year with 4000 other children aged 6 to 13.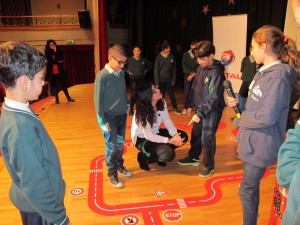 Total Liban definitely places road safety at the heart of its priorities, hence its commitment to support the Lebanese youth and fight road hazards. Moreover, it is well known that good habits are acquired from an early age, especially in the field of road safety, hence this educational initiative. New Health Concept
[1]
trainers, appointed by Total Liban for the 2014/2015 academic year, will intervene in around twenty private and public schools located throughout Lebanon.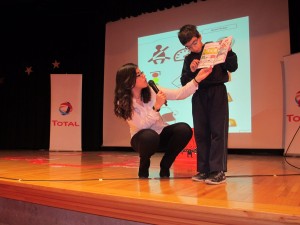 The campaign is based on an animation in schools with an educational kit that uses fun and interactive tools to introduce children to traffic laws and teach them how to behave safely on the road. The Head of the Health, Safety, Environment and Quality Department at Total Liban, Mr. Alain Mansour, stressed the importance of this initiative, which aims at
"educating future drivers to behave responsibly in regard to road safety and strengthening the role of Total Liban in the field of social responsibility as an active player in society".
Total Liban is willing to launch a third edition of this campaign in 2016 to continue raising awareness about the road safety principles.
About the Total group
Total is one of the largest major integrated oil and gas companies in the world, with activities in more than 130 countries. The Group is also a first rank player in chemicals. Its 99,000 employees put their expertise to work in every part of the industry – exploration and production of oil and natural gas, refining and marketing, gas and new energies, trading, and chemicals. Total is working to help satisfy the global demand for energy, both today and tomorrow.
www.total.com
 About Total Liban
Consolidated affiliate of a leading international oil and gas company, Total Liban is present today with a network of about 180 service stations and a varied portfolio of professional clients. Total Liban controls all its supply and distribution chain under its quality, safety and environment strategy and is ISO 9001 and ISO 14001 certified. Having clients' satisfaction at the core of its business, Total Liban seeks tirelessly since 1951 to apply the know-how and expertise acquired across the five continents by the Group.
www.total-liban.com
Categories