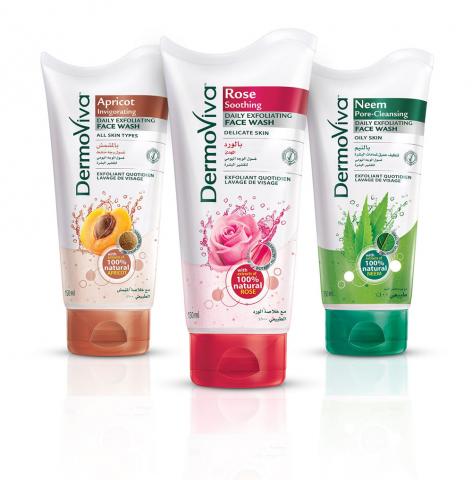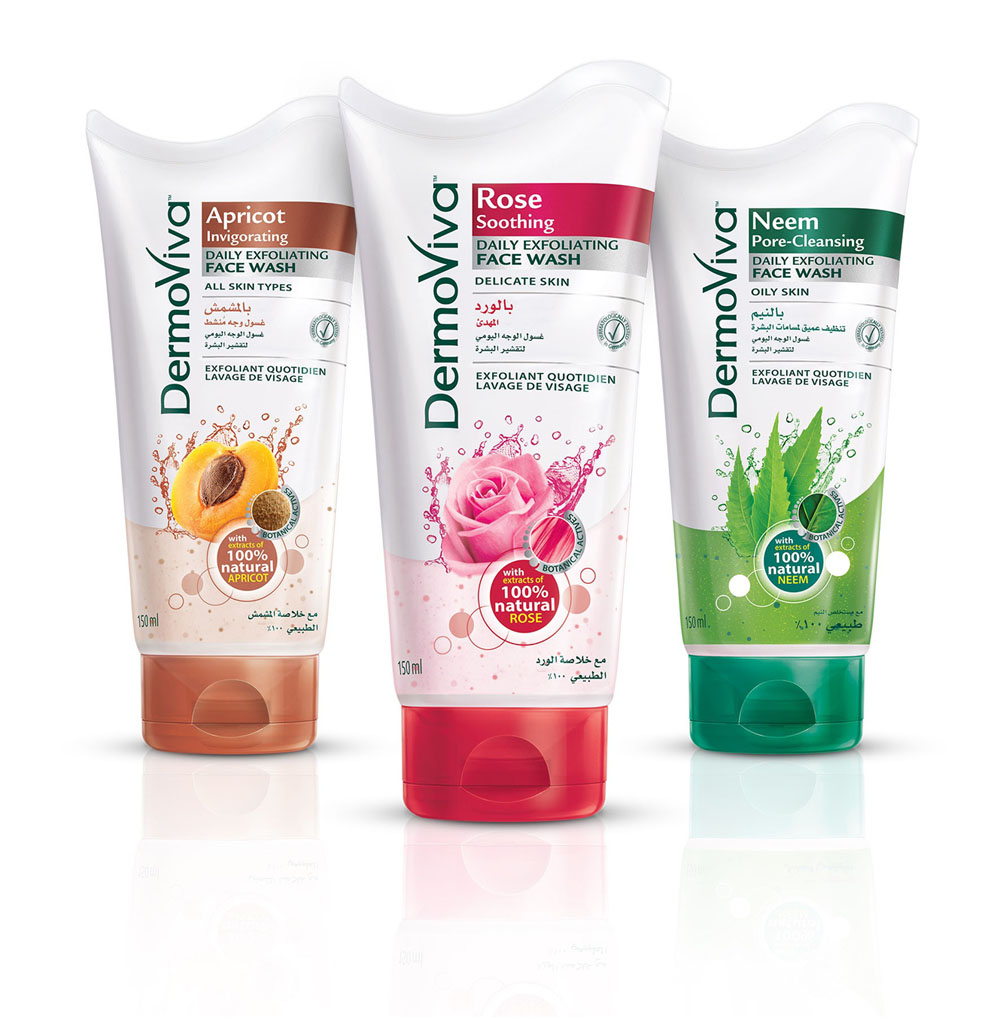 Exfoliation is the process of deeply cleaning facial skin to remove dead skin cells, hidden dirt, and excessive oil which can otherwise clog the pores. It accelerates the circulation of blood, resulting in the regeneration of new skin cells as well as the elimination of acne and white and black heads. It also slows down the ageing process, making the skin look radiant, healthier and younger.
Dermoviva a leading skin care brand in the region has recently introduced the Daily Exfoliating Face Wash range in response to growing demand among Middle Eastern women for a daily face wash that can deeply cleanse the skin through gentle exfoliation. Available in three variants of Apricot Invigorating, Neem Pore-Cleansing, and Rose Soothing, it is formulated using natural scrubbers instead of plastic beads and is soap and paraben free.
DermoViva Apricot Invigorating Daily Exfoliating Face Wash exfoliates facial skin to remove blackheads and dead skin cells along with other impurities. Strengthened with 100 per cent natural apricot extracts, its natural scrubbing granules are gentle on all skin types and help maintain proper moisture balance to make the skin look refreshed and revitalized.
DermoViva Neem Daily Exfoliating Face Wash, on the other hand, offers tender cleaning which is completely safe for everyday use. Made from 100 per cent natural neem extracts, it is highly recommended for oily skin as it effectively eliminates pimple-causing impurities from the pores, invigorating the skin to shine with good health. Lastly, DermoViva Rose Daily Exfoliating Face Wash is enriched with100 per cent natural rose extracts that not only deep-cleanse the skin but also soothe and hydrate it. Its natural scrubbing granules gently purify delicate skin while leaving a lasting sweet floral fragrance for all-day freshness.
Attractively packaged 150 ml tubes of DermoViva Daily Exfoliating Face Wash are available across all leading supermarkets and beauty shops in the UAE for AED 15 each.
Categories