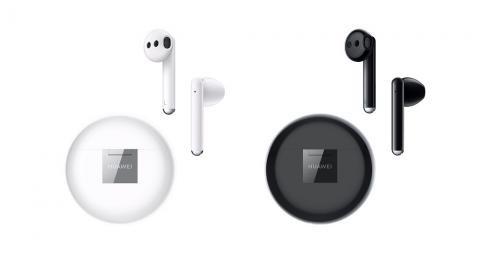 Huawei has announced the new HUAWEI FreeBuds 3 True Wireless Stereo Earbuds. Kick starting a new Audio Strategy, which sees our reinvigorated focus on the premium audio market, and powered by our proprietary Kirin A1 chip, FreeBuds 3 represents a new intelligent sound.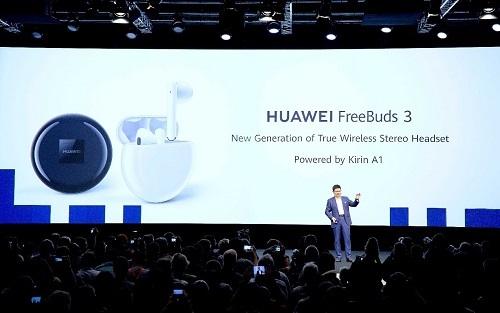 The Kirin A1 chip takes a technologically advanced approach to delivering superior sonics for FreeBuds 3, matching outstanding digital sound processing techniques with a finely tuned high sensitivity driver to deliver spectacular music and voice reproduction. Furthermore, the new intelligent sound that is powered by the Kirin A1 chip boasts a plethora of class leading features, such as simple and stable connectivity, ultra-low latency, and an impressive approach to noise control.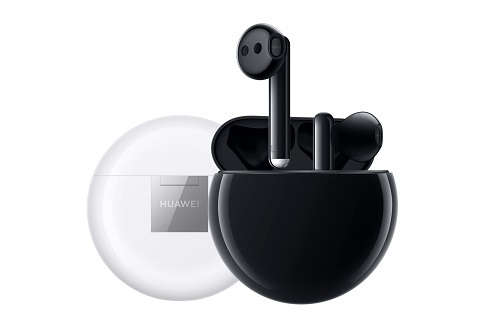 Engineering a new intelligent sound: the HUAWEI Kirin A1 chip
The Kirin A1 chip is the first chip we developed that has been specifically engineered for the hearable and wearable market. Kirin A1 can process complex tasks efficiently and powerfully, all from its diminutive footprint of 4.3mm x 4.4mm.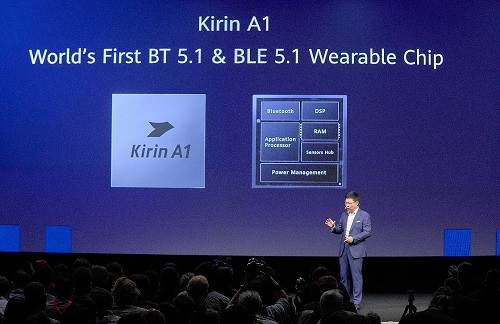 As the world's first BT 5.1 & BLE 5.1 wearable chip, Kirin A1 ensures that FreeBuds 3 is unmatched for stability and ease of connectivity. Coupled with our new generation of Bluetooth signal selection algorithm brought about by intelligent adaptive frequency-hopping technology in the communication field, the chip can dynamically identify frequency bands affected by 2.4GHz signal such as Wi-Fi and hop to a free channel. This allows it to quickly adapt to environmental changes and achieve higher anti-interference capabilities.
Huawei's own isochronous dual channel Bluetooth1, allows us to bring true stereo sound to wireless earbuds, connecting to both buds simultaneously, yet independently. Huawei's self-developed dual channel synchronized technology allows two headsets to receive the left and right audio channels directly from a smart device, while facilitating direct communication between the device and the two headsets without interference. The self-developed dual-channel synchronous transmission mode uses leads to latency remains ultra-low down to 190ms2, making FreeBuds 3 the perfect wireless earbud for gamers who want instant acoustic feedback for an immersive gaming experience.
All new aesthetic design, inspired by nature
The HUAWEI FreeBuds 3 are housed in a rounded charging case, which is designed to comfortably fit in your pocket and rest easily in the palm of your hand.
With their ergonomic rounded curve and natural open-fit design, HUAWEI FreeBuds 3 earpieces guarantee comfortable and stable wearing, allowing listeners to keep them in the ear for hours at a time. Sleekly styled and beautifully finished, the HUAWEI FreeBuds 3 benefit from a minimal yet modern design, complemented by gloss black and gloss white finishes.
The exploration of new form factors that have aesthetic, ergonomic and acoustic benefit has delivered Dolphin Bionic Design for HUAWEI FreeBuds 3. Inspired by the natural curvature of a dolphin's vocal cavity, the design focuses and modulates the sound. This, combined with its ability to sit slightly deeper in the ear, provides a discernible improvement in sound quality for the listener.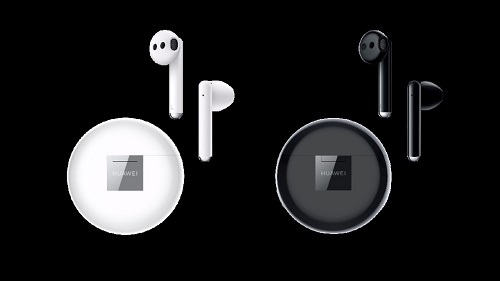 An intelligent approach to noise cancellation
With the power of the HUAWEI Kirin A1 chip, we are bridging the gap between expert chip engineering and the art of developing a high-quality, signature sound. To balance these two propositions, Huawei developed an advanced Audio Digital Signal Processor for Kirin A1 chip. The chip leads the industry in audio processing frequency at rates of up to 356MHZ. Its precise and real-time 3A call noise reduction algorithm allows HUAWEI FreeBuds 3 to effectively reduce environmental noise3 in order allow the other party to hear more clearly and create a high-quality call experience.
HUAWEI FreeBuds 3 are the first Open-fit TWS earbuds that both support call noise reduction and accurate real-time active noise cancellation. Based on the simulation of ear canal, the output frequency and intensity of the noise reduction signal are adjusted for different ear canal shapes, thus achieving excellent active noise reduction effect, with open-fit wearing. By double-tapping the left earbud to turn on/off ANC function, you can still enjoy crystal clear music even in the crowded metro or a noisy restaurant.
Studio-Quality Sound,Booming Bass
The high-precision, high-sensitivity 14mm dynamic driver in HUAWEI FreeBuds 3 has been carefully tuned to allow every note to be restored to it's original brilliance. A complex bass tube cleverly tucked in each earpiece powers. Louder, stronger, tighter and punchier. It feels like you're enjoying the music in a studio.
A battery built to last all day
The FreeBuds 3 case is equipped with wireless charging capabilities and can be charged by both wireless chargers and reverse wireless charged by smartphones that support reverse wireless charging4. Utilizing the highly efficient power consumption of the Kirin A1 chip, HUAWEI FreeBuds 3 are able to provide four hours of playback from a single charge, and a total of 20 hours when used alongside the charging case5.
HOTA upgrading can support dual-channel synchronized transmission.
Data based on test results from HUAWEI lab and HUAWEI smartphones with EMUI10 or above.
Data based on test results from HUAWEI lab. Actual results may vary owing to differences in users' ear size, ear canal structure, wearing gesture, and is also affected by chewing status.
Reverse charging requires Huawei's smartphone with Reverse Charge function and the charger on.
Data based on test results from HUAWEI lab. By default (Active Noise Reduction is not enabled), 50% volume, AAC mode, actual battery life is affected by volume, source, environmental interference, product features and usage habits.
Categories