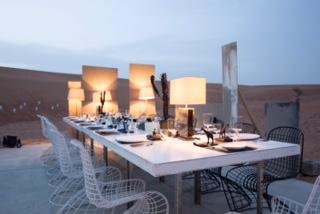 "Turn and the world is yours," says Piaget and the brand brought this slogan to life at a recent event that celebrated successful Arab women of the region. For the occasion, Piaget hosted the exclusive Dinner Club by No 57 that took place on the 9th of May and recognized and commemorated the accomplishments of the region's prosperous Arab women. Created by Emirati trendsetter Alamira Noor Bani Hashmi and Buthaina, the secrecy filled Dinner Club 57 was the perfect intimate gathering at which to celebrate Arab women who managed to turn their dream into reality with Piaget new Possession collection and its unique turning ring. The event was graced by prominent socialites, bloggers and influencers from the region who shared their success stories and snapshots of the event on their social media channels. Commenting on the occasion, Jean-Marc Shammas, Piaget's Brand Director for the Middle East said,
"Women in our region are exceptional. At Piaget, we wanted to celebrate these women with a unique and secret dinner 'Dinner Club57.' The special guests were the amazing women in the region who have managed to turn their world as they wanted it to be."
Catering to the unique and modern woman of today, the Possession collection highlight is the ring. No matter what the movement, just a few millimeters or a complete turn, the ring becomes a real talisman in every situation.  It is a Ritual, an intimate impulsion that enlivens, enhances and transforms reality, thus reminding women that all they need to do is turn and the world is theirs. For additional information, please contact Ruba Farah (ruba.dubai@pencellpr.com)
©Piaget 2014. All rights reserved.
www.
piaget.ae
#Myturn #PiagetPossession Twitter : @piaget Instagram : @piagetarabiya
facebook.com/piaget
Categories