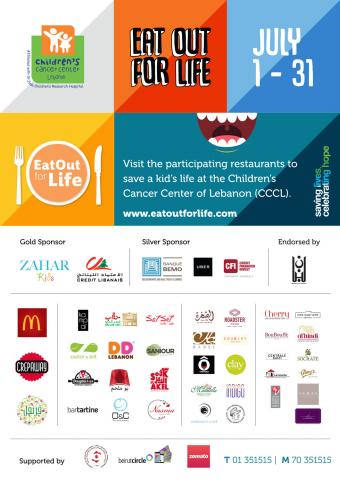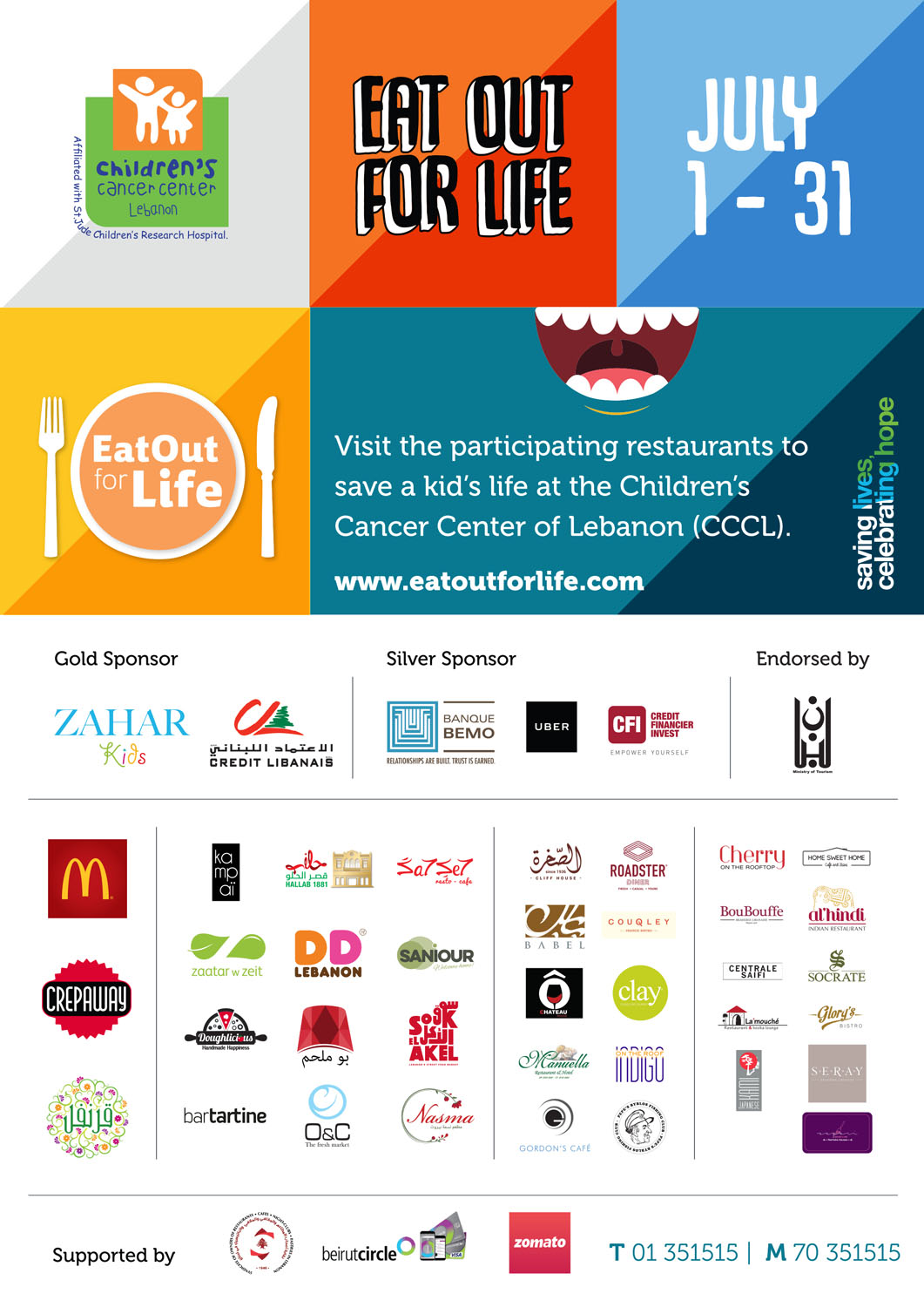 The Children's Cancer Center of Lebanon (CCCL) launched its annual campaign Eat Out For Life under the patronage of the ministry of toursim. Eat Out For Life 2018 from 1 till 31 July will give you the opportunity to contribute by simply visiting the participating restaurants and eating out, as part of the restaurant's profit will be donated to CCCL aiming to help treat 4 kids this year.
CCCL would like to thank its Eat Out For Life sponsors: Zahar Kids, Credit Libanaise, Banque Bemo, Uber, CFI, and it's supporters: Syndicate of Owners of Restaurants, Cafes, Nightclubs, Pastries in Lebanon, Beirut Circle, and Zomato.
You may visit www.eatoutforlife.com to check out all the participating restaurants, and while enjoying your time at the restaurant, don't forget to take nice photos and socialize with us using: @ccclebanon #EatOutForLife. The campaign was first launched in 2011 and it has been always a contributor in bringing in funds to the Center whose yearly budget is 15 million dollars.
Below you may find the list of participating restaurants:
McDonald's, Crepaway, Kronfol Lebnen, Souk El Akel, Bou Melhem Restaurant, Dunkin Donuts, Zaatar W Zeit, Kasr Helou Hallab 1881, Sa7se7, Kampai, Al Saniour, Doughlicious, BarTartine, Roadster Diner, Nasma Beyrouth, Al Sakhra Restaurant, O&C The Fresh Market, Babel Bay, Couqley, Clay, Chateau Rouge, Indigo on the Roof, Manuella, Gordon's Café, Cherry on the Rooftop, Pepe Fishing Club, Home Sweet Home, Boubouffe, Al Hindi, Socrate, La'mouche, Kami Sushi, Seray, Centrale Saifi, Sapori Vini, and Glory's Bistro.
Categories