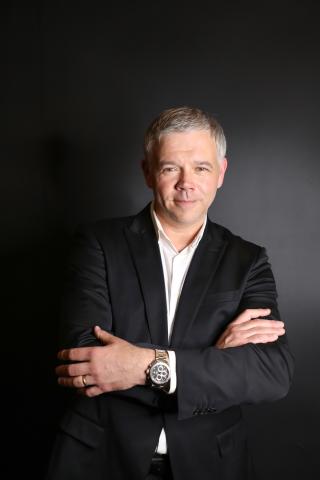 JRG Dubai, the emirate's leading homegrown hospitality management company, has appointed industry stalwart Spencer Ayers as its new Managing Director.
Ayers assumes the role after amassing three decades of senior-level food and beverage sector experience at the UAE's Bateel International LLC, Le Pain Quotidien and AlShaya Group International, as well as various positions in the United Kingdom.
"As a seasoned business leader, Spencer's pivotal roles within the hospitality industry in both the UK and the UAE have delivered a wealth of international experience to usher JRG Dubai into a new and exciting era," said Nabil Ramadhan, CEO of Dubai Retail, an arm of Dubai Holding which counts JRG Dubai among its assets. "As a specialist in franchising and turnaround transformation, Spencer's strategic skills, comprehensive experience and deep understanding of international concept development will be invaluable in the next phase of our growth," added Ramadhan.
Having been impressed by JRG Dubai's recent successes in overhauling operations, future-proofing and consolidation, Ayers is eager to enhance the company's fiscal success and brand evolution.
"The ultimate priority is sustainability. In its purest form, success equals growth and we want to continue seeing growth across our existing concepts and the portfolio's overall brand count. We have wonderful concepts that appeal to tourists or to residents, but we must endeavour to be even more attractive to domestic diners. To achieve that, we need agile and accessible concepts to safeguard our longevity and grow our resonance with the consumers we serve. Concepts that connect to our consumers will boost loyalty. When married with our operational experience and value offering, this enhanced loyalty will ensure our long-term financial sustainability," said Ayers.
"I understand the GCC and Dubai in particular, but it's vital we also understand what is happening across the global dining market - from London to New York - and assess how habits are changing. Dubai is not insulated from global challenges, so we must use innovation and adaptability to remain at the top of our game. Challenges are opportunities and JRG Dubai is well-versed in adapting to trends and consumer habits – they are core strengths we must maintain," he added.
Further growth on the horizon
With JRG Dubai currently operating 17 restaurants (4 of which are in the pipeline) and 11 brands - including casual dining concepts, The Noodle House, Trattoria Toscana and Perry & Blackwelder's; premium or upscale venues such as Pierchic, Pai Thai and Segreto; as well as more recent launches in Flow atJumeirah Emirates Towers, and The Duck Hook and Hillhouse Brasserie at Dubai Hills Golf Club, Ayers believes future additions to the portfolio are inevitable.
"Most of our concepts are homegrown brands and we can be very proud of the contribution many of these iconic JRG Dubai-managed concepts have made in shaping the country's wonderfully complex and diverse F&B landscape," added the Englishman. "We're fortunate that all of our brands have loyal followings and feature aspects of differentiation in a crowded sector."
Plastics ban is for keeps, pledges Ayers
JRG Dubai's group-wide commitment to ban single-use plastics – the company even conducts an annual 'Plastic Amnesty' exercise at flagship brand, The Noodle House, where diners can trade unused plastic cutlery for menu discounts – is another top priority.
"I'm fully aware I have big boots to fill on the sustainability front because I've been a silent admirer of JRG Dubai's remarkable role in championing the cause in recent years. Consumers recognise us for it and our employees take great pride in spearheading such a progressive set of initiatives. There are clear legacies in play, specifically around sustainability, and we're all collectively intent on widening that path," said Ayers.
Categories