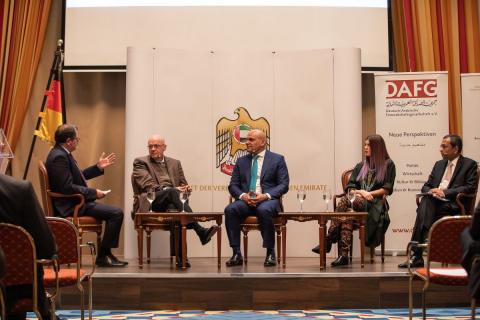 Distinguished guests including MPs, diplomats and academics were told that while Arab youth see religion as key to their national identity, they also believe it plays too big a role in the Middle East
Germany is the favoured European nation for Arab youth to live in and for their own countries to emulate
Young Arabs believe that religion is essential to their identity, but also say that it plays too much of a role in today's Middle East, according to newly released findings from the 2018 ASDA'A BCW Arab Youth Survey unveiled at a special German-Arab Friendship Association event hosted by H. E. Ali Abdulla Al Ahmed, the UAE Ambassador to Germany, at the Embassy of the UAE in Berlin.
Held under the theme "Investing in Arab Youth – Fostering Responsible Leadership" the event welcomed more than 80 distinguished guests, including MPs, diplomats academics and business leaders.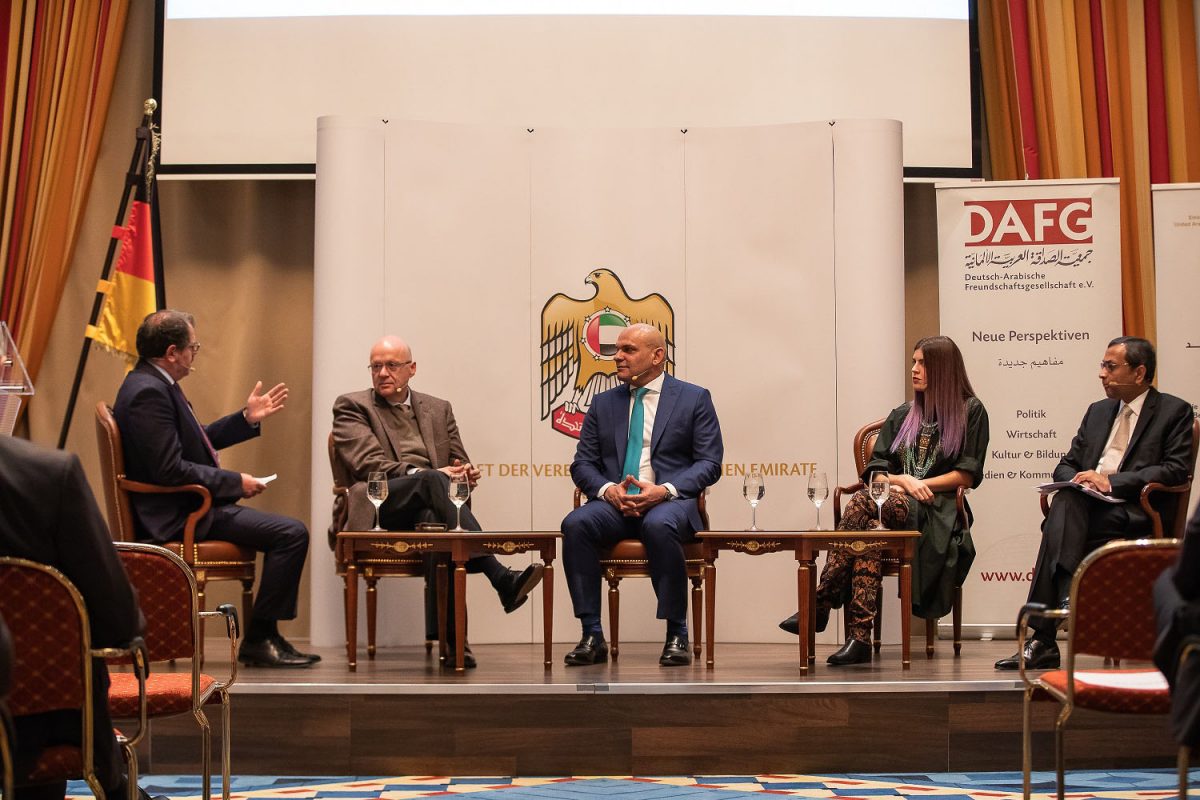 Discussing the findings, from left: Santo Pane, Managing Director BCW Frankfurt; Member of Parliament Alexander Gamal Radwan; His Excellency Ali Al Ahmad,  UAE Ambassador to Germany; UAE-based entrepreneur and founder of Womena, Elissa Freiha; and Sunil John, President, BCW Middle East.
In his opening remarks, H. E. Ali Abdulla Al Ahmed told assembled guests: "The UAE is a young country, both in terms of when we were established, and in terms of our population. As we move beyond our dependence on our natural bounty of hydrocarbons, it is youth that will be our biggest asset. We are fortunate that, from our earliest days, our leadership has always focused on the issues most important to youth, especially education and employment, so our young people today are empowered to face the challenges and opportunities of our future diversified economy."
He added: "Our dedication explains why the UAE is consistently ranked by the Survey as the number one country in which young Arabs would like to live, and would like their own countries to resemble."
New findings from the Survey revealed that youth in the Arabian Gulf states are more likely to see religion as key to their identity, with 89 per cent agreeing with the statement 'my religion is central to my identity' compared with 74 per cent of those in the Levant countries, comprising Lebanon, Jordan, Iraq, and the Palestinian Territories. However, perhaps surprisingly given the importance of religion to their identity, two-thirds (68 per cent) of youth in the Gulf Co-operation Council states (GCC) agreed with the statement 'religion plays too big a role in the Middle East' – compared with just 56 per cent in the Levant.
Sunil John, founder & CEO of ASDA'A BCW and President of BCW Middle East, who presented the findings at the event at the Embassy of the United Arab Emirates in Berlin, said: "As the only European country to make the top five nations which Arab youth would choose to live in and emulate, the findings from the Arab Youth Survey clearly show an appreciation and recognition of Germany among the region's youth. What's more ambiguous in this year's findings is the attitudes towards religion among young Arabs. Young people across the region clearly believe religion is central to their identity; it's interesting, though, that a majority also believe it plays too big a role in defining the region itself."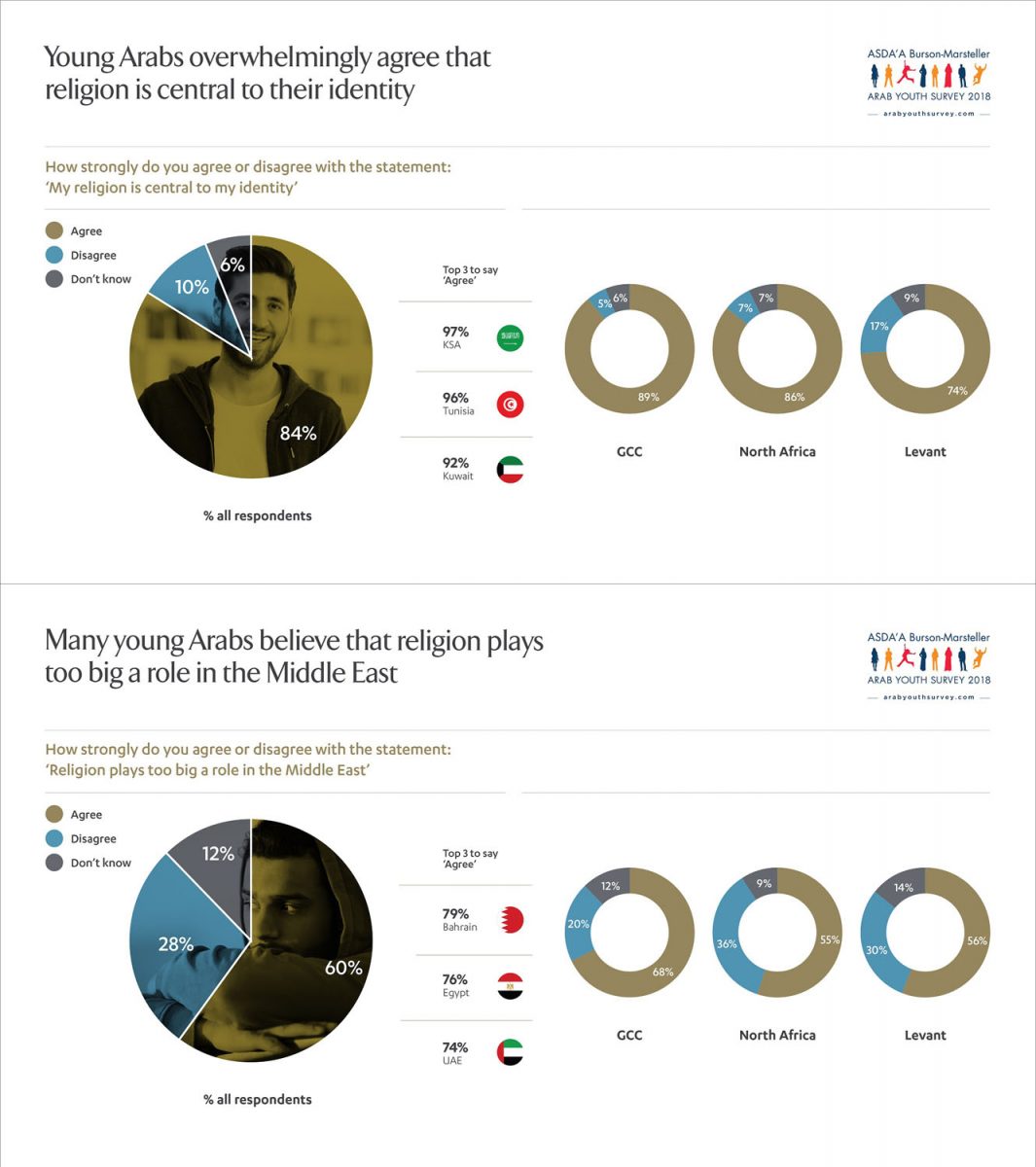 With the aim of exploring attitudes and sentiments of Arab youth across 16 countries in the Middle East and North Africa, the ASDA'A BCW Arab Youth Survey is an annual snapshot of the hopes, fears and perceptions of the region's most important demographic – its youth –  including how they view their future, the digital revolution and the shifting attitudes towards the region's friends and foes.
The Survey showed that while the UAE is the country young Arabs would most like to live in, as well as that which they would most like their country to emulate, Germany ranked fifth in both responses, and was the only European nation to feature in this top five. The three countries where Germany scored highest as an aspirational country to live in were Morocco (23 per cent), Jordan (22 per cent), and Bahrain (21 per cent). Among those looking for their country to emulate Germany were youth responders from the Palestinian Territories (35 per cent), Jordan (19 per cent), and Bahrain (18 per cent).
---
About the Arab Youth Survey
The annual ASDA'A BCW Arab Youth Survey is one of the most important pieces of research produced in the Middle East and offers unique insight into the attitudes and aspirations of the region's biggest demographic. With 65 per cent of the Arab population under the age of 30, providing public and private sector organisations with data and analysis to inform their decision-making and policy creation is an important contribution to civil discourse across the region. The survey is the largest of its kind of the region's youth and covers the six Gulf Cooperation Council states (Bahrain, Kuwait, Oman, Qatar, Saudi Arabia and the UAE), North Africa (Algeria, Egypt, Libya, Morocco, and Tunisia), the Levant (Iraq, Jordan, Lebanon and the Palestinian Territories) and Yemen. The survey did not include Syria due to the civil unrest in the country. You can find this year's survey results under the following link: http://www.arabyouthsurvey.com/findings.html
Categories