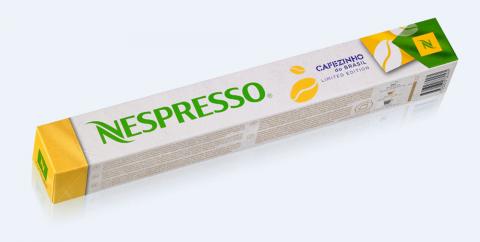 In Brazil, coffee is deeply ingrained within everyday life – it's a warm welcome from a stranger, a gossip in the local café and a sharing of business proposals. A 'cafezinho' or 'small coffee' in Brazilian Portuguese is almost a synonym for 'welcome' with the offer of coffee made the moment one enters a household or business, creating an instant personal connection over this treasured beverage. Inspired by the rich, colourful and vibrant Brazilian coffee culture, the experts at Nespresso have created Cafezinho do Brasil, a unique and powerful Limited Edition Grand Cru.
Set to transport your tastebuds to the pulsing centre of a thriving Brazilian town, Cafezinho do Brasil has been designed to reflect the best sensorial qualities of a Brazilian cafezinho. The Nespresso team spoke with locals to discover the flavour and aromas associated with their ideal cafezinho. Building on these local preferences and taking inspiration from the nation's deep coffee culture, the coffee connoisseurs at Nespresso developed a powerful coffee that captures the essence of cafezinho in an espresso.
Alexis Rodriguez, Head of Coffee Development at Nespresso, explained, "The Brazilian locals taught us that the preferred coffee profile had bitterness, roasted notes and a very distinctive aroma. In order to capture these notes, identified by Nespresso as walnut, sandalwood and herbal, we carefully selected Arabica beans from Southern Brazil. It is in the state of Espirito Santo, near the sea, that the air has a high level of humidity which helps to develop these special notes within the coffee cherries. We worked closely with the farmers who handpicked the coffee beans which specifically carried the distinctive notes."
As with all Nespresso Grands Crus, careful and considered sourcing was an essential factor when developing Cafezinho do Brasil. It is a Pure Origin coffee which means that all of the coffee has been sourced from Brazil. Agronomists from Nespresso worked alongside the farmers, discussing their current practices and demonstrating a specific Arabica harvesting technique to strip only the ripe beans without letting them come into contact with any earth to retain the particular flavour needed for Cafezinho do Brasil. 
CAFEZINHO DO BRASIL FLAVOUR PROFILE
A pleasantly bitter blend of select Arabica beans from Southern Brazil is enhanced by pulped natural, sweet Bourbon. A velvety textured cup with an unexpected walnut and sandalwood aroma, and unusual herbal notes reminiscent of thyme or rosemary.
Intensity: 9
Serving size: Espresso (40ml)
Cafezinho Do Brasil can also be enjoyed with milk: Adjust the coffee serving size to 25ml to create a delicious cappuccino that is a sweet sensation of salty, bitter and toasted notes reminiscent of salted peanuts.
Or, add 40ml of coffee to 100ml of frothed milk to create a Latte Macchiato with sweet, round walnut notes and a light smoky aftertaste.
Each year Nespresso creates eagerly anticipated limited edition coffees to deliver new sensory pleasures to some of the world's most discerning coffee lovers. The latest Limited Edition, Cafezinho do Brasil is set to offer an intense, distinctive and velvety coffee experience that transports the senses deep into the heart of Brazil.
Cafezinho do Brasil, will be available for a limited period as of September 2016 from Nespresso boutiques in ABC Achrafieh (Level 0) and ABC Dbayeh (Level 3), as well as via the Nespresso Customer Care Centre by calling (+961) 5 953 700 and online at www.buynespresso.com
Categories