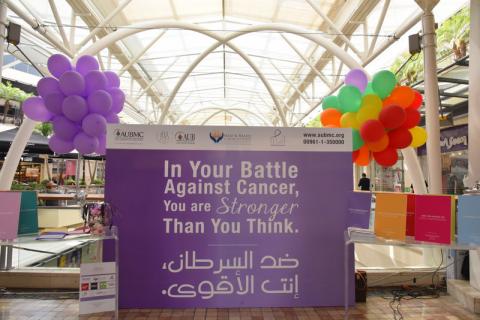 The Naef K. Basile Cancer Institute (NKBCI) at the American University of Beirut Medical Center (AUBMC) in collaboration with AMALOUNA (Educational organization that supports Cancer Research and raises awareness about cancer, its prevention and cancer research) at AUB, and ABC Ashrafieh Mall, launched the NKBCI adult cancer awareness campaign in Beirut leading the way in the fight against cancer and solidifying its role as a regional hub and pioneer in the field of oncology. The campaign focuses on raising awareness about cancer, encouraging prevention and empowering patients and their loved ones when confronted with the disease.
The campaign is an all-encompassing initiative aimed at educating and providing services to the general public on cancer, a disease that is endemic to the people of Lebanon and the region.
In addition to a national billboard campaign aimed at supporting and giving strength and hope to patients with cancer and their loved ones, NKBCI doctors, nurses, and staff will be leading numerous activities on the ground across all of Lebanon.
The campaign at ABC Ashrafieh included nurses, fellows, and residents who provided free physical examination, general knowledge, and addressed questions of visitors, with giveaways for those that participated in the booth activities.
Educational information discussed during the events included information about cancer (including most common forms of cancer, risk factors, screening and early detection) and cancer research, cancer myths and misconceptions, cancer prevention (through diet, exercise, smoking, amongst others).
A special feature for this campaign included "Ask a Doctor" sessions, where different AUBMC physicians attended the booth to answer the questions of the general population in regards to specific diseases including breast, lung, genitourinary, gatsrointestinal, and skin cancers in addition to hematological malignancies and bone marrow transplantation, smoking, and cancer research and prevention.
The event was attended by Dr. Ali Taher, NKBCI Deputy Director for academic and research affairs, who indicated that our mission at the NKBCI is to reduce the burden of cancer in Lebanon and the region through the application of medical knowledge and technology and the development of integrated and advanced programs in patient care, research, education and prevention.
"The importance of raising community awareness through this campaign is to highlight that many types of cancer can be detected early and late stages can be prevented. We need to equip ourselves with the right knowledge to build a healthier community". 
About AUBMC
Since 1902, AUBMC has been providing the highest standards of care to patients across Lebanon and the region. It is also the teaching hospital for the Faculty of Medicine at AUB (established in 1867), which has trained generations of medical students and physicians, and whose graduates can be found at leading institutions around the world. AUBMC is the only medical institution in the Middle East to have earned the four international accreditations of JCI, Magnet, CAP, and ACGME-I attesting to its superior standards in patient-centered care, nursing, pathology/laboratory services and graduate medical education.
The Faculty of Medicine has graduated over 4,000 medical students and physicians; the Rafic Hariri School of Nursing provides excellent education for the nursing staff, and the Medical Center meets the health care needs of over 360,000 patient visits annually.
End
For more information please visit our website www.aubmc.org or contact:
The AUBMC Office of Communications at 0096 1 350000 ext. 4732 –
Email: praubmc@aub.edu.lb
About NKBCI 
The Naef K. Basile Cancer institute (NKBCI) at the American University of Beirut Medical Center (AUBMC) is a state-of-the-art adult cancer facility dedicated to providing comprehensive cancer prevention, diagnosis, and treatment for over 2500 new cancer cases each year in addition to education and research. The NKBCI became operational in 2007 upon receiving a generous contribution by the Naef K. Basile Foundation. The foundation was first established in 1995 following the death of Dr. Naef Basile, a Lebanese-American obstetrician-gynecologist whose lifelong wish was to give back to his country of birth through founding a cutting-edge cancer institute that would compare to the best cancer centers in the world.
The NKBCI includes a multidisciplinary specialized group of physicians, nurses, and public health professionals responsible for diagnosing and treating patients with cancer and establishing programs for health education related to cancer prevention and early diagnosis for over 2500 new patients annually in Lebanon and the region.
Categories