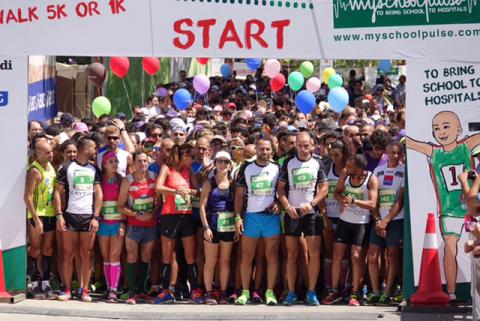 Registration opens on July 12 until August 2
Myschoolpulse organizes on August 5
The 9th Edition of "Pulse 5K or 1K"
Myschoolpulse, a non-profit organization bringing school to hospitals in Lebanon, will organize its 9th edition of the "Pulse 5K or 1K" race on Sunday, August 5, 2018, with the logistical support of Beirut Marathon Association and Faqra Club. This race is Myschoolpulse's main fundraising event.
Since inception in 2010, Myschoolpulse has catered to the education of 516 children suffering from life-threatening illnesses, enabling them to continue their education during their long treatment away from school and friends.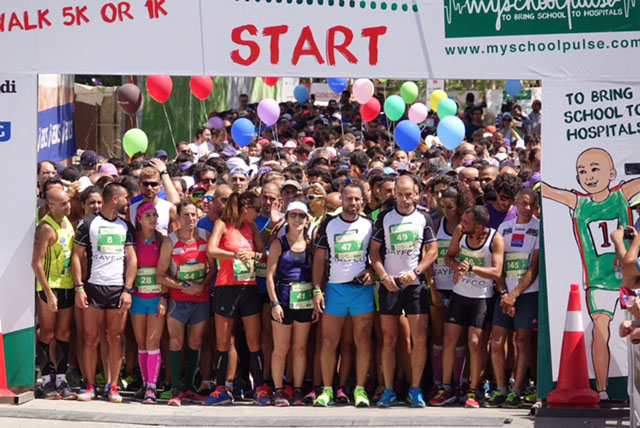 photo of the 2017 edition
Myschoolpulse is present is six major hospitals where it employs 13 permanent and experienced teachers: at Saint George Hospital, Hôtel-Dieu de France, Lebanese Hospital Geitaoui, Rafic Hariri Hospital, Makassed Hospital and Hospital Notre Dame de Secours in Byblos.
To date, the organization has provided about 24.600 hours of tutorship to children aged 4 to 18. Classes take place mostly at the child's hospital bed.
In addition, Myschoolpulse provides art therapy sessions at hospital, private lessons at the child's home and, in some cases, tutorship fees to siblings of the sick child.
Myschoolpulse's work has had a significant impact on the children's academic performance: 93% of children passed class n 2017!
More importantly, the support provided helps the children's morale, giving the confidence they need when they resume school at the end of their treatment.
Registration opens on July 12 until August 2, from 10:00 am to 10:00 pm, at the Myschoolpulse booths located in ABC Ashrafieh (L1, near Virgin) and ABC Verdun (L3, near Starbucks).
Registration can also be done online on www.Myschoolpulse.com. If you wish to be timed and eligible to awards, the deadline to register is Friday, July 27, at 10:00 pm
The 1K Run concerns two age categories: 2010 and younger and 2007-2008/2009. As for the 5K Run, it concerns 9 age categories: 2005 and younger; 2001-2005; 1994-2000; 1989-1993; 1984-1988; 1974-1983; 1969-1973; 1964-1968 and 1963 and older.
The registration fee is $30 per person and is all inclusive: race, food, drinks, kids activities (supervised by KidzMondo Beirut) for kids aged 2-8 whose parents take part in the race. Children aged 3 and below are admitted free of charge and don't need to be registered, and those aged 18 to 22 will benefit from a 50% (year of birth 2000 to 1996).
For event details, please visit www.myschoolpulse.com/pulse5k.asp or call +96176370589
Categories