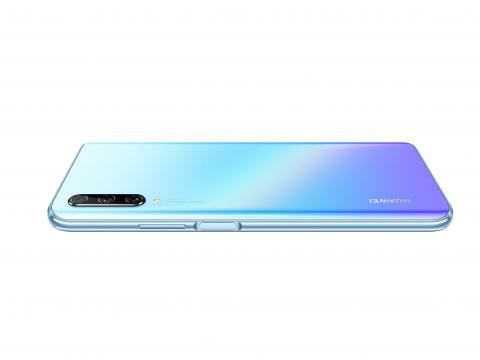 Earlier this year, the new HUAWEI Y9s was officially launched in Lebanon. It really stands out in its class with its impressive 48MP Triple AI camera, pop-up front camera, Ultra FullView Display as well as stylish design.
Capture wonderful night scenes with Night Mode
The HUAWEI Y9s comes with a powerful triple rear camera setup that includes a 48MP main camera and an ultra-wide angle camera. The main camera is a 6 Plastic (6P) lens and uses a 1/2-inch sensor to provide increased ISO sensitivity, making it capable of taking 48MP high resolution photos. Apart from a large sensor that lets more light in to take better photos in low light environments, the HUAWEI Y9s' Night Mode uses Artificial Intelligence (AI) algorithms to provide Multi-Frame Noise Reduction for night photo shooting. This feature can intelligently increase the brightness and dynamic range when shooting photos. In addition, the Night Mode allows users to take long-exposure of up to six seconds, which can effectively improve image stabilization and address blurry photo problems caused by shaky camera. With all these amazing functions, HUAWEI Y9s is obviously doing a great job in image clarity and stabilization for low light environments.
Besides, the HUAWEI Y9s can take wide-angle shots and create excellent bokeh effects thanks to its 8MP Ultra-Wide Angle Camera and 2MP Depth Camera. Along with AI Scene Recognition, AI Backlit Imaging and more, the HUAWEI Y9s truly delivers competitive camera features to consumers.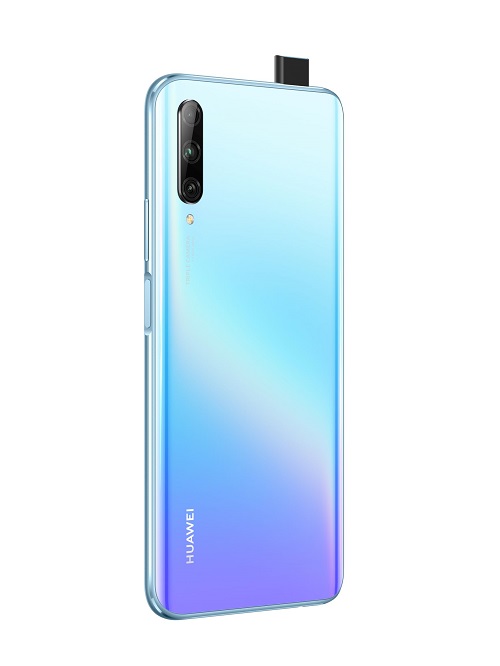 The spirit of Craftsmanship: Ultra FullView Display and Dazzling Colors
The HUAWEI Y9s has great advantages in terms of smartphone screen. It is one of the few entry-level smartphones that feature an Ultra FullView Display that provides an unobstructed view. Huawei has addressed mechanical structure challenges and used an auto pop-up 16MP AI selfie camera, offering a full view screen experience with "no holes and no dewdrop notches".
To further optimize the viewing experience, HUAWEI Y9s features super narrow bezels to let the 6.59" display (2340*1080) get a whopping screen-to-body ratio of 91 percent. Meanwhile, the back of HUAWEI Y9s is made of glass and polished by glass processing techniques to present a shiny texture. The HUAWEI Y9s is available in two colors: the classic Midnight Black and dreamy Breathing Crystal. The blue-violet gradient colors of Breathing Crystal shimmer as light reflects off the phone, once again perfectly showcasing Huawei smartphones' unique interpretation of the aesthetics of nature.
GPU Turbo 3.0 boost mobile game performance
Powered by Kirin 710F that offers high performance and great power efficiency, the HUAWEI Y9s also brings improved software performance. It supports HUAWEI latest GPU Turbo 3.0, a graphic processing acceleration technology that greatly optimizes performance for 85 mainstream global mobile games. It not only offers higher frame rates for better image quality, but also lower power consumption in mobile games, bringing smooth and fast gaming experience to users. At the same time, with AI graphical scheduling capabilities, HUAWEI Y9s can avoid jagged edges, improve clarity in dim scenes and sharpens details, taking viewing and gaming experiences to the next level.
Full Scene Intelligent Acceleration technology improves system fluidity
HUAWEI Y9s runs on EMUI 9.1 which provides better performance than EMUI 9.0. The EMUI 9.1 not only offers refined CPU scheduling through the collaboration of hardware and software, but also intelligently optimizes system to increase operation fluency. Thanks to the Intelligent System Scheduling technology, EMUI 9.1 helps the HUAWEI Y9s to boost app launch speed by 19 percent*. It also uses Smart Memory Engine to optimize available system storage and storage usage efficiency, remarkably improve smartphone operation fluidity by 27 percent* (*data from Huawei Lab).
With EMUI 9.1 users can enjoy convenient experience such as quick printing and HUAWEI Share. In addition, the HUAWEI Y9s can normally download and run Google apps.
Upgraded camera, premium design, optimized system and quality built, the HUAWEI Y9s is obviously one of the best entry-level smartphones released in the second half of this year. With a standard 6GB+128GB storage, and an extendable storage of up to 512GB, the HUAWEI Y9s is available at all Huawei stores and service centers . If you are interested, please visit Huawei's official website for more information.
Categories