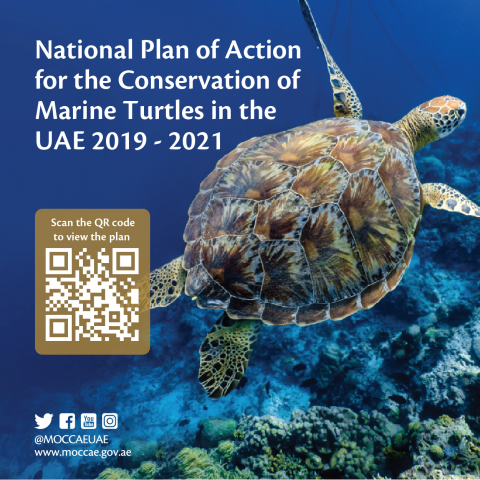 The Ministry of Climate Change and Environment (MOCCAE) has rolled out the National Plan of Action for the Conservation of Marine Turtles in the UAE 2018-2021 that seeks to protect marine turtles and their habitats in the country's waters.
The Plan focuses on mitigating the direct and indirect causes of marine turtle mortality, and advancing the implementation of national legislations and policies for the protection and integrated management of marine turtles. Improving the understanding of marine turtle ecology and enhancing the population of marine turtles through research, monitoring, and information exchange is also part of the initiative.
In addition, the Plan aims to preserve and rehabilitate marine turtle habitats, raise awareness and encourage public participation in marine turtle conservation activities, and build relevant capacities.
Speaking on the Plan, Hiba Al Shehhi, Acting Director of the Biodiversity Department at MOCCAE, said: "The survival of marine turtles is currently threatened by habitat loss and degradation, incidental mortality in mechanized and artisanal fisheries, marine pollution, and the effects of climate change. The National Plan of Action for the Conservation of Marine Turtles in the UAE 2018-2021 regulates and expedites conservation efforts to help the species thrive well into the future."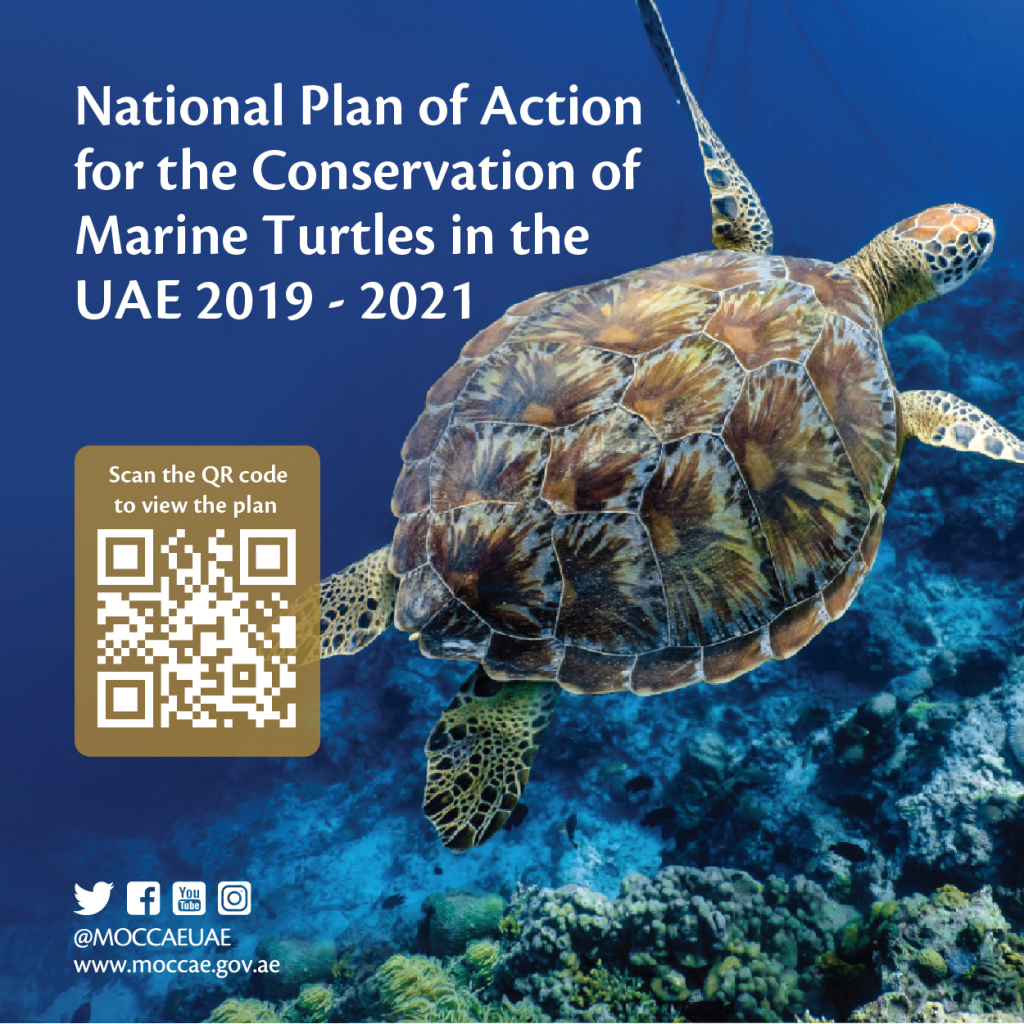 She added: "The UAE has designated 15 marine protected areas, spanning more than 12 percent of the country's territorial waters. Marine turtles have found a sanctuary in these areas, which have become their regular nesting site."
There are seven extant species of marine turtles found across the world's oceans other than the Arctic. They all fall within different categories of the International Union for Conservation of Nature (IUCN) Red List of Threatened Species, varying from Vulnerable to Critically Endangered. Only five of these species can be found in the UAE: the hawksbill turtle, loggerhead turtle, and green turtle have settled in the UAE, while the leatherback turtle and olive ridley sea turtle are migratory species.
To provide a solid legislative framework for the protection of the environment and biodiversity in the UAE, the government implemented the Federal Law No. 23 of 1999 concerning the exploitation, protection, and development of living aquatic resources in the UAE, Federal Law No. 24 of 1999 for the protection and development of the environment, and Federal Law No. 11 of 2002 with regard to regulating and controlling the international trade in endangered species of wild fauna and flora.
The UAE has ratified multiple international agreements that protect biodiversity, including the Convention on Biological Diversity, the Convention on International Trade in Endangered Species of Wild Fauna and Flora (CITES), the Convention on the Conservation of Wildlife and their Natural Habitats in the Countries of the Gulf Cooperation Council, and the Convention on the Conservation of Migratory Species of Wild Animals.
Categories