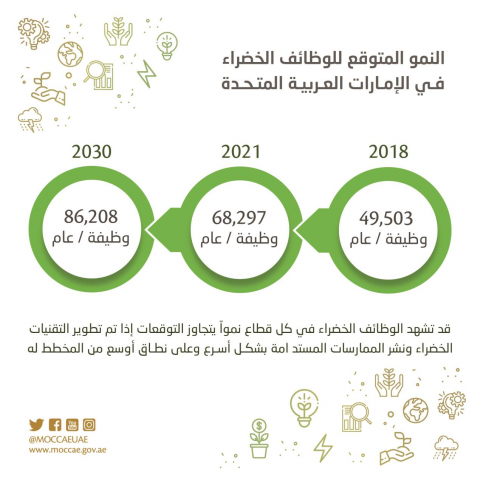 The Ministry of Climate Change and Environment (MOCCAE) has released the report Jobs and Skills for the UAE's Green Economy Transformation: Global Practices and National Policies.
The document is the first outcome of the UAE Green Jobs Program, launched by MOCCAE in December 2017 as part of the UAE Green Agenda 2015-2030 implementation. The report sheds light on the concept of green jobs and their significance in the future economy, provides an overview of global practices and relevant domestic policies, presents a general estimate of the numbers of current and future green jobs in the UAE's key sectors, and makes recommendations for further action.
As the country undergoes a shift towards a green economy, spearheaded by multi-sectoral strategies such as the UAE Green Agenda 2015-2030 and the National Climate Change Plan of the UAE 2017-2050, green industries and services are gaining significance. Clean energy, resource conservation, and pollution reduction are fundamental to the green economy transition, and integrating labor market needs in these fields with government policy is critical to achieving success.
The report takes a sectoral approach to estimating the number of green jobs in the UAE. Analyzing existing local and national initiatives, the rough estimate currently stands at 49,000 or about 0.6 percent of the total workforce. The public sector, waste management and recycling, tourism, and transport are the most significant sources of green jobs today. The document also contains future projections based on national targets and planned technology deployment. While the report predicts around 68,000 green jobs to exist in 2021, it anticipates that this number will grow to 86,000 by 2030 with the increasing adoption of sustainable practices across diverse economic sectors.
The document highlights the need to align higher education and vocational training curricula with industry demand for skilled workforce. In this context, MOCCAE has implemented several initiatives to promote green jobs among youth, such as the Climate Innovation Exchange (CLIX) green entrepreneurial program that takes place annually during Abu Dhabi Sustainability Week.
The findings indicate that the waste sector will remain a major source of green jobs well into the future due to the national waste diversion target of 75 percent, set out in the UAE Vision 2021. Meanwhile, energy, particularly solar power and energy efficiency, will support more green jobs as the announced capacities in Abu Dhabi, Dubai, and other emirates start to come online.
Eng Aisha Al Abdooli, Director of Green Development and Environmental Affairs at MOCCAE, said: "Creating green jobs is an important pillar of the UAE's economic diversification efforts, therefore MOCCAE seeks to collaborate with other federal ministries and local authorities as well as industry stakeholders to achieve this priority. The Ministry plays a critical role in facilitating the growth of green jobs and ensuring a win-win approach to the green economy transition through generating employment opportunities and fostering innovation while protecting and preserving the environment. The success of this initiative hinges on effective collaboration of different sectors and preparedness of the workforce to seize the opportunities."
She added: "Green jobs have great potential in the UAE. The UAE Green Agenda 2015-2030 views developing a green workforce and fostering green skills as integral elements of the nation's drive to promote the green economy. We need to work together to ensure the alignment of available skills, policy, and economic needs for the mutual benefit of people and the environment."-Ends-
Categories