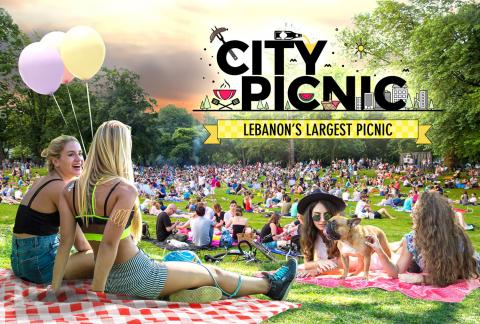 "City Picnic"… memories in the making
Summer in Beirut won't be ending this year with the same routine. The grey capital, immersed in cement for ages, will be transformed into a nature escapade on August 21st, 2016, with the largest picnic in Lebanon "City Picnic", where Lebanese will gather for fun, sharing beautiful moments and creating everlasting memories.
Virgin Radio and Mindwhisk, the leading events planning agency in Lebanon and the organizer of the first picnic in the green spaces in the middle of Beirut will create the opportunity for every citizen to enjoy the beautiful landscape of the city, in Hippodrome Park in Beirut.
On the sounds of all-time favorite hits, participants will lay their blanket on the green grass and will enjoy an exquisite day under the sun, where they will share food, drinks and their favorite classic films in an enchanting open air cinema experience. Targeting all ages, "City Picnic" will welcome families and adults in two separate sections, where they will have the chance to bring their pets and enjoy this day with them.
Commenting on this unique event happening for the first time in Lebanon, Roula Mezher, Managing Director of Mindwhisk, stated, "Memories are made in Picnics and we cannot wait to see Lebanon break its picnic record! We are proud to organize this one of a kind event, in times where Lebanon is drowning in political tensions. Lebanese have the right to enjoy their beautiful green spaces in the middle of the city, and we are keen on giving them their right".
Breaking records has always been Lebanon's strong attribute, and this year Mindwhisk aims to break another record through "City Picnic", the first and largest picnic in Beirut. On August 21st, all Lebanese will unite in an attempt to break the world's record of the largest picnic.
Tickets are sold at the door, and all attendees can buy food from the food court at the event.
Categories