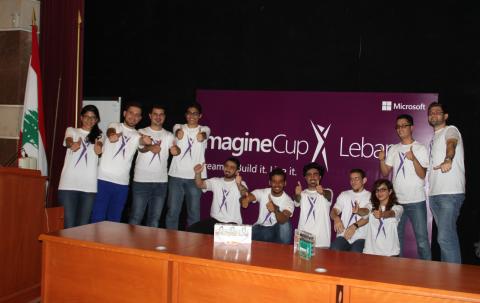 Microsoft Lebanon fostering youth development in the efforts of turning their ideas into profitable projects 
Beirut, Lebanon - 28 April 2014:  Microsoft Lebanon held this year's Microsoft Imagine Cup at the ministry of Education and Higher Education' conference room under the patronage of his Excellency Minister of Education and Higher Education Elie Bou Saab, represented by the ministry's Head of IT, ENG. Toufic Karam. The 18 participating teams included students from the following universities: Arts, Science & Technology University in Lebanon (AUL), Lebanese International University (LIU), Rafic Hariri University (RHU), Beirut Arab University (BAU), Lebanese American University (LAU), American University of Science and Technology (AUST), and the American University of Beirut (AUB).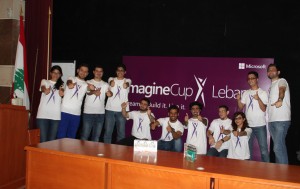 On the occasion, Mr Toufic Karam explained that Microsoft's objectives through the competition fall in line with the ministry's initiative to transform educational and technological projects into job opportunities. This includes spreading a culture of entrepreneurship, starting from the school curriculums and spreading out to universities in the aim of transforming student potential into innovative ideas prone to execution.
With Microsoft's continuous efforts to support the Lebanese educational sector, Microsoft is offering students the opportunity to become successful business leaders in the global market at a very young age. Also through Microsoft BizSpark program, participants have the ability to launch startup businesses in their communities and across the Web.
"Microsoft Lebanon is constantly working to create a wider workplace and help students find the jobs they love", said Hoda Younan, Microsoft Lebanon Country Manager. "Through Imagine Cup 2014, we aim to highlight the potential of students who have demonstrated the very best in innovation. We stand confident in Lebanon's youth impact around the world, as education remains Microsoft's priority in empowering local students with the tools necessary to transition into the working world and create new job opportunities."
The end of the competition, which revolved around 3 categories, games, citizenship, and innovation, saw the selection of 3 winners for each category by a panel of judges comprised of Mr Wadih Tueni, CIO An Nahar Newspaper, Mr Amer Tabsh, Future TV show iKnow host, Mr Ghady Rayess, CEO FOO, Mr Nabil Bou Ghanem, President ISOC Lebanon, Mr Walid Mansour, Managing Director Middle East Venture Partners (MEVP), Mr Fouad Rahme, Head of BLC Invest, and Mr Abdallah Jabbour, Managing Director Lebanon For Entrepreneurs (LFE).
 "Today, businesses face significant opportunities and challenges," said Ghassan Chahine, Microsoft DPE lead. "With Imagine Cup 2014, Microsoft is creating learning opportunities for students engaged in IT development to help them become young entrepreneurs starting new businesses."
The winning teams in Citizenship and Innovation categories will be travelling to Qatar to compete with 22 other countries in the Imagine Cup Arab Semi Finals. In the event of winning the Arab Semi Finals, the team will progress to go to Microsoft Headquarters in Seattle to compete with more than 35 countries from around the world over four days for the top prizes. As for the winners in the Games category, they will be competing globally with hundreds of other teams online.
The winning teams commented on the event: "Imagine Cup is a fantastic opportunity to showcase our projects in front of the biggest business leaders, technology specialists, and media representatives. Most importantly, Microsoft's support is helping us build the skills necessary to succeed and advance in our careers. Moreover, this competition is giving us the chance to travel to a new country and meet new students like us who are striving to achieve their dreams around the world."
As for this year's winning teams, who demonstrated fascinating projects, were announced as follows:
-          For the category of innovation: Beirut Arab University (BAU) for their project Inveeno, which revolves around developing a line of educational and prototyping kits for teaching and creating automation, programming, and robotics in an easy and engaging way.
Team members: Mohammad Issa and Ahmad Chahine
-          For the category of Citizenship: Rafic Hariri University (RHU) for their project ReminDrug which aims at reminding old people to get the right medicine at the right time. When it's time to take the drug, the phone will remind the patient and the right pill with the right amount will be dropped from their hardware device.
Team members: Jad Ashour, Rayan Atmeh, Salah Al Jammal, and Ahmad Abou Daher.
-          For the category of Games: Rafic Hariri University (RHU) for their project Hatch N Catch, an educational game for all ages where players must run to solve questions with different levels once the phones tap together.
Team members: Khaled Sabra, Ziad Ballouz, Nada Chaarawi, and Rami Al Shoura. 
About Microsoft Imagine Cup
Microsoft Imagine Cup is the world's premier technology program and competition for students to learn, build and compete with innovative tools, platform and services. This is the 11th year of Imagine Cup,which was celebrated at the Worldwide Finals in St. Petersburg, Russia, July 8–11. Students are eligible to register and compete in Imagine Cup by visiting http://www.imaginecup.com. A full list of competition categories is available at http://imaginecup.com/main/compete.
In addition to providing a platform for students to demonstrate and share their next great technologies, Imagine Cup has taken on an increased focus in preparing these students to be young entrepreneurs in the global marketplace. All Imagine Cup Worldwide Finalist teams whose projects focus on social good are eligible to apply for Imagine Cup Grants. All Worldwide Finalists teams received grant applications at the finals event in St. Petersburg, and the process will officially close Aug. 16, 2013. In addition, through the Microsoft BizSpark program, Imagine Cup participants can launch startup businesses in their communities and across the Web.
Imagine Cup was made possible by support from key partners that are committed to helping students embrace the full potential of technology. These partners include the Agency for Strategic Initiatives, Avanade Inc., AppCampus, Developer Express Inc., Microsoft DreamSpark, Facebook, KFC Corp., Mail.Ru Group, Samsung, Skolkovo Foundation, UN Women, Windows Azure and Windows.
About Microsoft:
Founded in 1975, Microsoft (Nasdaq "MSFT") is the worldwide leader in software, services and solutions that help people and businesses realize their full potential.
The information contained in this press release is provided for informational purposes only and Microsoft makes no warranties, express or implied, with respect to the press release or the information contained in it.
For more information, press only:
Microsoft Lebanon, Rana Noujaim, 00961 1 983344, a-ranouj@microsoft.com
Pencell PR & Events, Jessy Abi Khattar, 00961 1 496280, jessy.beirut@pencellpr.com
Note to editors:For more information, news and perspectives from Microsoft, please visit the Microsoft News Center at http://www.microsoft.com/news. Web links, telephone numbers and titles were correct at time of publication, but may have changed. For additional assistance, journalists and analysts may contact Microsoft's Rapid Response Team or other appropriate contacts listed at http://www.microsoft.com/news/contactpr.mspx. For more information on Microsoft Lebanon, please visit: http://www.microsoft.com/en-lb/default.aspx 
Categories