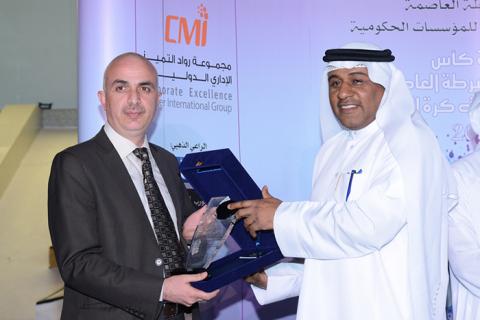 December 10, 2014 - MENACORP, the UAE's largest financial services firm, has lent its strong support to the Directorate General of Police Operations at the Abu Dhabi Police General Headquarters for its 3rd Seven-a-Side Football Championship, a 14-day tournament featuring seven teams from police department, stations and sections.  The company signed up as one of the gold sponsors of this year's local sporting event as part of its initiative to provide assistance to the police's significant social activities. The award was presented by Colonel Rashid Mubarak Al Mesmari, Deputy Director of the Capital Police Directorate to Mohammad Al-Kilani, Head of Trading, ADX Office - UAE Sales, Equity & Capital Markets, MENACORP.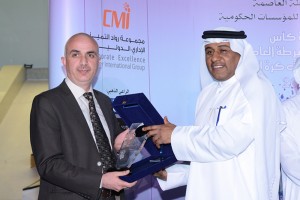 MENACORP is a subsidiary of the Bin Hamoodah Group, a family-owned, multi-industry company which manages a range of businesses across various sectors in the UAE. The Bin Hamoodah Group has been actively embarking on noteworthy causes in accordance with its comprehensive Corporate Social Responsibility agenda. Its strong support for the country's police department stems from the fact that one of its founders, the late Hamoodah Bin Ali Bin Hamoodah, was the former Minister for Internal Affairs. Later appointed as the Minister of Interior,  he was largely credited for founding the police force.
Fathi Ben Grira, CEO, MENACORP, said: "Our support for this year's edition of the Seven-a-Side Football Championship shows that we are one with our security forces in their consistent efforts to enhance communication, networking, and cooperation between their personnel as well as encourage fair competition among them. The football event being held at the Zayed Sports City Stadium is just one of the many social programs initiated by our police that we highly encourage and promote. We are happy to extend our assistance to them to ensure that the objectives are attained and that the games go smoothly."
The single round-robin tournament is officiated by certified referees from UAE Football Association (UAEFA). Sponsoring the championship is also a show of unparalleled support by MENACORP to parent company Bin Hamoodah Group.
About MENACORP:
MENACORP is an Abu Dhabi –based award-winning financial services firm authorized and regulated by the UAE's Securities and Commodities Authority and the Dubai Financial Services Authority. Its extensive expertise covers financial advisory, brokerage, asset management and financial research provided across the Middle East and North Africa (MENA) region. MENACORP is backed by one of the largest and most diversified Emirati conglomerates, the Bin Hamoodah Group – the company's main shareholder.
Categories