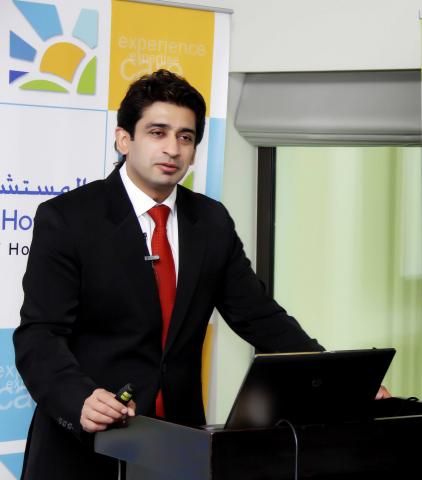 WHO study reveals that 25 per cent of men and 40 per cent of women in the UAE are dangerously overweight
 Medical specialists composed of dietitians, physiotherapists and gastric surgeons have revealed the many advantages and benefits of bariatric surgery during a medical forum held recently at the Al Bustan Rotana in Dubai. The event, which was led by Dr. Rohit Kumar, a leading laparoscopic bariatric surgeon, aimed towards shedding more light on this ground breaking medical procedure and the process and phases that its patients go through. The forum follows after recent reports from biomedical research firm, National Institutes of Health (NIH), stated that individuals affected by severe obesity are resistant to maintaining weight loss achieved by conventional therapies. In line with this, NIH highly recommends bariatric surgery--recommending it as the only effective treatment to combat severe obesity and maintain weight loss in the long term. The forum has also resulted in the creation of a bariatric support group for former and potential patients, allowing them to interact with one another and provide necessary support and assistance. Aside from this, a chat room has also been opened on his website, where patients, doctors and specialists can discuss their concerns and give advice. Lastly, similar forums covering issues, trends and breakthroughs in bariatric surgery will be held every two months.
 According to specialists attending the forum, bariatric surgery decreases a patient's risk of being affected by other diseases. Also thrown into the spotlight were recent findings from the World Health Organization (WHO) revealing that 25 per cent of men and 40 per cent of women in the UAE are dangerously overweight--with a fifth of UAE residents suffering from diabetes and showing the second highest prevalence of this disease worldwide.
 "Over the last four years, more than 3,600 UAE patients suffering from obesity had undergone weight loss surgery. This just proves that bariatric surgery is a lifetime revolution--a procedure that we highly recommend because it plays a key role in the prevention of type 2 diabetes, cancer, heart diseases, high blood pressure and obstructive sleep apnea, among others. As obesity continues to be a problem in the region, more and more people are now looking at bariatric surgery as a strategic solution and are highly aware of the many benefits and advantages it brings to the table," concluded Dr. Kumar.
 Bariatric surgery offers key reductions in the likeliness of contracting other ailments. These figure include a 92 per cent reduction in mortality from type 2 diabetes; a 60 per cent reduction in mortality from cancer, especially across breast and colon cancer; 56 per cent reduction in mortality from coronary artery disease and a 40 per cent reduction in mortality in gastric bypass patients. To date, the most popular surgeries in the UAE are the sleeve gastrectomy and the gastric bypass, in which doctors shrink the stomach and alter the digestive system to induce weight loss. More women than men have elected to have bariatric surgery.
Categories