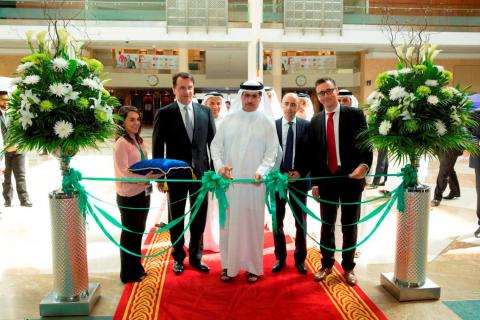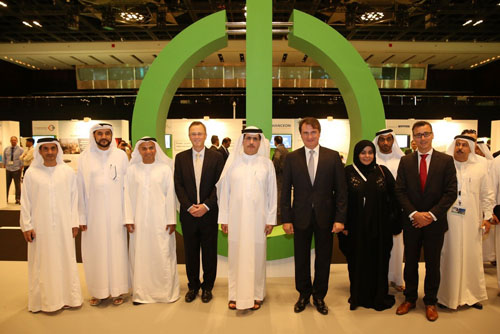 During the opening of Schneider Electric's 4th 'Power to the Cloud' Conference and Exhibition, HE Saeed Mohammed Al Tayer, MD & CEO of Dubai Electricity and Water Authority (DEWA), stated that DEWA realises the importance of developing future smart cities that make use of world-class infrastructure, to provide efficient and transparent government services around the clock, exceeding the expectations of the UAE's citizens and residents, and improving their quality of life.
The event took place in the Sheikh Rashid Hall, at the Dubai International Convention and Exhibition Centre. HE Dr Rashid Al Leem, Chairman of Sharjah Electricity and Water Authority (SEWA), HE Wesam Lootah, CEO of Smart Dubai Government, HE Majdi Abed, the French Consul General in Dubai, Frédéric Abbal, Executive Vice President of Energy business at Schneider Electric, Benoit Dubarle, Regional President of GCC at Schneider Electric and over 200 VIPs, CEOs, and decision-makers took part. Al Tayer toured the exhibition and reviewed the projects by multinational companies in energy management, water treatment, smart cities, and building management systems and automation. The conference featured discussions by leading international officials from Schneider Electric, several panel discussions, presentations on topics such energy management, efficiency of building development, and technological development in the region.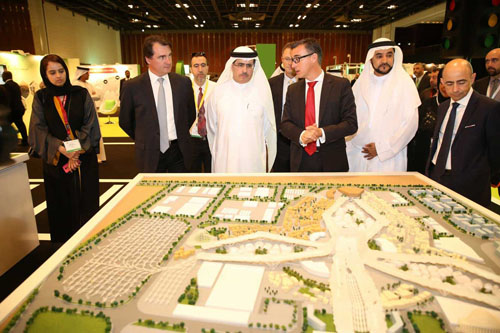 "Dubai is a pioneer in many different aspects, HH Sheikh Mohammed bin Rashid Al Maktoum, Vice President and Prime Minister of the UAE and Ruler of Dubai, launched the Smart Dubai Initiative to transform Dubai into the happiest and smartest place on Earth, where people are happy, their lives are made easier, and the standard of living is further improved with the efficient use of resources and seamless and integrated services. We launched three smart initiatives to support the Smart Dubai initiative. The first one (Shams Dubai), connects solar power in houses and buildings and encourages households and building owners to install solar panels to produce electricity. These will be connected to the grid. This encourages the use of renewable energy and increases its share in the energy mix. The second initiative focuses on using smart applications to promote smart consumption using smart meters, while the third one, Green Charger, is related to establishing the infrastructure and charging stations for electric vehicles," said Al Tayer.
"These three smart initiatives support the UAE Vision 2021, Dubai Plan 2021 and the long-term Green Economy for Sustainable Development national initiative. They also complement DEWAs' efforts to contribute to achieving the goals of Dubai Clean Energy Strategy 2050 to provide 75% of the emirate's total power output from clean energy by 2050, reflecting our commitment to establish a sustainable model in energy conservation that can be exported to the whole world, and support economic growth while preserving the environment. We developed DEWA's smart grid strategy based on the Smart Applications initiative that relies on smart meters and grids, wherein smart meters will be installed; integrating the use of electricity, and water grids for the whole of Dubai," added Al Tayer.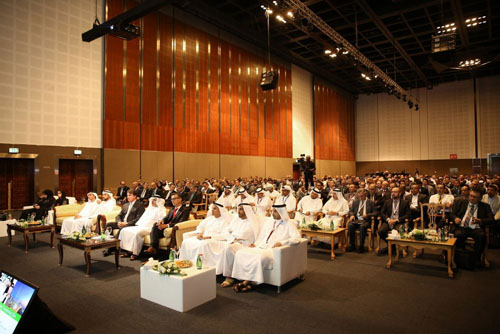 "The development of the smart grid strategy is a key step to successfully implement the Shams Dubai initiative, shift and reduce demand, and enhance energy and operational efficiency. Through the implementation of the second initiative of smart applications and smart grids, we launched many new smart services for our customers to speed up customers' transactions. This also contributes to reducing the carbon footprint," Al Tayer continued.
"The smart grid strategy contains eleven programmes that will be completed over the short-, medium- and long-term, from 2014 to 2035. These programmes are: Advanced Metering Infrastructure for Electricity, Advanced Metering Infrastructure for Water, Asset Management, Demand Response, Distribution Automation, Information Technology Infrastructure, Substation Automation, System Integration, Telecommunications, Big Data and Analytics, and Security. We will also make use of the big data generated by smart meters and grids to further enhance the availability, efficiency and reliability of our services. This data will, in turn, be used to enhance our operational efficiency in the generation, transmission and distribution of electricity and water, so we can serve our customers better, and drive research and development by identifying opportunities for future improvements within our sector. This big data will not only provide up-to-date information about electricity and water consumption by Dubai's citizens and residents, but will also pave the way for the Internet of Things, which is a key component of future smart cities," said Al Tayer.
"To reduce reliance on natural gas, while improving security of supply and diversifying the energy mix, Dubai Clean Energy Strategy 2050 has specified that by 2030 there will be an environmentally-friendly energy mix with 25% from solar energy, nuclear power providing 7%, clean coal 7%, and gas 61%. The mix will gradually increase the employment of clean energy sources to 75% by 2050. Solar Power is the most significant and strategic renewable resource in the UAE and the region. DEWA has embarked in stages on building the Mohammed bin Rashid Al Maktoum Solar Park with a planned capacity of 5,000MW by 2030. Upon completion, this will be the largest single-site solar park in the world, making Dubai one of the leaders in renewable energy. On the demand side management, we set a target to reduce our energy consumption by 30% by 2030," added Al Tayer.
"All of these factors are key elements of smart cities that are sustainable. Where all stakeholders will benefit and cooperate, including urban developers, water, electricity, communications, transportation, education, and healthcare service providers, and other government and private organisations. We shouldn't focus solely on the infrastructure as the main element in the urban planning process. Smart cities have to include high-quality knowledge communications, social infrastructure, and tools for leaders of future smart cities to analyse data, monitor expectations and unexpected circumstances and respond accordingly, take appropriate decisions, and find efficient and effective solutions, while optimising resources. One of the most important factors for the success of smart cities is the seamlessness and availability of round-the-clock integrated and connected services that meet daily living requirements.
In 2009, DEWA started its smart transformation. It was the first government organisation to achieve a 100% smart transformation, less than a year after the Smart Dubai initiative was announced. Adoption of smart services is 65.8%. DEWA's smart app, which was launched in 2010, provides over 150 services and features that makes life easier for everyone, including people with special needs by enabling them to complete their transactions anytime, anywhere," concluded Al Tayer.
Schneider Electric's 4th Power to the Cloud Conference and Exhibition 2016 played host to over 200 visitors, most of which were VIPs from the region, and different parts of Europe. The conference featured panel discussions led by C-suite Information Technology (IT) and energy sector decision makers from around the region, and took place from 17-18 April 2016. The conference highlights the future of smart cities, cloud systems, smart grids, future implementation plans regarding international practices for energy consumption, water treatment, Big Data and Analytics, and plans to develop a practical agenda capable of meeting energy requirements to build a better future through green cities.
Categories