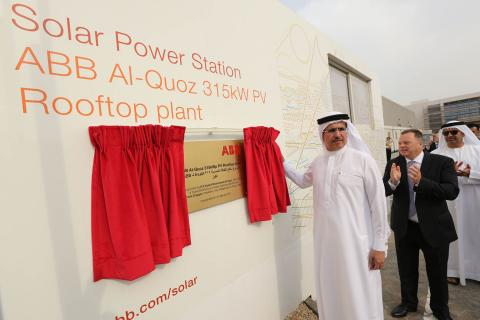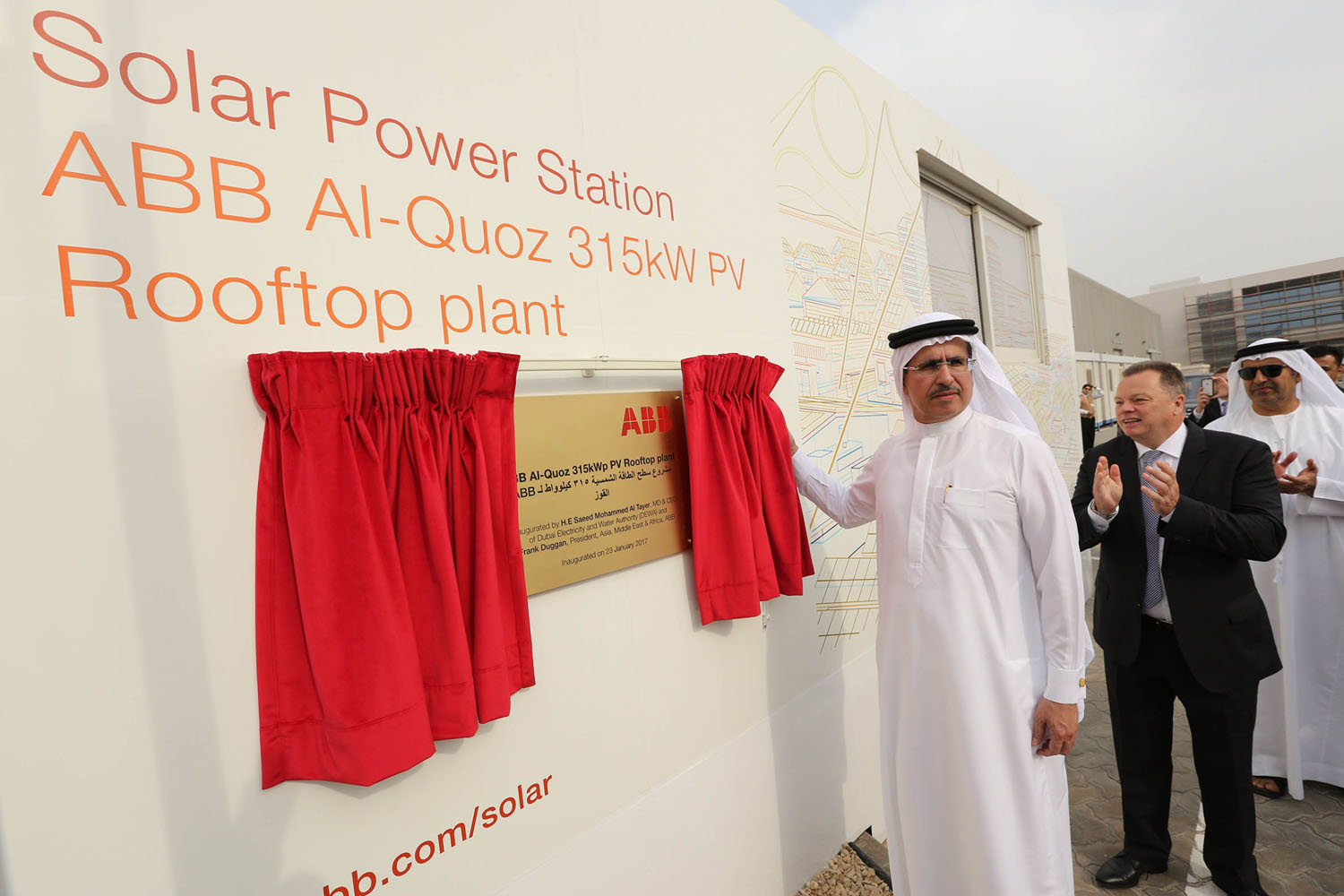 HE Saeed Mohammed Al Tayer, MD & CEO of Dubai Electricity and Water Authority (DEWA), inaugurated ABB's new 315 kilowatt (kW) solar power plant, one of the largest of its kind in the region. ABB is a leading Swiss power and automation technology group. The plant is located in the ABB offices at the Al Quoz industrial area and will produce electricity using solar energy.
The inauguration was attended by Frank Duggan, President of Asia, Middle East and Africa (AMEA), and Member of the Group Executive Committee, Gianandrea Bruzzone, Electrification Division Manager for the Middle East and Africa at ABB, Waleed Salman, Executive Vice President-Strategy & Business Development at DEWA, Dr Yousef Al Akraf, Executive Vice President -Business Support & HR at DEWA, and other staff from ABB and DEWA.
The energy produced at the plant will supply ABB offices with electricity and transfer surplus energy into DEWA's network. This supports the Shams Dubai initiative, which was launched by DEWA and allows customers to install photovoltaic panels on their rooftops to generate electricity from solar power, and connect the systems to DEWA's grid, creating, producing and using energy.
"I am pleased to be here today to inaugurate the ABB 315-kilowatt (kW) solar project, as part of Shams Dubai initiative, and I congratulate ABB on this important achievement which reflects our joint efforts to achieve the directives of His Highness Sheikh Mohammed bin Rashid Al Maktoum, Vice President and Prime Minister of the UAE and Ruler of Dubai, to diversify energy resources. The UAE now leads global efforts in clean and renewable energy. DEWA is carrying out the objectives of UAE Energy Strategy for 2050 launched by His Highness Sheikh Mohammed bin Rashid Al Maktoum to increase the share of clean energy in the total energy mix to 50% by 2050. The energy mix will include 44% from clean energy, 38% from gas, 12% from clean coal and 6% from nuclear power by 2050. We contribute to the objectives of Dubai Clean Energy Strategy 2050 to provide 7% of Dubai's total power output from clean energy by 2020, 25% by 2030, and 75% by 2050," said Al Tayer.
"Shams Dubai supports the Smart Dubai initiative, and aims to transform Dubai into the smartest and happiesta city. And as of mid-January 2017, DEWA has connected a total of 302 photovoltaic systems on building rooftops. To date, 52 consultancy and contracting companies have been registered, in addition to 311 engineers that have been certified as enrolled electrical and solar photovoltaic consultants and contractors. DEWA's training course includes academic and practical training aspects. DEWA has officially registered 70 manufacturers of solar photovoltaic equipment, and we launched the largest solar installation project in the region, on the DP World buildings' rooftops of Jebel Ali Free Zone (JAFZA) and Port Rashid with a capacity of 22MW. The first phase of the project will be completed in 2017," added Al Tayer.
"I would like to congratulate you all once again on the accomplishments we have achieved so far, which would not have been possible without your efforts," concluded Al Tayer.
"ABB is excited to inaugurate a solar rooftop at our own facility in Al Quoz, Dubai. We look forward to working together with DEWA to help develop the solar industry in the Emirate and for our installation to be a showcase in the region, proving the benefits of renewable technologies and their seamless integration into the existing electrical grid. We also share DEWA's vision that Dubai will be a world-class smart city and we firmly believe for this to happen, it also needs to be energy-efficient. We are sure that DEWA's excellent initiatives coupled with innovations and technologies from companies such as ABB will make this ambition a reality," said Duggan.
Categories