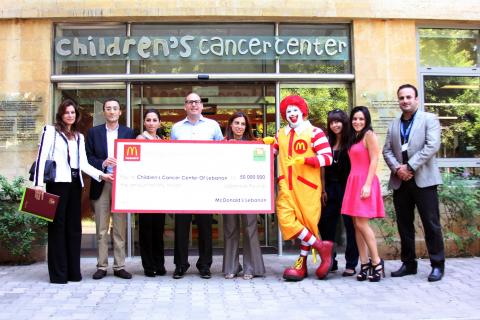 Beirut, August 26, 2014 - McDonald's Lebanon and its customers have once again supported the mission of the Children's Cancer Center of Lebanon (CCCL) with a donation of LL50,000,000 generated from the donation boxes in their restaurants.
McDonald's leadership team visited CCCL to deliver the check and spent some time with some of the children at The Center. ''With the help of many generous citizens all over Lebanon and McDonald's Lebanon contribution we were able to raise the amount of LL50,000,000 and reaffirm our commitment to give back to the community, help improve the well being of the children who desperately need the treatment and assist CCCL in their most noble cause.'' said Mr. Karim Miknas, Managing Partner of McDonald's Lebanon.
The morning started with a special appearance from "The Chief of Happiness", Ronald McDonald, amusing and drawing a smile on every face with fun games and play.  A celebratory ambience reigned at The Center, concluding with a cake cutting with Ronald and the children.
McDonald's has been an active supporter of the CCCL and believes in the mission of curing and rehabilitating children with cancer as well as supporting them and their families through the entire process of battling illness and getting them back into their communities and schools, ready to take on the future.
"McDonald's firmly believes in giving back to the community and providing support and encouragement to people who need it the most is one of the ways we are a responsible corporate citizen," added Lina Ali Ahmad Sadek, McDonald's Marketing Manager.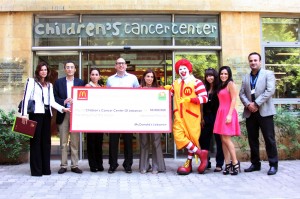 "We are deeply grateful to all McDonald's lovers for their support to the CCCL. Because we treat all our kids totally for free, we always need everyone's support to save our children's lives! Thanks to McDonald's constant support over the years, the donation today has helped Tarek (12 years old) undergo surgery to remove his tumor; and has also covered the yearly cost of Chemotherapy for Maria (6 years old)." – Hana Chaar Choueib, CCCL General Manager.
McDonald's
Email: laasadek@mcdonalds.com.lb
Categories