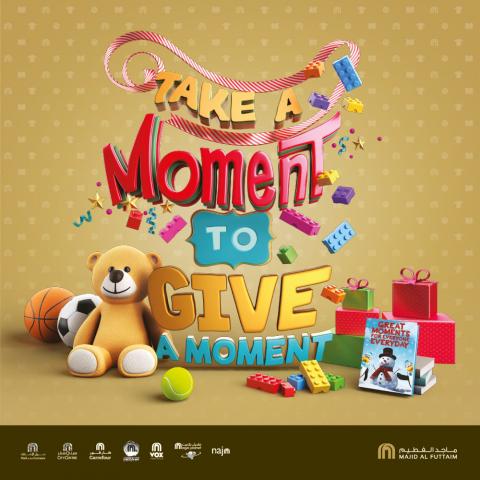 For the second consecutive year, the regional campaign aims to bring joy to less fortunate children during the Festive season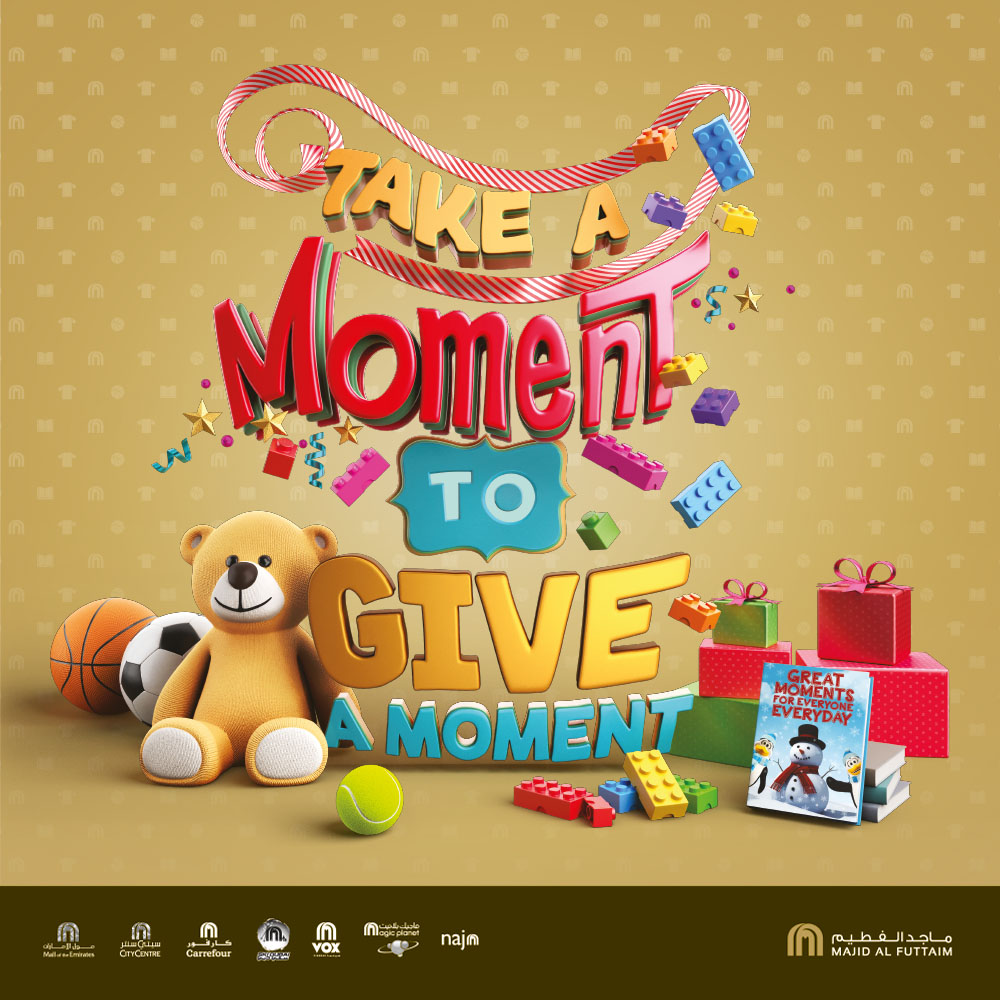 Majid Al Futtaim, the leading shopping mall, retail and leisure pioneer across the Middle East, Africa and Asia, today launches a charity campaign in order to provide great moments for children in need during the festive season. Starting this week, Majid Al Futtaim will place special donation boxes in convenient locations in all 20 of its shopping malls, across Bahrain, Egypt, Lebanon, Oman, and the UAE, to allow visitors to 'take a moment to give a moment', so those less fortunate can experience the joys of the festive season.
In a quest to put a smile on the faces of these children, Majid Al Futtaim partnered with a group of the leading NGOs in the Middle East to directly engage with unprivileged kids to find out the most desirable gifts for them. The children, aged between three and nine years old, have identified stuffed toys, LEGO, books and sporting goods as the items that would make their festive wishes come true.
Majid Al Futtaim customers in the UAE will also benefit from an additional partnership with Careem, the region's leading app based car booking service, where a co-branded #WrapAWish van will be used exclusively to collect and transport gifts to the nearest collection point for the most convenience.
Alain Bejjani, Chief Executive Officer, Majid Al Futtaim – Holding said, "At Majid Al Futtaim, we pride ourselves on the moments we create – be that for customers, communities, businesses or, in this case, those less fortunate. Each year we look for exciting new ways to join our customers in sharing great moments during the festive season. This year, we are asking all visitors to our shopping malls to take just a moment of their time to buy and donate something that will create a special festive memory for a child less fortunate. We hope this will be one more step towards sharing memorable moments with those who deserve them most."
Once a donation has been made, customers can visit www.givegreatmoments.com to access more information about the campaign and witness the impact of their donation on the children who receive them, and can also join the conversation about the campaign online using the festive-themed hashtag, #WrapAWish.
To celebrate the spirit of the festive season, Majid Al Futtaim employees across the five markets will entertain children in a series of fun-filled events. The kids will have the opportunity to experience Majid Al Futtaim's entertainment destinations including, Magic Planet, VOX cinema, Ski Dubai, iFly Dubai and Wahoo as part of Majid Al Futtaim family. More than 33,000 employees across the company will also get the chance to participate in gift wrapping before they go to the children.
Continuing from the success of the Ramadan campaign, Majid Al Futtaim once again partners with charitable organisations such as the Islamic Association in Bahrain, Life Makers in Egypt, Bassma in Lebanon, Dar Al-Atta in Oman, and Red Crescent in the UAE, ensuring immediate and appropriate distribution of all donated goods through their humanitarian network.
Bassel Al Nahlaoui, VP of Government Relations and Business Development, Careem, commented, "We are proud to partner with Majid Al Futtaim for this wonderful 'Take a Moment to Give a Moment' festive campaign. The addition of Careem services will extend the reach of this initiatives to even more Majid Al Futtaim customers across the UAE. If we can encourage and assist more contributions, we can share more special moments with children less fortunate this festive season".
Careem will also offer 15% discounts on their services to encourage people to go to the collection points in different shopping malls in Egypt, UAE and Lebanon. This will be availed of through a special promo code for the campaign, soon to be announced.
Along with the collection drive across all malls in the region, Najm card customers can donate cash, Carrefour customers will be asked if they're willing to donate their change on their shopping, while visitors to Magic Planet and VOX Cinemas have the opportunity to donate tickets.
Categories