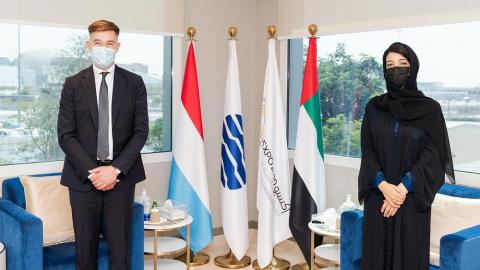 The European nation's pavilion will remain after Expo 2020 finishes, underscoring its commitment to sustainability and Expo's meaningful, lasting legacy.
Luxembourg, the first country to formally sign an agreement to participate in Expo 2020, will now see its contributions live on after the mega-event, with its pavilion set to remain permanently as part of the future city of District 2020.
The gift was announced by His Excellency Franz Fayot, Luxembourg's Minister of Economy and Minister for Development Cooperation and Humanitarian Affairs, during a visit to the UAE, further enhancing the relationship between the two countries.
Located in the Opportunity District, the Luxembourg Pavilion spotlights the landlocked country's status as a forward-thinking nation aspiring to connect the global human, natural, technical, industrial and financial resources it needs to shape its future. The pavilion will serve as a beacon of hope for all those who visit, both during Expo 2020 and for many decades to come.
Under the theme "Resourceful Luxembourg", the spiral-shaped pavilion is inspired by the form of the Möbius strip, to highlight the openness of the country, while reflecting its commitment to the circular economy.
It will serve as an incubator for rethinking challenges around natural resources, featuring a green atrium that repurposes water from its air-conditioning system to water the pavilion's plants and vegetation. Visitors to the pavilion will be able to zip down a giant slide that transports them to a green zone of trees and woody fragrances reminiscent of fresh European forests.
Approximately 80 per cent of Expo's built environment will live on in District 2020, a model global community for the future that will use state-of-the-art innovation, science and sustainability to create a cleaner, safer, healthier environment to live and work.
 
Source: www.expo2020dubai.com