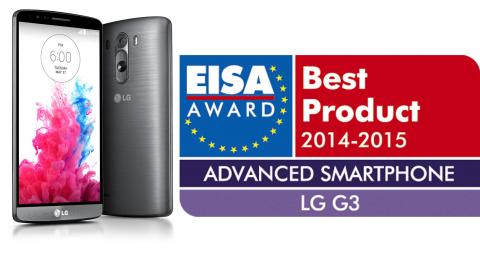 Beirut, September 11, 2014 — LG Electronics (LG) announced that its 4K OLED TV, Smart+ TV, Sound Plate and its flagship LG G3 smartphone have been recognized by the European Imaging and Sound Association (EISA) 2014-2015 Awards. As the only company with three consecutive EISA awards for its OLED TV technology, LG's leadership in the home entertainment category was solidified by its latest accomplishment.
The highly acclaimed LG G3 was honored by EISA this year, receiving the European Advanced Smartphone Award for 2014-2015. The LG G3 set a new precedent as a device developed primarily from consumer feedback and its philosophy, Simple is the New Smart. Its breathtaking Quad HD display and 13MP OIS+ camera with Laser Auto Focus were designed to quickly and easily capture and show life's special moments. The proprietary software found in the LG G3 features innovations such as Smart Keyboard, Smart Notice and Knock CodeTM for a simply convenient, simply clever and simply safer user experience.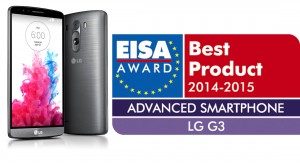 "It is a great thrill and honor to have our products recognized by an organization as widely respected as EISA," said Hyun-hwoi Ha, president and CEO of LG's Home Entertainment Company. "LG will continue to push the limits of technology and design in our effort to meet the needs of consumers around the world who look to LG to deliver the best that the industry has to offer."
EISA is an association made up of 50 member publications from 20 European countries, dedicated to covering the latest in sound and imaging technology. Announced annually, the EISA Awards recognize the best consumer audio and video products in six different categories: Audio, Video, Home Theater, Photography, In-car Electronics and Mobile Devices. Awards are bestowed upon new products that embody the best combination of advanced technology, features, design, ergonomics and value for money.
About LG Electronics, Inc.
LG Electronics, Inc. (KSE: 066570.KS) is a global leader and technology innovator in consumer electronics, mobile communications and home appliances, employing 82,000 people working in 119 locations around the world. With 2013 global sales of USD 53.10 billion (KRW 58.14 trillion), LG comprises five business units — Home Entertainment, Mobile Communications, Home Appliance, Air Conditioning & Energy Solution and Vehicle Components — and is one of the world's leading producers of flat panel TVs, mobile devices, air conditioners, washing machines and refrigerators. LG Electronics is a 2014 ENERGY STAR Partner of the Year. For more news and information on LG Electronics, please visit www.LGnewsroom.com.
Categories