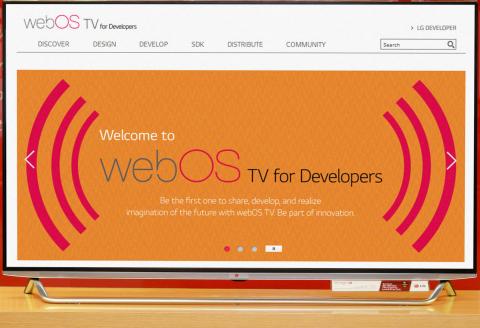 Eagerly Awaited Software Development Kit and Web Site to Expand Support for webOS TV App Development
Beirut, July 09, 2014 ― LG Electronics (LG) unveiled its Software Development Kit (SDK) to help developers create new LG Smart+ TV apps with greater ease and efficiency. A new accompanying website (http://developer.lge.com/webOSTV) will provide developers with access to all the information they need to create high quality webOS TV apps.
LG's SDK simplifies the process for developers to write apps compatible with the company's Smart+ TVs. With LG Smart+ TV Emulator, developers will be able to set up a virtual webOS TV experience on a PC. The SDK has a developer-friendly user interface and works with standard web technologies, including HTML5, Cascading Style Sheets (CSS) and java-script.
The new website contains tech-related documents, development tips, sample apps, design guide, FAQs and developer forum. The Application Programming Interface (API) guide will help developers get started almost immediately without a long orientation process and clear step-by-step explanations are provided for beginners to webOS.
"One key reason behind selecting webOS as our next smart TV operating system was because of its history and origins as a developer-friendly platform," said Sean Lee, General Manager of LG Electronics in Lebanon. "We feel it's very important for platform owners such as LG to assist developers in creating apps that are highly maximized for our products. In an industry where there is no single dominant standard, expanding the webOS TV ecosystem is a top priority for LG."
About LG Electronics, Inc.
LG Electronics, Inc. (KSE: 066570.KS) is a global leader and technology innovator in consumer electronics, mobile communications and home appliances, employing 86,000 people working in 119 locations around the world. With 2013 global sales of USD 53.10 billion (KRW 58.14 trillion), LG comprises five business units ― Home Entertainment, Mobile Communications, Home Appliance, Air Conditioning & Energy Solution and Vehicle Components ― and is one of the world's leading producers of flat panel TVs, mobile devices, air conditioners, washing machines and refrigerators. LG Electronics is a 2014 ENERGY STAR Partner of the Year. For more news and information on LG Electronics, please visit www.LGnewsroom.com.
About LG Electronics Home Entertainment Company
The LG Electronics Home Entertainment Company is a global top player in audio-visual products, monitors, personal computers and digital signage and commercial displays. The company is always pushing the boundaries of technology to create feature-rich devices with stylish designs that meet the needs of global consumers. LG is committed to improving customers lives with innovative home entertainment products led by its award-winning OLED TVs, 4K ULTRA HD TVs and CINEMA 3D Smart TVs featuring the new webOS platform. For more information, please visit www.LG.com.
Categories