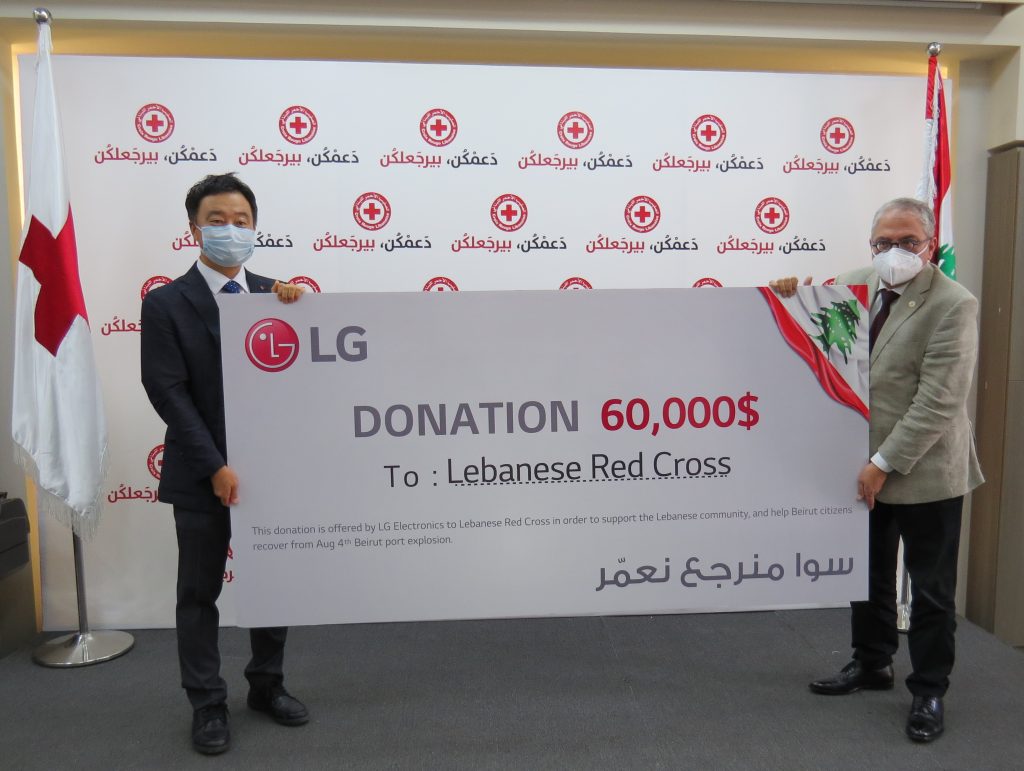 Two months following the explosion that shattered Beirut on August 4th 2020, the aftermath is still significant with more than 80,000 families suffering significant losses and damages to their homes. With the goal of supporting the Lebanese community affected by the blast, and contribute to offering them long-term assistance, LG Electronics donated $60,000USD to the Lebanese Red Cross, supporting its Beirut Crisis Response plan that aims primarily to provide direct financial assistance to at least 10,000 of the most vulnerable affected families, for a duration of 7 months.
From an ongoing financial crisis leading to overwhelming inflation rates with jobs disappearing every day and poverty rising out of control, to a huge explosion that destroyed Beirut, Lebanese people are morally and mentally exhausted. Today, more than ever, citizens need to unite and stick together, to overcome this tough period. For this reason, LG once again felt the urge to stand with the Lebanese community.
With their core philosophy based on humanity combined with their efforts to build close relationships with consumers around the world, this initiative comes part of LG's corporate values and represents their dedication to enhance individual lives and communities by offering an added value. Indeed, LG's eagerness to take care of the different communities, while helping those in need become self-reliant highlights the brand's commitment to live by its promise that Life is Good with LG.
Since the very first moments that followed the explosion till today, the Lebanese Red Cross has been gathering all their efforts to help those in need: Minutes after the blast, more than 75 ambulance teams were rushed to the scene to aid the wounded, transport them to hospitals while evacuating  patients from hospitals that were destroyed or severely damaged. Their work did not end there: During the weeks that followed, they consistently provided primary health services, set up shelters, conducted door to door basic needs assessments and provided psychological support, while continuing to provide ambulance services, blood transfusion services and responding to the COVID19 crisis.
Today, beyond the most immediate needs, the Lebanese Red Cross is focusing on a long-term response to this crisis, providing direct unconditional financial support to at least 10,000 of the most affected families, helping them decide for themselves what their needs are, restoring some sense of normality and dignity to them. This process is being executed through special debit cards by which selected families will directly get their monthly allowance from the partnered bank, helping them in a respectful and dignified way. LG welcomed this project as it perceived it as the best way to deliver relief and comfort while preserving the families' sense of privacy and self-worth.
In response to the disaster, Johnny Jeong, LG Lebanon country manager, stated: "It's been two months but the whole country is still grieving. There are still no words to describe this tragedy. It is our duty to do everything to help in any way we can. This donation comes part of our commitment to support the most affected families, reminding them that they are not alone. Together, we will rebuild Beirut again."
Categories