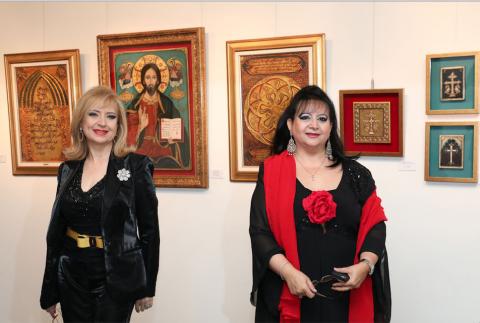 A sacred art exhibition calling for religious tolerance
Under the high patronage of the President of the Council of Ministers, H.E. Mr. Saad Hariri, renowned artists Lena and Hilda Kelekian inaugurated "Beirut City of Coexistence", a sacred art exhibition supported by Letitia Gallery, on March 20th   2018 at Villa Audi, in Ashrafieh, in the presence of more than 600 VIPs, art-lovers, friends and media.
H.E. M. Jean Oghassabian, representing the President of the council of Ministers H.E. Saad Hariri congratulated Lena and Hilda Kelekian for their outstanding works and achievements for Art , Women, and Lebanon: "Their confidence and self-esteem sprang from the solid foundation of their scientific knowledge and masterful skills, coupled with their unshakable determination helped them charge forward with very hard creative work and diligence that carried them from the national scene to the international arena".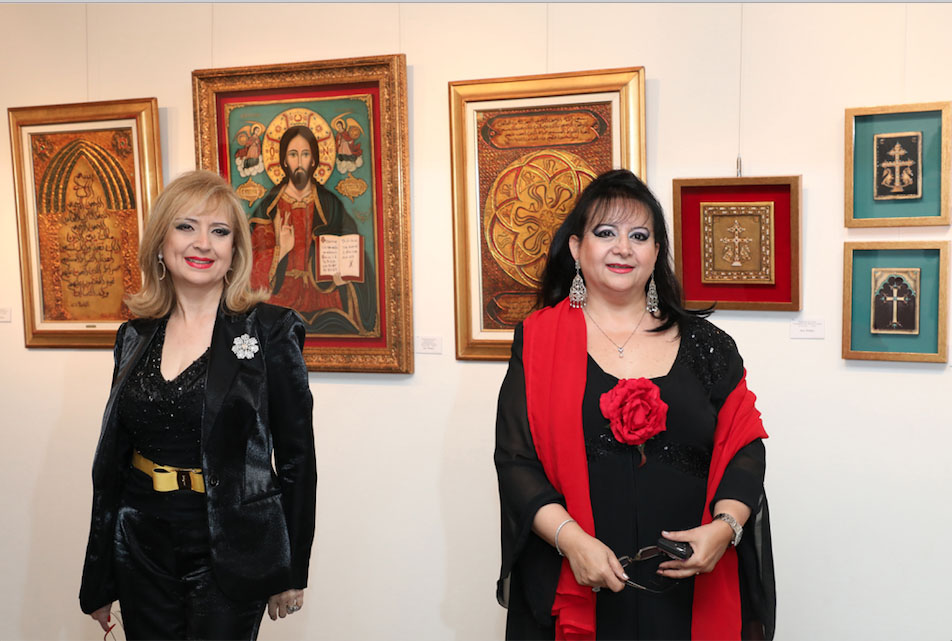 Thanking all the attendance, artists Lena and Hilda Kelekian said: "We are grateful to all of you for your support and belief in this type of art. Sacred art is a message of acceptance and tolerance, allowing all religions to open up to each other and creating a platform to unite all religions under the name of art".
From their end, Roula Douaidy & Néda Ziadé, owners of "Events Production"said:  "Lena and Hilda Kelekian's works, throughout their 25 years of local and international careers, have gained worldwide attention and become a modern reference in this unique sacred art tradition that they continue to perpetuate. This sacred art exhibition is a pure reflection of our society in Lebanon and sends out a message of acceptance and coexistence."
More than 200 unique work are exhibited showcasing a combination of paintings in natural pigments and traditional techniques reflecting spiritual values from the orient, series of icons, crosses, frescos and Islamic Verses from the Holy Quran as well as prayers and scenes from the Holy Bible on parchment.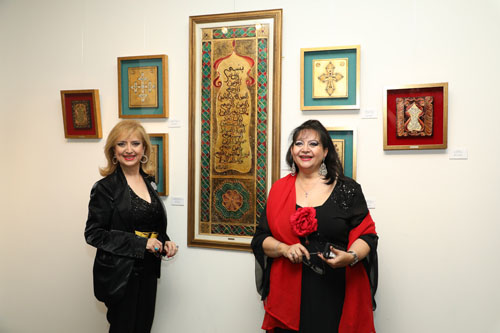 Lena & Hilda Kelekian have already be hailed by  different countries around the world, notably Greece, Belgium, Italy and Saudi Arabia.
Born in Beirut, Lebanon, Lena Kelekian is a well-known icon painter in the traditional Byzantine manner since 1992. She is specialized in Byzantine, Melkite, Ethiopian and Russian styles and in the restoration and conservation of icons and murals. She holds a BS in geology from AUB and continued her studies in the field in six international universities, and her icons are in private collections in 15 museums for sacred arts around the world, and in the private collections of Queen Sophia of Spain, Rev. Billy Graham, and several Presidents and heads of states, diplomats and icon collectors.
Hilda Kelekian was also born in Beirut, Lebanon and became well known for creating her own school of depicting art on parchment in both Islamic verses from the Holy Quran and Christian scenes and prayers from the Holy Bible. She is specialized in textile design and in the technique of working on specially made colors used with gilding. She studied Fine Arts at LAU and holds a degree in Textile Design. Her works can be found in the private collections of 15 museums for sacred art from around the world and many private collections as well.
The "Beirut City of Coexistence" exhibition at Villa Audi, in Ashrafieh is open to visitors from 21 until 28 March 2018 from 10 AM till 5 PM during weekdays, and from 10 AM to 1 PM on Saturday. www.beirutcityofcoexistence.com
Categories