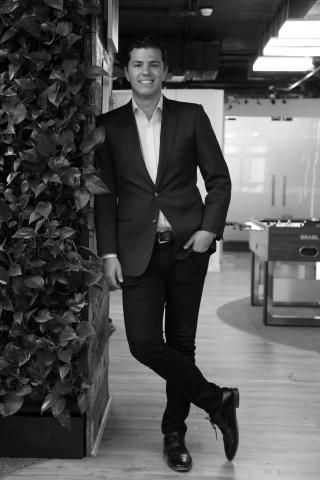 The leading digital marketing agency Emirates Graphic, specialized in web design services and mobile application development, has officially launched in Saudi Arabia, opening their new offices in the Al Olaya district in Riyadh, in April 2019.
The Dubai-based company Emirates Graphic expands to Saudi Arabia following the country's increased demand for digital marketing services, subsequent to the state's recent new regulations in support of local start-ups, and encouragement of young entrepreneurs.
Emirates Graphic was established in 2012 by Sacha Christe, a young Swiss-born entrepreneur aged 16 at the time, who opened his own digital agency that aimed to be original, innovative, and consumer-friendly. In 2014, founder and CEO Sacha Christie made the executive decision to relocate the company to Dubai, seeking new opportunities for more innovative projects in a fast-paced & ever-changing environment. Emirates Graphic has grown at a significant pace and has established itself locally in the industry, and amongst its competitors. With a youthful and innovative team, the agency has developed an impressive portfolio of influential clients, ranging from retail brands to cryptocurrency companies & private hedge funds - and has become a regional leader in the digital marketing field, recognized for their successful & innovative projects launched across the GCC markets.
"It's a dream come true to have opened our offices in the Kingdom of Saudi Arabia - a market with so much potential and so many opportunities for growth! With the country's incredible vision for 2030, the government is really supporting entrepreneurship, and is heavily investing in technology - with the aim to digitalize every aspect of the state. It's amazing to see the country invest in its people, with the support of interest-free loans, the government is willing to help build their dreams, and it's a challenge we want to take part in. Therefore, location is essential and being present in Saudi Arabia is crucial." - Sacha Christe, Founder & CEO of Emirates Graphic
Emirates Graphic has garnered a large portfolio of Saudi clients through the years, which include the courier company SMSA Express. The agency provides international experience, indispensable knowledge, along with a renowned client index, as well as an in-depth understand of the market and its needs.
"Emirates Graphic looks forward to sharing our expertise, and to furthering our success in the Kingdom of Saudi Arabia. We are excited to expand to expand into the market, to grow as an agency, to develop our client portfolio, and to continue delivering successful products we will always be proud of." - Sacha Christe
Categories