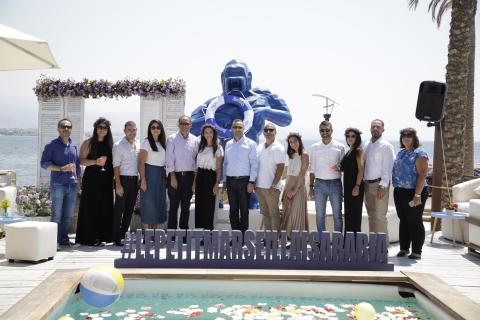 Right from the heart of France, Le Petit Marseillais, the leading French brand in the Shower Gel and Hand wash industry, has landed in Beirut, spreading fresh and summery scents, through a brunch event at Le Palmier Club, Movenpick Hotel and Resort on August 22, 2019. Through this event, well-known beauty enthusiasts, friends, media, bloggers and influencers got together to celebrate their famous scents.
Inspired by the sun-drenched ingredients that thrive in the warmth of the Mediterranean sun, Le Petit Marseillais believes in authenticity, simplicity, and natural ingredients. From the lavender that fills the fields to the juicy peaches that hang from the trees, Le Petit Marseillais finds the natural ingredients of their products in Provence. Transporting the sun-kissed scents to Beirut, the line of products filled the event at Le Palmier with positive vibes and freshness. The invitees enjoyed the music while sipping their drinks and indulging in the bites selection prepared especially for the brunch.
Le Petit Marseillais stands for "feel good" which aims to pleasure the consumers' expectations. The products are designed with the right 100% natural ingredients, giving the customer an experience like no other.
The story of Le Petit Marseillais began in the sunny harbor of Marseille. It was there that the founder, Bernard Lengellé, walked through a picturesque outdoor market and fell in love with the region's fragrant artisan soap made with local olive oil. Since the 19th century, the sunny harbor of Marseille has been renowned for its fine artisan soap. Le Petit Marseillais' origins are the Rich soils and the warm climate that give the region a coveted supply of sun-kissed ingredients including moisturizing olives, lovely florals, bright citrus and fresh herbs.
Categories