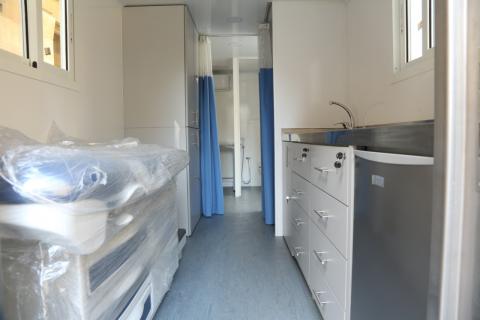 It is a well-known fact that remote areas in Lebanon are usually deprived of adequate medical services.
In order to provide the much needed medical services to these areas, the LAU Gilbert and Rose-Mary Chagoury School of Medicine and the LAU Medical Center–Rizk Hospital have put in place a Mobile Clinic Service - supported by many generous donors : Mersaco, the Czech Republic Embassy, GE healthcare, GME and Feel the Beat campaign of Majid Al Futtaim that will be touring the towns and villages of Lebanon to provide good health awareness, medical consultations and care as well as medical and laboratory tests for all those in need.
Given the COVID-19 public health crisis, the inaugural trip of the LAU Mobile Clinic will take place this Saturday 4thof April to the Nabatieh Government Hospital to help assess their capabilities in testing COVID-19 patients using the PCR techniques and helping defeat this evil virus.
Subsequently, the LAU Mobile Clinic  will move to other locations in order to reach the Lebanese population and help it in its fight against the Corona virus.
During this pandemic, the clinic will be offering Free PCR testing for patients suspected of the viral infection. With the assistance of government hospitals, the PCR testing will be free of charge for patients who are not covered by any kind of insurance, social security or those who cannot afford it.
Medical and nursing staff working at the hospitals to be visited by the LAU Medical Clinic, will be trained on the most advanced and safe methods of performing the PCR testing.
The training will be carried out under the direction of Dr. Jacques Mokhbat, Professor & Chair of the Department of Internal Medicine at the LAU School of Medicine and Head of of Infectious Disease and Microbiology at LAU Medical Center – Rizk Hospital  and his team, on the latest and most advanced and secure ways of undertaking these tests, so that they in turn will be able to conduct them on their own as the equipment becomes more and more available.
In these difficult times, this National Campaign will provides moral & medical support to the Lebanese People who is threatened by a vicious and invisible enemy that can take the lives our loved ones.
This public health initiative is a further proof of the unwavering mission of healing with compassion undertaken by the LAU Medical Center – Rizk Hospital and the LAU Gilbert & Rose-Marie Chagoury School of Medicine.
This mission of social responsibility will be spread to places and locations that need it most, and will be supported by the dedicated medical staff, interns, doctors and all those who are taking part in this war against this pandemic.
Categories